Poet Shari Wagner '80 unveils 'Song of the Maples' at inauguration
By Megan Bower '20

In honor of the Inauguration of President Rebecca Stoltzfus, 1980 Goshen College alumna and Indiana's 2016 and 2017 Poet Laureate Shari Wagner unveiled her original poem, titled "Song of the Maples."
"I felt very honored and glad to do it," Wagner said.
The Goshen College inauguration committee and President Stoltzfus expressed interest in commissioning Wagner to create the poem in September 2017.
"I love poetry," President Stoltzfus said. "I read a lot of poetry, so in that way it's personal. And then to have [Shari] there to read it, it's just a manifestation of Goshen's strength in creative writing."
As part of the process of writing the poem, Wagner watched video links of Stoltzfus publicly speaking.
"Getting to know her vision was important to me," Wagner said. "I remember she quoted my favorite poet, Mary Oliver."
Stoltzfus and Wagner met on a rainy October day at Holiday Park in Indianapolis. There, Stoltzfus suggested they go on a walk. During this time, Wagner was able to get a better understanding of Stoltzfus.
"I was impressed by her friendliness, love of nature and excitement for Goshen College," Wagner said.
The title "Songs of the Maples" relates to Goshen being the Maple City and was used by Wagner as the main focus of the poem following Stoltzfus' vision.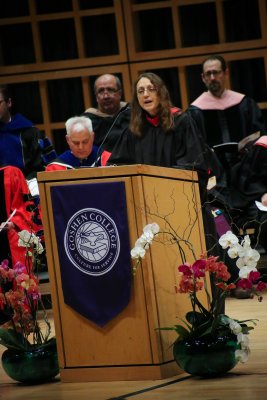 "I did research on maple trees," Wagner said. "I learned there are so many kinds of maple trees, hard and soft. They can be eight feet tall to one hundred feet tall… they come in so many varieties."
Wagner believed that the image of the maple tree fits with Stoltzfus' vision, along with her personality of loving nature and a passion for music.
"President Stoltzfus talked about how she liked singing and music a lot," Wagner said. "I learned that sound waves travel well through them [maple trees], that the resonant wood is often used in making musical instruments."
Once Wagner had the image of the maple tree, the rest started to come together. "I work over the course of a number of days, weeks, sometimes a year," Wagner said. "But there was more time pressure [with this poem]."
Wagner received feedback of the poem from one of the two writing groups that she is a part of, as well as her husband and two daughters. "They're very honest," she said.
Stoltzfus' reaction to the poem was nothing but praise.
"I loved the poem," she said. "It honestly brought tears to my eyes."
---
Learn more about Shari Wagner at www.throughthesycamores.com/
---