Merry Lea's first half century, part two: Fifty years of environmental education
---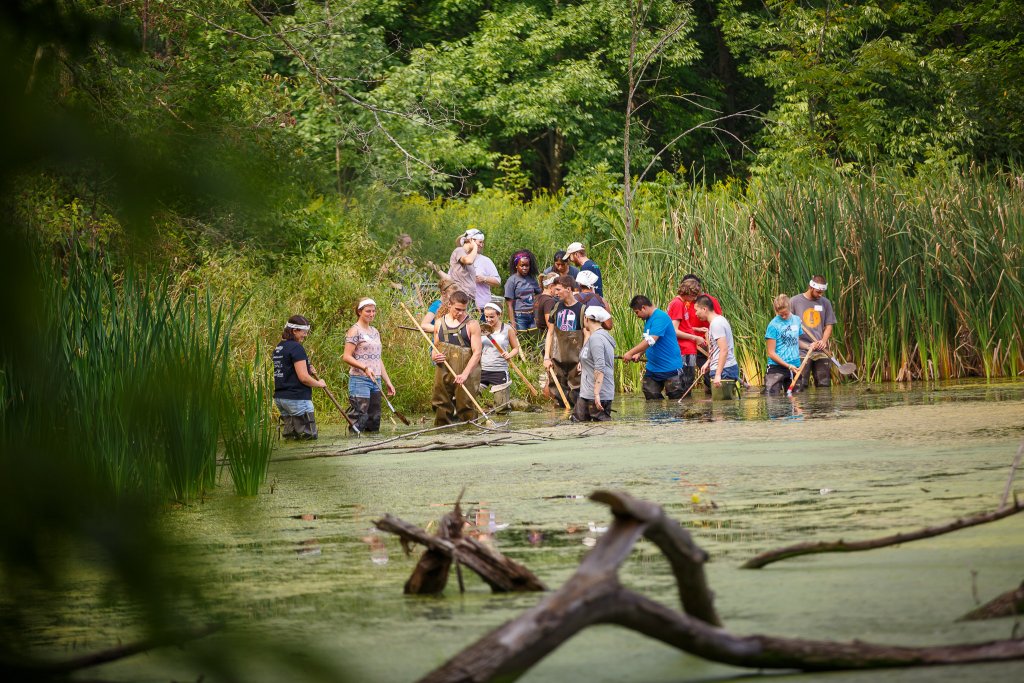 Fifty years of environmental education: "providing environmental education for people of all ages"
The first record of "environmental education" in Merry Lea's archives is a short letter from Lee Rieth to some 1960s picnickers. He tells them not to leave any trash behind.
During the week this article was written in December 2017, kindergartners looked for shapes and colors in the woods, high school students learned about jobs in the food system, a botany class estimated the carbon stored in woody biomass, sustainability students tweaked their research on a local bike path, master's students visited environmental leaders in Detroit and a handful of people took rewarding hikes on their own. This article summarizes the fifty-year path from that early picnic to last week.
The 1960s and 1970s
An undated document from the mid to late 1970s lays out some assumptions about what Merry Lea's programming was about during its first 15 years. "The name, happy meadow, sets the theme for the Center; a place to appreciate and enjoy the fullness and happiness of life…" the author writes.
The philosophy of education described above sounds similar to a line from Charles Silberman's Crisis in the Classroom (1970). Silberman's widely read book was one of many reactions against the math and science-focused education of the Cold War Era space race of the 1950s and 60s. Silberman urged schools to be "genuinely concerned with gaity and joy and individual growth and fulfillment…" Former Director Dr. Larry Yoder, who was part of contexts similar to Merry Lea in the 1970s, sums up this era of environmental education as "edutainment."
The program lists left behind on mimeographed copies do sound like fun. People came for hayrides and skating parties, skiing and campouts. They made bluebird houses and terrariums and Christmas crafts; counted spring birds and went ice fishing. They studied houseplants and rotten logs. Occasionally, Merry Lea offered workshops for teachers or hosted visitors from universities.
The available records offer program titles and the number of people that attended but do not describe content or objectives. Therefore, it is hard to know what staff and volunteers taught in their programs. The variety of topics—combined with limited staffing—suggests that they did not belabor curriculum. This was before the era when phrases like "educational assessment," "accountability" and "the professionalization of nonprofits" crept into common usage.
What the sixties and seventies lacked in focused curriculum development, they made up in civic engagement. It appears there was more time for community outings in the days before the Internet. Already in the 1968-69 budget year, 345 people visited. They came even though old farm fields still made up much of the land and there was little in the way of facilities. In 1978, forty people spent their entire Saturday at a workshop on heating with wood, and 2000 came to ski.
The list of visiting groups is a mosaic of the surrounding community. Schools, scout troops, Brownies and organizations such as the Cromwell Business Association and the Happy Homemakers Club all spent time at Merry Lea as well. Within one two-year period, Wolf Lake United Methodist, Big Lake Church of God, the Kimmell Church Youth and a Christian Youth Fellowship from Merriam all came to Merry Lea.
The 1980s
In 1980, Merry Lea began a new era under the ownership of Goshen College, and a new director arrived in 1981. Dr. Larry Yoder thrived in an entrepreneurial context where resources were limited.
"I find great sport in looking around my environment and seeing what resources can be used. What do we have? What can we do that's unique?" he says. The "edutainment" model of environmental education at that time also appealed to his sense of drama. For Larry, a bus that failed to return for its students on time was not a crisis; it was an opportunity for improvisation.
A typical school program of the eighties took place in the Learning Center area because the Kesling Farm was not yet renovated. The teaching staff consisted of Larry and Groundskeeper Kerry Goodrich—for whom leading groups fell under "other duties as assigned." Larry would lead a hike. Kerry recalls catching snakes to show groups. Then they would load everyone on wagons for a hayride and end with a hotdog roast in the picnic area between the Learning Center and Rieth Cottage.
Threshing Days was a "Larry innovation." His family farm near Huntertown, Ind., had an old threshing machine for grain and wheat shocks which he brought to Merry Lea. They planted wheat, set it up in shocks and hosted a day of old time threshing.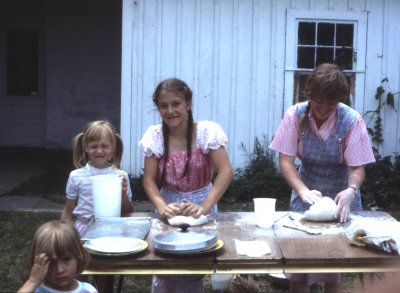 When the Merry Leaflet first mentions sunflowers in the early 1970s, people are simply invited to come and pick seed for bird feeders. Over time, the event developed into a fall festival. In 1985, people came to the Sunflower Festival to mill flour, press sorghum, make apple butter and cider or take hayrides. A 1988 account describes blacksmithing demonstrations, a steam popcorn wagon and refreshments served by the Wolf Lake Fire Department Auxiliary. Lizzie Woolever and the Round Town Ramblers played bluegrass music.
Ski weekends were an important part of the 1980s. Goshen College faculty, staff or students would volunteer as hosts in exchange for a weekend getaway at Merry Lea. Hosts greeted skiers, checked out equipment and patrolled the trails. Larry brought his characteristic flare to this event by offering ski weather reports on the WGCS radio station similar to the kind one would hear in Vail, Colorado.
In this era, Merry Lea owned over sixty pairs of skis and could outfit complete school classes. Sadly, climate change and the lack of reliable snow put an end to ski events. The skis were sold in 1991.
The 1990s
In 1988, the staff expanded to include Program Director Dr. Dave Miller, an entomologist and woodworker. Marian Miller began as office manager in 1989, and the couple worked together on educational events.
Like all of his predecessors, Dave had no formal training in environmental education. However, he loved natural history and the sciences and had a strong desire to share these things with others.
"Delivering programs that were scientifically strong was important to me," Dave says. This meant he gave attention to curriculum development and volunteer training. Entomology and ornithology programs were a natural for Dave given his background, and these were popular with older students. After the Kesling Wetland was restored in 1992, he developed a wetland program.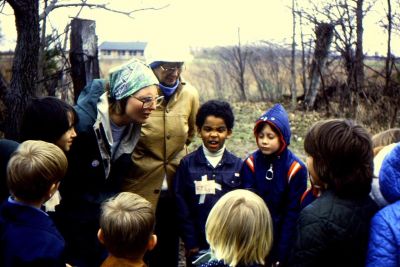 Dave's gift for organization enabled Merry Lea to expand the number of school groups it served. In the 1990s, the number of pre-K to 12 visitors peaked at over 8,000 a year. Frequently, three groups were on the property at one time. Once, when a school group showed up on the wrong date, Dave managed to handle four groups with some deft juggling of volunteers. Another day, Dave recalls having 90 second graders dipping in the wetland at one time. On the day that scheduling opened for the coming season, teachers would leave messages just after midnight in hopes of getting their desired date.
A number of the public programs Dave and Marian worked on have had a long run. They began the Enchanted Forest in 1990, and it continues. The Sunflower Festival enjoyed a healthy attendance until staff ended it in 2003 because there were other similar programs in the region. Dave also added off-site birding and wildflower trips and a nature photography workshop.
The 2000s
In 1999, Paul Steury brought a new set of skills and a master's degree in outdoor recreation to Merry Lea. Paul taught through games and songs. He was playful with groups and sent them home with the sense that being outdoors in a natural setting can be a fun experience filled with wonder. Songs like "The Scat Rap" and "Rock Cycle" became Merry Lea classics during this time.
Carol Good-Elliott, who taught with Paul since 2001, describes his fifteen year contribution this way:
"It's easy for people to think of Paul as lighthearted, but he also had a strong sense of the importance of engaging in advocacy related to issues that you feel passionate about."
This sense of urgency about the vital work of environmental education continues to fuel Merry Lea's educational programming.
The 2000s, Collegiate:
Under Dr. Luke Gascho, who arrived in 1997, Merry Lea has invested many of its resources in post-secondary programs. Up until that point, Goshen College students only came to Merry Lea for May terms and a few labs and recreational activities.
During a strategic planning process in 1998, the staff decided to develop both collegiate programs and housing for undergraduate students. Their rationale included the following:
• The quality of Merry Lea's land base merited advanced study.
• The expertise of the staff and Merry Lea's relationship to a college would enable Merry Lea to occupy a unique niche that most nature centers lacked the resources to pursue.
• Collegiate training and research was part of the Rieths' original vision that had yet to be developed.
Furthermore, the new programs could build on available resources— restored land, a proven track record in environmental education for children and Merry Lea's roots in a farming community.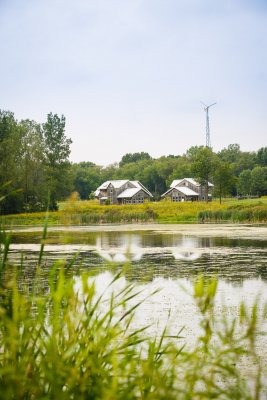 Work on the first collegiate program began in 2004 when Dale Hess was hired to develop an agroecology semester. Meanwhile, Morrison Kattman Menze, an architectural firm from Fort Wayne, collaborated with other experts in green building to design Rieth Village. The biological field station was completed in 2006, and Merry Lea offered its first Agroecology Summer Intensive that summer. In 2007, the facility received Indiana's first Platinum LEED® award from the U.S. Green Building Council.
In 2008, a cohort of three students pioneered the first Master's in Environmental Education courses offered at Merry Lea. The unique features of this degree include an intensive schedule that allows students to complete the degree in 11 months; practicum work teaching school programs and—since 2017—a course in the Bahamas in February.
Faculty offered the first Sustainability Leadership Semester in 2012. Undergraduates study the local watershed and its inhabitants from the perspective of multiple disciplines such as ecology, political science, sustainability and ethics. One distinctive element is a weeklong canoe trip that follows the Elkhart River from its headwaters to Lake Michigan. Another is a course called Sustainability Problem Solving where students work with a local organization on a challenge they face.
Looking ahead
No new collegiate endeavors are on the horizon. At present, Merry Lea's focus is on strengthening what already exists and increasing enrollment.
In 2016, Merry Lea's Pre-K to 12 Team was reorganized as the Environmental Education Outreach Team (EEO) and now includes public programs.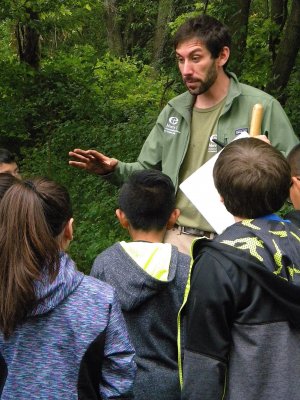 "We are trying to bring a new deliberateness to which programs we are running when and for whom," says Marcos Stoltzfus, director of the EEO. "We're asking, 'Who really is our target audience?' and 'How do we most effectively impact them?'"
One EEO consensus is that enabling children to build ongoing relationships with the natural world is a priority. While one-time, half-day programs will always be part of Merry Lea's menu, multiple exposures have more potential to change lives and create environmental advocates.
Two programs that Merry Lea provides for its closest school, Wolf Lake Elementary, are examples. Children at Wolf Lake have the option of signing up for PROWL, an after school nature club that meets at Merry Lea. A child who attended every session offered would visit Merry Lea 15 to 20 times a year. Meanwhile, through Wolf Lake's Kinderforest program, kindergarteners spend a day a month at Merry Lea, rain or shine.
Merry Lea's relationship with Wolf Lake Elementary School is also indicative of a paradigm shift that Dr. Jan Bender Shetler, a historian at Goshen College, sees in Merry Lea's trajectory. She says:
This move toward learning to know and form a significant relationship with the community reflects a larger national trend in environmentalism from "sanctuary" to "sustainability." The new literature sees the goal of environmental work not just to cordon off nature in a separate space but to work towards environmental health as an integral part of human well-being.
As Jan observes, Merry Lea's local community is becoming more central in terms of relationships and as an intentional audience. This is expressed not only through the Wolf Lake programs but also the involvements of the master's and undergraduate students who now live here and whose studies immerse them in Noble County.
It will be interesting to see how Merry Lea serves its community—both local and far-flung, both human and otherwise—during the next fifty years.