Brubaker to showcase Women's World Music Choir on April 4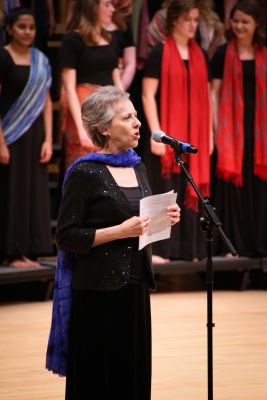 Event: Debra Detwiler Brubaker: "Women's World Music Choir: 'Creating, Sustaining, Disrupting'"
Date and Time: Tuesday, April 4, 2017 1 p.m.
Location: Goshen College Music Center's Sauder Concert Hall
Cost: Free and open to the public
---
Debra Detwiler Brubaker, professor of music, will present a program called "Women's World Music Choir: 'Creating, Sustaining, Disrupting'" on April 4 at 1 p.m. in Sauder Concert Hall.
Brubaker is involved in the choral, voice and opera theater programs, teaching related courses, and previously serving as department co-chair. She founded and directs the college's Women's World Music Choir.
In its 13 years of music-making, the college's Women's World Music Choir continues to celebrate the strength and energy of women from a diversity of cultures. Through singing, movement and spoken word, this program will embrace the themes of sustaining individuals through hard times, creating joy as a response of gratitude to life's gifts and disrupting the attitudes held towards women.
The Women's World Music Choir was an invited performer at the 2013 Indiana Music Educators Association conference in Ft. Wayne (Ind.), and has also performed at the 2008 Central Division conference of the American Choral Directors Association in Grand Rapids (Mich.).
Brubaker's graduate degrees are from the University of Kansas and the University of Northern Colorado. She is also the musical and dramatic director for the college's traveling worship ensemble, Parables. In addition to touring many parts of the United States and Canada, Brubaker's choirs are in demand regionally, having performed with the Toledo Symphony, Ft. Wayne Philharmonic Orchestra, and South Bend Symphony. Brubaker is an accomplished hymn leader, specializing in international music.
With an interest in African and indigenous music, Brubaker oversaw a research project in conjunction with hymnologist and musicologist Dr. Mary K. Oyer to create an African music archive, a collection of 150 tape recordings collected during Oyer's time in 22 countries in Africa in the 1970s and 1980s, which is now housed in the Indiana University Folklore Archives. Its focus on indigenous African music emphasizes Brubaker's interest in exploring how the use of hymn and folk singing can become a catalyst for connections between people of differing cultures, faiths, ages, and circumstances, and serve as an empowering tool for women.
This event is presented as part of the 2016-17 Afternoon Sabbatical program, a yearly lecture series with on-campus programs held on a tuesday each month during the school year and bus trips for off-campus tours.
Future events in the Afternoon Sabbatical series include:
May 16, 2017, 1 p.m. — "Salzbergen: Bass-Baritone Njål Sparbo and Friends"

Sept. 19-21, 2017 — Theater Trip to Niagara-on-the-Lake