Goshen College Men's Chorus to perform home concert after spring break tour, March 1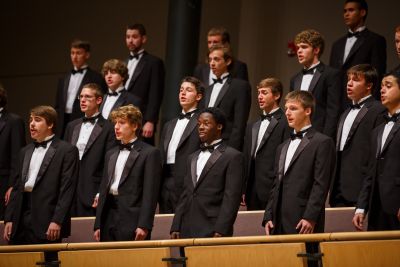 Concert: Goshen College Men's Chorus spring break tour home concert
Date and time: Sunday, March 1 at 7:30 p.m.
Location: Goshen College Music Center's Sauder Concert Hall
Cost: $7 adults, $5 seniors/students, available at the door one hour before the concert. GC faculty/staff/students free with valid ID.
The Goshen College Men's Chorus will conclude their spring break tour to New Orleans with a home concert in the Music Center's Sauder Concert Hall on Sunday, March 1, 2015 at 7:30 p.m.
The theme for the choir tour is "Ride on, King Jesus," which is taken from a set of three spirituals by beloved New Orleans composer and conductor Moses Hogan. In addition to singing traditional spirituals and hymns, they will perform pieces by George Frideric Handel, Jacob Handl, Mikhail Ippolitov-Ivanov and Ludovico da Viadana.
Tickets cost $7 for adults, $5 for seniors/students, and is free for GC students and faculty/staff with ID. A live stream of the concert can be seen at www.goshen.edu/academics/music/livestream.
The Goshen College Men's Chorus, founded in 2004 and directed by Scott Hochstetler, associate professor of music, follows in the long tradition of GC male singing groups beginning with the men's glee clubs and the Rambler Quartet of the early 1900s. Including music majors and non-music majors alike, the Men's Chorus performs music from all genres and time periods with special emphasis on sacred a cappella literature.
Members of the Goshen College Men's Chorus include Stefan Baumgartner (Goshen), Kenan Bitikofer (St. George, Kan.), Jim Bontrager (Goshen), Philip Bontrager (Goshen), Isaiah Breckbill (Kidron, Ohio), Joshua Bungart (Three Rivers, Mich.), Etienne Davis (New Orleans), Nat Dick (North Newton, Kan.), Gabriel Eisenbeis (Marion, S.D.), Martin Flowers (Nappanee, Ind.), Isaiah Friesen (Filley, Neb.), Kendall Friesen (Newton, Kan.), Ben Ganger (Goshen), Aaron Graber (Los Gatos, Calif.), Jacob Greaser (Goshen), Julian Harnish (Bluffton, Ohio), David Jantz (North Newton, Kan.), Mark Kreider (North Newton, Kan.), James Lang (Portland, Ore.), Andrew Leaman (Louisville, Ohio), Reuben Leatherman (Portland, Ore.), Caleb Liechty (Archbold, Ohio), Lane McDonald (Goshen), Reuben Ng (East Lansing, Mich.), Nate O'Leary (Seattle, Wash.), Andrew Pauls (Kinzers, Pa.), Peter Paetkau (Goshen), Austin Rieth (Goshen), Nick Schwartz (Phoenix, Ariz.), Blake Shetler (Goshen), Jake Smucker (Newton, Kan.), Sam Smucker (North Newton, Kan.), Kyle Stocksdale (Richmond, Ind.), Malcolm Stovall (Seattle, Wash.), Bobby Switzer (Berne, Ind.), Brody Thomas (Springs, Pa.), Wade Troyer (Goshen), Simon Weaver (Madison, Wis.), Ben Wiebe (Goshen), Matt Wimmer (Telford, Pa.), Peter Wise (Lititz, Pa.), Bryan Yoder (Manheim, Pa.), Seth Yoder (Quakertown, Pa.), Jacob Zehr (Carthage, N.Y.), and Paul Zehr (Carthage, N.Y.).
Hochstetler is associate professor of music at Goshen College, where he teaches in the choral, vocal and opera theater programs. Under his direction, the Goshen College Men's Chorus performed to acclaim at the ACDA regional convention in March 2012.
The Goshen College Music Department offers a bachelor of arts degree with concentrations in music education, performance, piano pedagogy and music in worship. More than 70 students major or minor in music and enjoy participation in five choirs, staged musicals and operas, orchestra, all-campus band and jazz band. The music department is housed in the Goshen College Music Center, built in 2001. The Music Center features the 1,000-seat Sauder Concert Hall, the 300-seat Rieth Recital Hall, rehearsal and practice rooms, classrooms, teaching studios, a recording studio and an art gallery. The Community School of the Arts, located in the Music Center, provides teaching experience and leadership training for Goshen College students. The Performing Arts Series regularly brings prominent national and international musicians to the Music Center.