For Roman and Shirley Gingerich, life was about risk, commitment and sports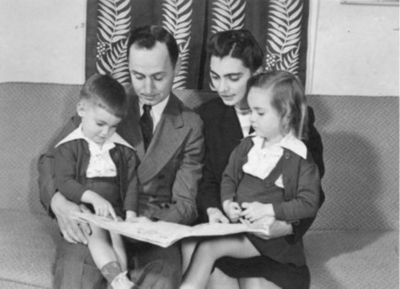 In the early 1940s, many people in the Mennonite Church believed that sports would allow worldly ideals like pride and aggression to leak into campus culture. Roman '41 and Shirley Gingerich '41 thought otherwise.
Roman and Shirley met as students at Goshen College. Though they both grew up in Kalona, Iowa, the two hadn't known each other before studying at GC. Shirley was an elementary education major, and was as introverted as Roman was extroverted. Even so, they bonded over a love of sports and mutual homesickness for their home state.
The couple married soon after graduation. Roman was asked to stay at the college to teach in the athletics department. His goal, however, was to bring competitive sports to Goshen College.
Roman, willing to take a risk, eventually convinced both the college and Mennonite Church to allow competitive team sports at Goshen College.
After World War II, in which Roman served in Puerto Rico as a conscientious objector, the family settled into a brick two-story home with a five-acre lot on College Avenue. While coaching basketball, baseball, track, tennis, intramural flag football, badminton and archery, Roman also decided to start a small-scale turkey farm in his backyard. Eventually, he purchased a farm in east Goshen where he employed student athletes so they could pay off college tuition.
Everyone in the family pitched in to aid the new GC athletics program. Shirley prepared meals for the teams, the family offered many athletes free room and board, their children made fresh-squeezed orange juice so the players would have enough vitamin C, and Roman used his own tractor to mow the athletic fields.
Students knew Roman for his outgoing personality and inviting presence. One thing was certain: Roman would do anything to see his students succeed.
"Dad didn't know a stranger," said Sara Wengerd '64, Shirley and Roman's oldest daughter. "A number of men have come up to me and said that if not for him, they didn't know where they'd be. They probably wouldn't have come to Goshen."
One of Roman's recruits, Ed Yoder '56, fondly remembers his coach as both a friend and a supporter.
"Roman was a risk taker, he took chances," said Yoder. "Though his teams played to win, they were also taught fairness."
After Roman retired in 1986, two alumni couples established a $27,500 challenge fund to pay tribute to Roman's years of dedicated service to GC. The challenge was surpassed and totaled over $60,000. The scholarship is awarded to male athletes who demonstrate exemplary leadership and academic success, and priority is given to students with a Mennonite background.
In 2014, Roman and Shirley's children added to the fund and revised original guidelines to include Shirley's name in the title due to her significant contributions.
"I was never sorry for anything that we gave to the college," said Shirley. "Even though we could hardly afford it sometimes, it didn't hurt us at all."
Today, Gingerich is known as the third-winningest basketball coach in Goshen College history. He passed away on Jan. 15, 1989, at the age of 69.
"It's because of pioneers like Roman and Shirley that Goshen is what it is today," said Yoder.
– By Liz Core '14