New Fisher Terrace dedicated during Homecoming Weekend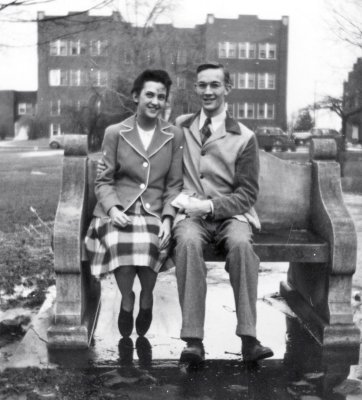 John J. and Pauline Clemens Fisher left a lasting impact on Goshen College. As a longtime professor of English, John's love of words and connection to Irish poetry are threads that continue to weave through the fabric of campus today.
As a testament to their legacy, family, friends and former students dedicated a new Fisher Terrace, built in the Fishers' honor, Saturday, Oct. 2, during Homecoming Weekend.
Through a charitable donation from the John and Pauline Fisher estate, the outdoor area immediately east of the Leaf Raker Café in the Union Building has been renovated as a dining and gathering space, with a new pergola and seating. The terrace will also soon incorporate poetry displayed around the surrounding garden, including some by Irish poets that John connected with on campus and on classes he led to Ireland.
John and Pauline graduated from Goshen College in 1948, marrying shortly after. John became a professor in the GC English Department in 1953, teaching until his retirement in 1991. Pauline taught English and foreign languages in secondary schools in Pennsylvania and Indiana.
In 1971, John Fisher began leading a course in Ireland on poetry and peace, often assisted by Pauline. He continued teaching this class frequently, even after retirement, until 2001. Fisher was instrumental in bringing a number of important Irish writers to the GC campus, including Nobel Prize winner Seamus Heaney, Paul Muldoon and Peter Fallon.
The class lectures, work-study placements and bicycle trips exposed GC students and colleagues to an assortment of Irish farmers, clergy, scholars and poets who were personal friends of the Fishers.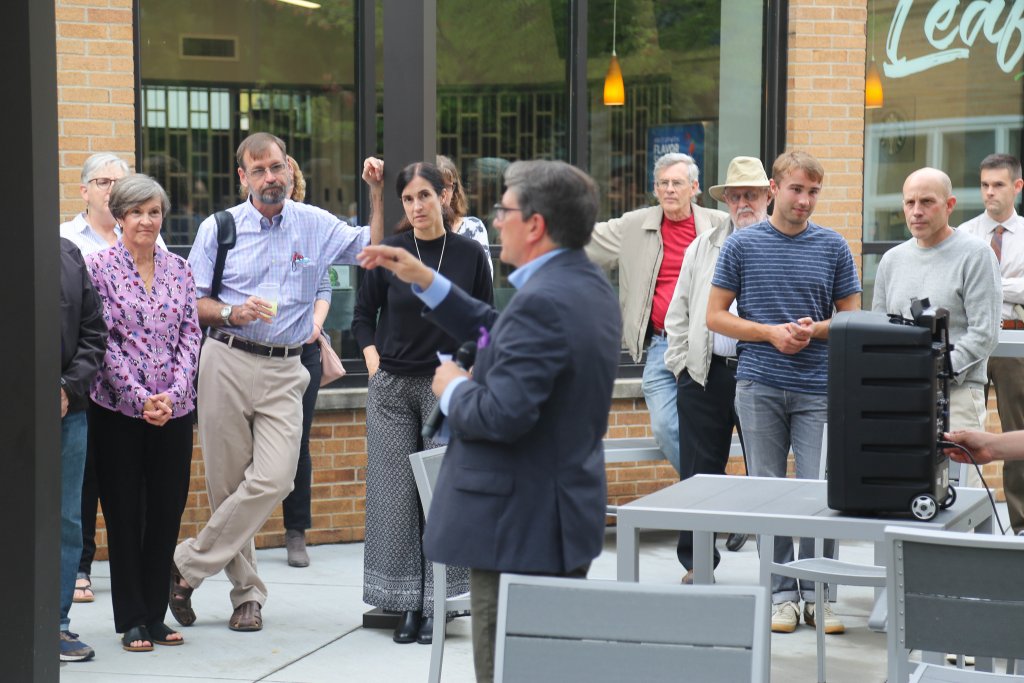 John and Pauline's daughters, Susan Fisher Miller '80 and Margaret Aeschliman '87, are also GC alumni, as are four of their grandchildren, including Peter Miller '09 who now carries on the legacy as an assistant professor of English at Goshen College.
John and Pauline were active members of the campus community even after retirement, serving in the advocacy organization "Seniors for Peace" and working to establish a peace center at College Mennonite Church.
"Both of my parents were immersed throughout their lives and careers in the humanities. They were awakened to that world in part through their studies at Goshen College," said Fisher Miller. "They also devoted themselves, on campus and in public school classrooms, to sharing appreciation for literature, language and the arts with their students."
In their will, John and Pauline dedicated funds to GC through a charitable estate plan. The John J. and Pauline Clemens Fisher Scholarship Fund will support students in the humanities, and the Fisher Maple Scholars Endowment will support students and faculty working together on summer research projects in the humanities.
"They modeled the importance of nurturing a thing you believe in, helping make a difference for that place with donated time, financial support and acting as a cheerful ambassador at any opportunity," said Aeschliman. "This made a big impression on our family and motivates us to continue their legacy of 'Culture for Service' in our own lives, and especially as it relates to Goshen College."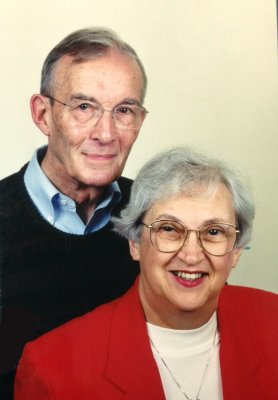 To honor their parents' legacy beyond the endowed scholarship, the Fisher family also wanted to enhance a campus common space and promote conversation and fellowship among all members of the campus community. Thus, they dreamt up the idea for the Fisher Terrace.
"When you're grabbing a sandwich on the way to teach class or finish a paper, you can pause on the terrace for poetry and conversation with friends," said Fisher Miller. "It's a nice fusion of culture and service our parents would have appreciated."
If you wish to honor the memory and life of Jon and Pauline, you can make a gift to the Fisher Maple Scholar Endowment or the Fisher Scholarship Endowment at www.goshen.edu/give/areas-to-support/endowed-funds.
Photos from the Fisher Terrace Dedication, Oct. 2, 2021