Together Goshen Day exceeds giving goals, ends with purple hair and shared memories
On Tuesday, April 28, — during its 125th anniversary year — Goshen College held its first ever Together Goshen Day, a day dedicated to alumni memories, strengthening connections and generous fundraising. In the end, when all was counted, more than 1,200 donors gave a total $357,470 toward students and programs at Goshen College, which greatly exceeded the day's goal of $125,000.
"We are reveling in the generosity, love and connection and everyone's willingness to stand together with Goshen College," said President Rebecca Stoltzfus. "It is a tremendous encouragement and we can't thank everyone enough for standing with us and being part of our community."
The original goal was to raise $125,000 in honor of the college's anniversary, and included a $60,000 matching gift from an alumnus and a final $15,000 gift from President Stoltzfus and her husband, Kevin Miller.
"Our goal was to support and unite our community during these challenging times," Stoltzfus said. "Our mission continues here at Goshen College as we stay connected to our students in this new and radical way right now."
It became clear early in the day that gifts would far surpass the goal.
"We started the day, and we were hardly out of the gate and we were almost at goal," said Todd Yoder, vice president for institutional advancement. "It was very clear that everybody was excited."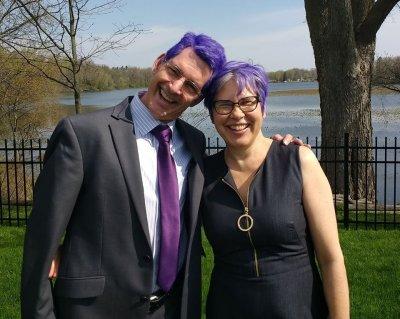 When the $125,000 goal was met, organizers quickly decided to raise the goal, and the stakes, by offering last-minute incentives for giving. Several administrators and professors agreed to dye their hair purple at certain targets, and at $250,000, President Stoltzfus said she would go purple.
Donors blew all these goals out of the water, nearly tripling the original goal.
"I've been looking for a reason to dye my hair purple for Goshen College, and this was a wonderful reason to do it," Stoltzfus said.
In addition to fundraising, alumni, employees and friends were invited to share photos that represent their memories of their experience at GC, and more than 150 photos were shared with college and on social media, using the hashtag #TogetherGoshenDay.
"Beyond the money, the memories and the photos that were shared were just so special," said Caleb Longenecker Fox, annual giving and advancement coordinator, and an organizer of Together Goshen Day. "It was really meaningful for everyone here on campus, in their homes and around the world."