Goshen College's Lavender Jazz to take Sauder Hall stage for fall concert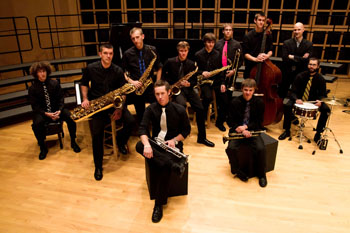 GOSHEN, Ind. – Lavender Jazz, Goshen College's big band, will present a fall concert on Saturday, Nov. 19 at 7:30 p.m. in Goshen College Music Center's Sauder Concert Hall. Tickets cost $7 for adults and $5 for seniors/students, and are available at the door one hour before the concert.
The ensemble, directed by Assistant Professor of Music Christopher Fashun, will perform compositions by Charles Mingus, Thelonius Monk, George & Ira Gershwin, Chick Corea, Stevie Wonder, and more.
A diverse and versatile conductor and performer, Fashun joined the Goshen College Music Department in 2010. An accomplished percussionist and violist, he has several years of orchestral and chamber music experience and has enjoyed success in both areas as a soloist by winning three concerto competitions. During the past seven years, Fashun has concentrated his study of world percussion in Brazilian and Afro-Brazilian music and dance. He has also toured nationally and abroad as a jazz vibraphonist and has recorded albums with the Wisconsin Brass Quintet and the Jason Harms Quartet.
Fashun holds a bachelor of arts degree in music education from St. Olaf College in Northfield, Minn, and received his master's of music degree in percussion performance from the University of Wisconsin-Madison. He is in the final stages of completing his doctor of musical arts in orchestral conducting from the University of Iowa.
Lavender Jazz plays classic jazz standards and styles, such as swing, blues, world beat, be-bop, hard bop, New Orleans/Dixieland and fusion. Lavender Jazz performs two concerts in Sauder Concert Hall each academic year, and other performances in a variety of settings both on and off campus. The ensemble varies in size from year to year and is open by audition to any Goshen College student regardless of major.
Editors: For more information about this release, to arrange an interview or request a photo, contact Goshen College Acting News Bureau Coordinator Alysha Bergey Landis at (574) 535-7762 or alyshabl@goshen.edu.
###
Goshen College, established in 1894, is a residential Christian liberal arts college rooted in the Anabaptist-Mennonite tradition. The college's Christ-centered core values – passionate learning, global citizenship, compassionate peacemaking and servant-leadership – prepare students as leaders for the church and world. Recognized for its unique Study-Service Term program, Goshen has earned citations of excellence in Barron's Best Buys in Education, "Colleges of Distinction," "Making a Difference College Guide" and U.S.News & World Report's "America's Best Colleges" edition, which named Goshen a "least debt college." Visit www.goshen.edu.