Goshen College mourns the death of Professor James S. Miller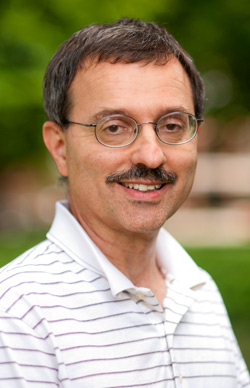 GOSHEN, Ind. — Goshen College President James E. Brenneman today sent the following statement to students, faculty and staff:
"It is with profound sadness that I inform you of the death this morning of Professor James S. Miller, 58, a professor of biology at Goshen College since 1980.
"The Goshen Police Department has issued a press release to the news media reporting that as the result of a home invasion robbery, Professor Miller and his wife, Linda, were attacked early on Oct. 9. Jim died at the scene and Linda was wounded, and was being treated at a regional hospital.
"Police are conducting an investigation into the death, so we encourage all members of the campus community to cooperate fully. Police have asked anyone with information in connection with the case to please contact the Goshen Police Department at (574) 533-8661 or the Michiana Crime Stoppers at (800) 342-STOP.
"Words cannot adequately convey our grief over the enormity of this tragedy. We offer our prayers and support to the Miller and Jeschke families and we ask that you please keep them in your prayers. We also will be holding in our prayers Professor Miller's students, colleagues, friends and alumni.
"In the coming hours we will pass along any information we receive about arrangements. We also will be contacting Professor Miller's students about arrangements being made for his classes.
"At 8 p.m. tonight, there will be a brief time of prayer and reflection for the campus community outside the south entrance to the Science Building to give all an opportunity to grieve and to pray for our brother and friend."
Professor James Steven Miller came to Goshen College to teach in 1980, the same year he completed his doctorate degree in medical biochemistry at Ohio State University. He received his undergraduate degree in chemistry in 1975 from Bluffton (Ohio) University. The Goshen College Board of Directors granted Professor Miller tenure in June 1985. He primarily taught upper-level courses taken by students in nursing, pre-medical and other health-related tracks.
Professor Miller is survived by his wife, Linda, three children, his mother and other family members.