Speech about migrant farm workers wins this year's peace oratorical contest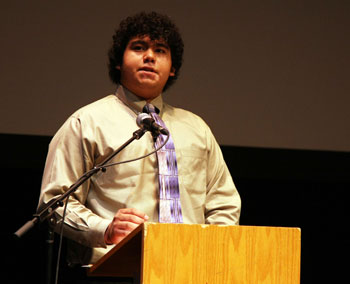 GOSHEN, Ind. – Jair Hernandez, a Goshen College sophomore, said that "Migrant farm workers really are the invisible backbone of the American agricultural system," during his speech titled "Migrant Farm Workers," that won first place in the annual Goshen College C. Henry Smith Peace Oratorical Contest on Feb. 22. Hernandez, a public relations major from Goshen, was one of six Goshen College students who spoke about a variety of peace and justice issues during the contest.
During his speech, Hernandez reflected on his time last summer in Toledo, Ohio, where he participated in the college's Latino Study-Service Term. While in Toledo, Hernandez spent time with migrant farm workers and got a glimpse of their everyday lives as they dealt with bedbug infested living conditions, frequent moves and harsh work.
Hernandez gave the example of Urbano Ramirez Miranda, a migrant worker who died while working in a hot field in North Carolina. His body wasn't discovered until 10 days after he died, propped up and decomposing under a magnolia tree.
Hernandez called for awareness and action for farm worker justice as he urged the audience to sign up for the Farm Labor Organizing Committee (FLOC) newsletter. FLOC is an Ohio-based social movement and labor union that seeks justice and human rights for farm workers who have been marginalized and exploited for the benefit of others.
He concluded his speech with a quote from Cesar Chavez: "The fight is never about grapes or lettuce. It is always about people."
Hernandez received a $500 prize, plus a chance to enter Mennonite Central Committee's C. Henry Smith Peace Oratorical Contest.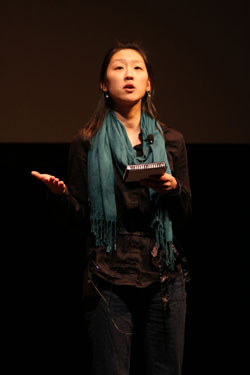 Taking second place, and the $250 prize, was Sae Jin Lee, a fifth-year senior Bible and religion and art double major from Elkhart, Ind. Her speech was titled "Rethinking SST: Beyond a Three-Months Long Requirement to a Life-Long Commitment to Intercultural Intentionality."In her speech, Lee encouraged intercultural intentionality on the Goshen College campus. She noted that last year's cultural audit reflected "a gap between what is believed on a theoretical level, and what is implemented on a personal level."
Lee surveyed several international students on campus, and discovered that many have found it difficult to have close relationships with U.S.-born students. Some shared stories of exclusiveness among U.S. students, and as a Korean-American herself, Lee related to a feeling of separation.
"Our Study-Service Term experience overseas must be in unity with our interactions here on campus," said Lee.
Jeffery Moore, a sophomore communication major from Ashland, Ohio, spoke about how labeling simplifies a person's character in his speech "The Games We Play: How Labeling Leads to Violence."
"Labeling reduces a person"s identity to one idea, and denies him or her the right to be perceived as a multi-faceted human being," said Moore.
Karina Rohrer-Meck, a sophomore nursing major from Archbold, Ohio, talked about texting and driving in her speech "Everyday Justice In Your Hands."
"Violently and unexpectedly taking lives is an injustice," said Rohrer-Meck. "Do justice and put your phone away."
Madi Ouedraogo, a sophomore TESOL major from Ouagadougou, Burkina Faso, talked about how lack of education is at the root of the injustice in Africa in his speech "A Peaceful Future for Africa Requires Education."
"The education of women is the building block for peace in Africa," said Ouedraogo. "Educated women can teach their children about peaceful problem solving, which can lead to a peaceful community, country and continent."
Michael Fecher, a junior molecular biology and biochemistry major from Goshen, spoke about issues relating to the campus divide on the recent decision to play the national anthem at some sporting events. His speech was titled "The National Anthem and the Anabaptist Vision."
Fecher urged people to come to the table of conversation not with arguments or agendas, but with stories about how they have come to believe what they do.
A private donation from Hans and Bonnie Hillerbrand, former C. Henry Smith competitors, allowed for the contest winners to receive a cash prize substantially larger than those of previous years.
The speeches were judged on their adherence to a social justice theme, use of supporting evidence and organization, as well as on the elements of presentation such as vocal variety, eye contact and spiritedness.
The trust of C. Henry Smith, a Mennonite historian and professor at Goshen and Bluffton (Ohio) colleges, funds the contest, which has been part of Goshen College's history since the early 1900s. 
– By Alysha Landis
Editors: For more information about this release, to arrange an interview or request a photo, contact Goshen College News Bureau Director Jodi H. Beyeler at (574) 535-7572 or jodihb@goshen.edu.
### 
Goshen College, established in 1894, is a residential Christian liberal arts college rooted in the Anabaptist-Mennonite tradition. The college's Christ-centered core values – passionate learning, global citizenship, compassionate peacemaking and servant-leadership – prepare students as leaders for the church and world. Recognized for its unique Study-Service Term program, Goshen has earned citations of excellence in Barron's Best Buys in Education, "Colleges of Distinction," "Making a Difference College Guide" and U.S. News & World Report's "America's Best Colleges" edition, which named Goshen a "least debt college." Visit www.goshen.edu.