Learning Arabic prepares Goshen students for semester in Egypt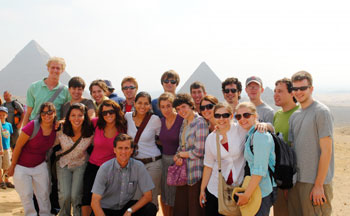 GOSHEN, Ind. – As a group of 19 Goshen College students prepared to depart for a semester of study and service in Egypt on Sept. 2 – the first time the college has sent a group to the Middle East – President Jim Brenneman offered them words of encouragement: "This is a historic moment. A little over two years ago we had this dream that one day Goshen College students would be able to bridge that great divide between … the Muslim and the Christian worlds. … It's an opportunity of a lifetime for you all," he said. "As-salaamu Aleikum (Peace be unto you)." After a second, the group of students replied, "Wa-Aleikum As-salaam (And unto you, peace)."
To prepare for that moment and the coming semester, the students spent the past school year in intensive language study of Arabic with Paul Keim, professor of Bible and religion. Because Egypt is now part of the college's Study-Service Term (SST) locations, Arabic is offered every year and for credit. In the past, Keim taught classical Arabic informally several times, but it wasn't for credit and just focused on learning to read the language.
During the two semesters in the 2009-10 academic year of the language study, more than 20 students worked on elementary speaking, reading and listening comprehension skills. Since many of them were planning on going to Egypt, they studied Modern Standard Arabic and the Egyptian dialect, which is the most widely known dialect in the Arab world. And though the class was focused on language study, during the spring semester Director of International Education Tom Meyers led Egyptian Friday every week, offering a cultural presentation. Meyers is the leader for the Egypt SST this fall.
By the end of a year of language study, students were ready for intermediate Arabic and able to read simple texts or carry on a simple conversation. Arabic is in the Semitic language family, related to Hebrew and Aramaic. The alphabet is a 28-letter cursive system that is read from right to left. And some sounds in this language are more difficult for English speakers to hear and reproduce.
While taking the Arabic classes, junior business major David Zwier said, "I guess what drives many of us is that moment when it hits home that you can actually read and understand what it says on a page in front of you, whereas one year ago it would have been gibberish." Zwier is from Santo Domingo, Dominican Republic.
In addition to Keim, Marcelle Al-Zoughbi, a peace, justice and conflict studies major who is from Palestine and for whom Arabic is a first language, was a class assistant and led a conversation lab with the students once a week.
"I am the only Arabic speaker on campus. I love Arabic class the most because I get the chance to share my culture with students and break stereotypes," said Al-Zoughbi.
Keim, who can read numerous ancient languages and communicate in several modern languages, learned classical Arabic in graduate school, and then spent a summer in Jordan at a language school. "The first time I saw the language written was when I was in college here," Keim said, who graduated from Goshen in 1978. "It is a beautiful language and the culture is fascinating. The interest is out there in this generation."
Senior art major Andrea Kraybill, from Elkhart, Ind., said, "Learning Arabic is like deciphering a code. As I continue to learn new words and grammar structure I am excited to be able to understand phrases I hear or see written. A whole world opens up, and I realize I am learning to communicate in a language that millions of people speak, but few in the West understand. I look forward to learning more about Arabic, Egyptian and Islamic cultures, each in their respective dimensions."
Bordering the Mediterranean Sea and the Red Sea, Egypt is in North Africa and Western Asia. Like other SST locations, the program in Egypt is designed to help students understand the complexities of the cultures that they live in. Since approximately 90 percent of Egyptians are Muslim, students will have opportunities to talk and relate with Muslims and learn from them. Students will spend seven weeks in Cairo, a center of learning, culture and commerce. They will stay at Eman (Faith) Hostel in Helwan, which is a southern suburb of Cairo, and they will commute daily by the Metro (subway) to the ETC language center in Hadayek El Maadi for Arabic and cultural classes. During the second part of the semester, students will have the opportunity to do service.
Zwier said, "I chose to go to Egypt SST, and consequentially learn Arabic, because of the important role that the Middle East plays in global politics and economics. I believe that it is extremely difficult if not impossible to truly get to know a culture at a distance. By immersing myself in Egyptian and Arabic culture I hope to become more compassionate, loving and less affected by the negative stereotypes which western culture has of the Arab world and of Islam."
Other colleges have study abroad programs in Egypt, but few have programs that are a semester in length and that stay in Egypt the entire time.
– By Jodi H. Beyeler