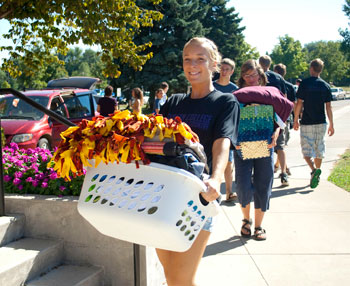 Goshen College sophomore Erin Helmuth, a mathematics major from Elkhart, Ind., helps new students move in to Yoder Residence Hall during Orientation Weekend on Aug. 28.
Photo by Jodi H. Beyeler/Goshen College Public Relations

GOSHEN, Ind. — Goshen College welcomed new and returning students back to campus, as classes began on Aug. 30. Fall 2010 enrollment statistics at Goshen College show a total head count of 960 students attending full or part time and taking courses, seeking graduate degrees or seeking degrees through Goshen's Division of Adult and External Studies (DAES), according to Goshen College Registrar Stan Miller.This year there are 919 students enrolled (full or part time) in the undergraduate program, including 236 new undergraduate students (first-time freshmen and transfers). In addition, there are 41 students enrolled in the college's two graduate programs — a Master of Science degree in Nursing and a Master of Education degree in Environmental Education.
Other fall 2010 enrollment highlights:
Profile of the incoming class: The average grade point average is 3.5 on a 4.0 scale, and they come from 118 different high schools. The top declared majors are nursing, biology, business, psychology and education. The first-year class is 58 percent female, 42 percent male.
Profile of the undergraduate student body: Students come from 37 states, and the top five are Indiana, Pennsylvania, Ohio, Illinois and Michigan. There are 58 international students enrolled from 37 countries. There are 120 full- and part-time U.S. minority students enrolled this fall.
Editors: For more information about this release, contact Goshen College News Bureau Director Jodi H. Beyeler at (574) 535-7572 or jodihb@goshen.edu.
### 
Goshen College, established in 1894, is a residential Christian liberal arts college rooted in the Anabaptist-Mennonite tradition. The college's Christ-centered core values – passionate learning, global citizenship, compassionate peacemaking and servant-leadership – prepare students as leaders for the church and world. Recognized for its unique Study-Service Term program, Goshen has earned citations of excellence in Barron's Best Buys in Education, "Colleges of Distinction," "Making a Difference College Guide" and U.S. News & World Report's "America's Best Colleges" edition, which named Goshen a "least debt college." Visit www.goshen.edu.