Goshen College's summer bridge program gives students a head start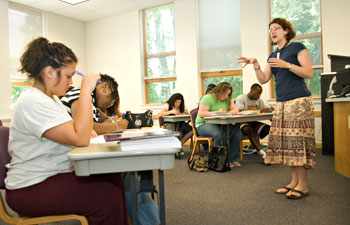 GOSHEN, Ind. – This summer, 21 incoming U.S. Latino, African American, Asian American and Native American college students participated in the Goshen College Summer Academic Leadership Training (SALT) program – sponsored by the Center for Intercultural Teaching and Learning (CITL) at Goshen College to help first-year students successfully transition from high school to college.
Throughout the three-week program, from June 14 to July 3, students lived on campus and took either a speech or writing class. In the process, students received three academic credit hours.
During the program, Suzanne Ehst, academic counselor at Goshen College and academic coordinator for SALT, saw an intellectual growth that she believes will help the students as they begin classes in the fall. "I've seen students grow in their intellectual independence," she said. "In the first week, students seemed most comfortable when every detail of an assignment was clearly spelled out. … [Now] I see students taking more intellectual risks, forming opinions about complex subjects. … If they can carry this disposition into the academic year, they will have an excellent start to their college careers."
Jair Hernandez, a student from Goshen who participated in the program, also believes the academic portion of the program was a helpful preparation. "As far as transitioning to college, the most helpful part has to be going to class, because the difference in the amount of work needed for a high school class and a college class is very different and this program showed me that," he said.
To be eligible for the program, students had to be on track to graduate from high school last spring, admitted to Goshen College in the fall as a full-time, first-semester incoming student and be a member of a minority group historically underrepresented in higher education.
After class in the morning, students participated in an afternoon peer-led study session. Two teacher's assistants were hired for each class to help students with assignments and give updates to the professors on the progress of each student. "Our hope is that by requiring this study time, we're fostering habits that will spill over into the academic year: get your work done before you play, and don't be afraid to ask for help," Ehst said.
In addition to the class and study sessions, a not-for-credit math lab was an option for students to gain confidence in mathematics and to understand its relevance outside the classroom.
To enrich the curriculum, the group took field trips to the Freedom Center in Cincinnati, the Mexican Arts Museum in Chicago, and to Indianapolis. The trips were structured to strengthen the ethnic identity component of the program.
While SALT was first an academic program – giving students a glimpse into the discipline to succeed in college – there was also a community-building aspect that gave students the ability to make connections with peers and others around campus.
"I was always excited to come to GC, but living here for three weeks has shown me how cool the people here are in terms of their outlook toward strangers," Hernandez said.
Three resident assistants, including Edgar Saucedo-Davila, a sophomore, Rocio Diaz, a senior, and Jeremy Pope, a junior, with resident director Chad Coleman, worked on the community life staff. "I have really enjoyed observing and interacting with the students involved," said Coleman. "They are energetic and really have embraced the experience more so than I could have ever imagined. Three weeks isn't a lot of time to acclimate yourself, but they did so within the first two days of the program."
Although the program focuses on current students, a research component through the Center for Intercultural Teaching and Learning aims to create the best possible bridge program for future students at Goshen and at similar colleges. Throughout the program, students were interviewed and their experience will be assessed to see what changes can make the program even more effective. The study will also track student progress throughout their time at Goshen.
In the future, Director of Multicultural Affairs Odelet Nance says Goshen College hopes to have similar transitional and pre-college programs for other students, such as first generation and international students. "I believe this program will be the start of some really great initiatives," Nance said.
But ultimately the program is about the students. "We believe these students have academic and leadership gifts to offer Goshen College," Nance said. "And we are excited about them returning in the fall."
–By Tyler Falk
Editors: For more information about this release, to arrange an interview or request a photo, contact Goshen College News Bureau Director Jodi H. Beyeler at (574) 535-7572 or jodihb@goshen.edu.
### 
Goshen College, established in 1894, is a residential Christian liberal arts college rooted in the Anabaptist-Mennonite tradition. The college's Christ-centered core values – passionate learning, global citizenship, compassionate peacemaking and servant-leadership – prepare students as leaders for the church and world. Recognized for its unique Study-Service Term program, Goshen has earned citations of excellence in Barron's Best Buys in Education, "Colleges of Distinction," "Making a Difference College Guide" and U.S. News & World Report's "America's Best Colleges" edition, which named Goshen a "least debt college." Visit www.goshen.edu.