Goshen College shares green practices with local business leaders; New Web site chronicles ecological stewardship at the college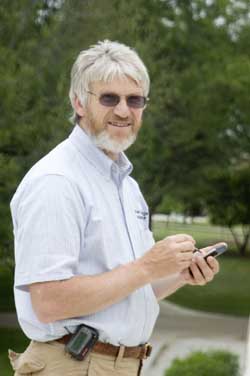 GOSHEN, Ind. – In these tough economic times, business owners are eager to save money. Members of the Sustainable Business Roundtable in Michiana want to save the planet too. Goshen College hosted the May meeting of the group to share some of the "green" practices of the college.
Glenn Gilbert, Goshen College sustainability coordinator and utilities manager, said that the most significant "green" practice at Goshen College is the highly sophisticated energy management system that has evolved since 1990. The system merges computer technology with HVAC systems, using over 700 controlling devices connected to 31 cabinets throughout the campus. Careful scheduling of lights, heating and air conditioning has led to a significant drop in energy consumption. Current electricity consumption, for instance, is comparable to 1994 levels, despite ever-growing reliance on electronic devices and air conditioning. And natural gas usage in 2008 was less than in 1992, despite a 60 percent increase in campus square footage. The campus energy use index (EUI) – a formula that distills electricity and natural gas usage per square foot into a single number – has dropped from 110 in 1990-91 to only 73 in 2008-09.
Gilbert can monitor the energy usage of every room on campus from a hand-held computer. If a refrigerator compressor quits, or a window is left open over Christmas break, or high humidity levels signal flooding in a basement room, the system pages someone who is on call at all times. The energy management system has saved many kilowatt hours and btus, but actual cost savings fluctuate with energy prices from year to year. According to Gilbert, decisions about any campus upgrades consider a triple bottom line: cost, quality of life and sustainability.
In addition, Gilbert shared other "green" practices at the college. Custodians use only green-certified products and the physical plant is working together with other Indiana college physical plants to meet EPA regulations for all waste disposal.
Academic departments are also tackling practical sustainability projects. The chemistry department has led the production of biodiesel fuel from waste cooking oil; the physics department has been planning solar hot water heating for the Gingerich Recreational-Fitness Center; environmental science classes have plans for prairie grass plantings to absorb water run-off from parking lots; and an economics class did an alternative energy feasibility study for a local car dealership.
The newly launched Web site www.goshen.edu/gogreen showcases the college's efforts toward ecological stewardship. It includes descriptions of academic programs, the energy management system, a creation care theology statement and more.
Goshen College President Jim Brenneman was one of the first signers of the President's Climate Initiative. His signature committed Goshen College to develop a plan to reduce the campus's climate impact to zero. An ecological stewardship committee of faculty, administrators and students is developing the climate impact plan. The committee also encourages campus efforts aimed at reaching energy and resource consumption levels that are sustainable.
Merry Lea Environmental Learning Center of Goshen College, a 1,150-acre site located near Wolf Lake, has the only building complex in Indiana given a Platinum rating by the LEED organization (Leadership in Energy and Environmental Design).
The next meeting of the Sustainable Business Roundtable will be held at the WVPE studio at 7 a.m. on Friday, June 19. The June 3 Sound of the Environment noon luncheon, held at the Rieth Visitor's Center in Goshen, will focus on LEED certification. For more information about these and other local sustainability events, see www.greenismybusiness.blogspot.com.
– By Becky Horst
Editors: For more information about this release, to arrange an interview or request a photo, contact Goshen College News Bureau Director Jodi H. Beyeler at (574) 535-7572 or jodihb@goshen.edu.
###
Goshen College, established in 1894, is a residential Christian liberal arts college rooted in the Anabaptist-Mennonite tradition. The college's Christ-centered core values – passionate learning, global citizenship, compassionate peacemaking and servant-leadership – prepare students as leaders for the church and world. Recognized for its unique Study-Service Term program, Goshen has earned citations of excellence in Barron's Best Buys in Education, "Colleges of Distinction," "Making a Difference College Guide" and U.S. News & World Report's "America's Best Colleges" edition, which named Goshen a "least debt college." Visit www.goshen.edu.