President Brenneman says Middle East trip may prompt new educational exchanges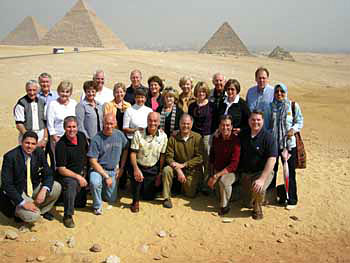 GOSHEN, Ind. – Goshen College President James E. Brenneman called for greater dialogue and exchanges between Christians and Muslims as he concluded a trip in which he led Goshen College board members and supporters to Egypt and the United Arab Emirates.From meeting religious, business and political leaders and discussing the possibility of new educational exchanges, to visiting some of the most spectacular sites in the ancient world, Brenneman and other members of the delegation said they were treated to a transformational interfaith experience.
Brenneman said the relationships developed during the trip could lead to student and faculty exchanges between Goshen College and institutions in Egypt in such areas as peace studies, religion, art, "green economics," Third World development and more.
"In this day and age when some have tried to articulate a 'war between civilizations' as it pertains to Christian and Muslim belief systems, it's an opportune time for Goshen College to begin to take small steps into open doors," Brenneman said. "These may lead to major opportunities and blessings for our students and others all under the larger rubric of a 'World House of Learning' – a vision for Goshen College becoming a truly global education village."
The trip, Feb. 19 to March 5, included visits to the Dubai International Financial Center, the Egyptian Museum in Cairo, the Great Pyramids of Giza and the Sphinx, the Bibliotheca Alexandrina in Alexandria, the Valley of the Kings on the west bank of Luxor and areas of the Nile River known as the biblical land of Goshen.
"Our theme for the trip was 'From Goshen to Goshen,' in which we used the biblical story of Joseph's sojourn in Egypt as a metaphor for our own journey to this ancient land of pharaohs and sheikdoms," Brenneman said.
"We explored what kinds of knowledge and resource exchanges between Goshen College and this region might occur, particularly for advancement of the college's key initiatives. We also served as Christian and American ambassadors in the Middle East and further connected Goshen College to the world," Brenneman said.
Sixteen members of Brenneman's "President's Circle," including Goshen College Board members Virgil Miller, Ervin Bontrager and Faith Penner, took the extraordinary trip.
President's Circle members, who self-funded the trip, have invested their time, talent and financial resources to strengthen Goshen College and support its core values, mission and strategic goals. Members donate a minimum of $25,000 annually in unrestricted funds for the college to respond to opportunities and to needs as they arise.
President Brenneman's spouse, Terri Plank Brenneman, accompanied him. Coordinating the trip were David E. Martin, a 1988 Goshen College graduate and the founding chief executive officer of M-CAM, Inc. of Charlottesville, Va., along with Vice President for Institutional Advancement William Jones and Director of Major Gifts Jim Caskey.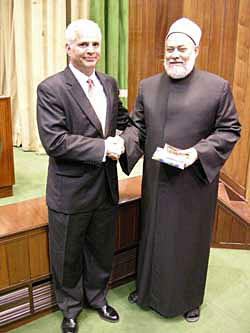 Jones said that members of the delegation met with religious leaders, elected officials, representatives of international organizations, university professors and peace advocates. Among highlights were meetings with: Asem O. Kabesh, managing director and member of the board of the Dubai International Financial Center; Dr. Ali Gomaa, the Grand Mufti (a scholar of Islamic law) of Egypt; Dr. Mustafa El-Fiky, the chairman of the Foreign Relations Committee of the Egyptian Parliament; Dr. Leila Takla, a former member of parliament and president of the board of trustees of the United Nations Human Rights Technical Cooperation Programs; Dr. Zahi Hawass, the world's foremost Egyptologist; Dr. Ali El Samman, president of the Committee for Interfaith Dialogue and Islamic Relations at the Supreme Islamic Council; and Ambassador Aly Maher, director of the Institute for Peace Studies of the Bibliotheca Alexandrin."We were given the opportunity to meet with several influential change agents who have been the ones pushing and pulling Egypt into the future," Jones said. "Their words may help to chart the course for new opportunities at Goshen College."
The trip was envisioned by Martin based on the international business relationships and friendships he developed with two business leaders in Egypt and the United Arab Emirates – Moustapha Ismail Sarhank and Steffen Schubert.
Sarhank is an Egyptian scholar in the interdisciplinary field of leadership, psychology and religion and the honorary chairman of Sarhank Group for Investments, which does business in the United States, the Middle East and Europe. Schubert, a German banker, is a financial expert whose most recent major accomplishment was starting the Dubai International Finance Exchange in the United Arab Emirates.
Starting in April 2007, Goshen College administrators began discussions with Martin, Sarhank and Schubert about the possibility of a President's Circle trip to Egypt and the United Arab Emirates. Sarhank met with the group during the trip.
Martin, Sarhank and Schubert spoke at Goshen College in September 2007 at a forum organized around the goal of fostering better relationships between the West and the Middle East. About 125 people attended the forum titled "Doing Business in the Muslim World: Are Western Leadership Concepts Appropriate in Islamic Cultures?"
Brenneman said he and all President's Circle members share the belief that fostering better relationships between individuals in the West and Muslim countries will require setting aside stereotypes and developing a higher level of mutual understanding and trust. "This trip was part of that process," he said.
– Written by Richard R. Aguirre 
Editors: For more information about this release, to arrange an interview with President Brenneman or to request a photo, contact Jodi Beyeler, director of the campus news bureau, at (574) 535-7572 or jodihb@goshen.edu, or Richard R. Aguirre, director of public relations, at (574) 535-7571 or rraguirre@goshen.edu.
### 
Goshen College, established in 1894, is a residential Christian liberal arts college rooted in the Anabaptist-Mennonite tradition. The college's Christ-centered core values – passionate learning, global citizenship, compassionate peacemaking and servant-leadership – prepare students as leaders for the church and world. Recognized for its unique Study-Service Term program, Goshen has earned citations of excellence in Barron's Best Buys in Education, "Colleges of Distinction," "Making a Difference College Guide" and U.S. News & World Report's "America's Best Colleges" edition, which named Goshen a "least debt college." Visit www.goshen.edu.