Tuesday, September 11, 2007
Business experts press for closer ties between Western and Islamic cultures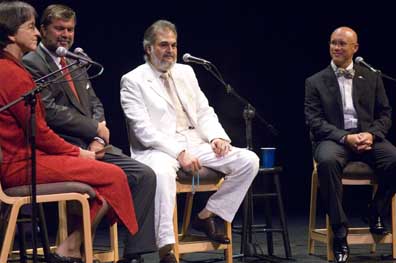 GOSHEN, Ind. — Fostering better relationships between companies — and countries — in the West and the Middle East will require setting aside stereotypes and developing a higher level of mutual understanding and trust.
That message was recently delivered at Goshen College by a U.S. business owner, a German banker who helped start the Dubai International Finance Exchange in the United Arab Emirates and an Egyptian scholar with financial interests in the Middle East and Europe.
David E. Martin, a 1989 graduate of Goshen College and the founding chief executive officer of M-CAM, Inc. of Charlottesville, Va., said he has enjoyed doing business in the Middle East because Islamic cultures tend to foster accountability and transparency in business relationships. "I find myself at home in places like Dubai," he said.
Steffen Schubert, a banker and expert on the financial industry, said the United Arab Emirates welcomes the business contributions and work of all people, regardless of their nationality or religion. Schubert said the United Arab Emirates has become a "true melting pot" as well as an open, relaxed and peaceful society.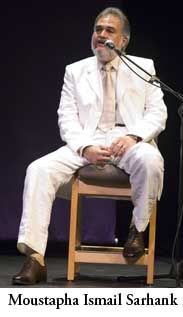 Moustapha Ismail Sarhank, a scholar in the interdisciplinary field of leadership, psychology and religion and the honorary chairman of Sarhank Group for Investments, said U.S. companies often incorrectly assume that the U.S. business model is the best in the world and thus treat people from other countries disrespectfully.
In his case, Sarhank said he built a successful company whose value grew from $150 million to $2.3 billion over 15 years. He attributed his success to keeping God at the center of his life, respecting elders, treating employees courteously, relying on the talents of men and women of different faith traditions and keeping an open mind about others.
"I do not have employees. I have colleagues who help me reach objectives," he said.
Martin, Schubert and Sarhank made their comments during a public forum — titled "Doing Business in the Muslim World: Are Western Leadership Concepts Appropriate in Islamic Cultures?" — that was held Saturday, Sept. 8 at Goshen College. About 125 people attended the forum at the Umble Center, which was moderated by Jan Bender Shetler, a professor of history at the college.
Sarhank said that he took an immediate dislike to Martin when they first met, in the United Arab Emirates, because they had a clash of cultures and personalities. But as they began discussing such values as respect, justice and honor, Sarhank said, they realized that they had much in common, and they have since become as close as brothers.
Sarhank said it's important to keep an open mind in business dealings. For example, he said that it's as incorrect for U.S. citizens to assume people from all Muslim nations think and act the same as it is for people from Islamic cultures to assume that all people from the West think and act the same.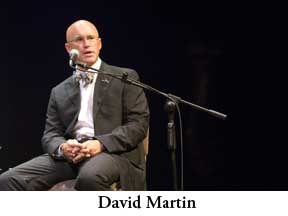 Martin, whose company is an international leader in intellectual property-based financial risk management, said that he believes political leadership in the United States has come to be embodied in people capable only of "standing in front of the crowd and yelling the loudest." Instead, he stated that true leaders are those who embrace dignity, mutual respect, justice and diversity.
Martin, Sarhank and Schubert also said that fostering better business relationships between Western and Islamic cultures would require a greater mutual respect and a willingness to foster personal relationships that will benefit all sides of business deals.
"Going in trying to impose a system is as disrespectful as failing to address somebody by their first name," Martin said. "Disrespecting cultures and disrespecting countries is as bad or worse as disrespecting individuals. And so our corporate philosophy has been and continues to be you deposit before you withdraw." His company's commitment is to address the needs of people in the communities and countries they do business in before making a profit for themselves.
Goshen College President James E. Brenneman said the forum was a stimulating discussion about global business relationships and was timely in light of the sixth anniversary of the Sept. 11, 2001 attacks and at a time when the U.S. military continues to be involved in Afghanistan and Iraq.
"An evening like this provides a model for us to think about being aware of each other's religious disciplines, respectful of each other's cultures and being honest about the fact that none of us know everything there is to know," Brenneman said afterward.
"These three men provided a model of how important relationships can be to the global business community. One does not have to separate their core values from their business practices in order to succeed."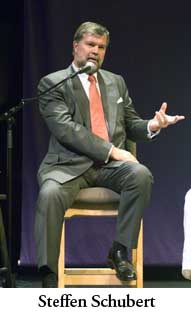 Both Sarhank and Schubert said that they were impressed by Goshen College, especially its international Study-Service Term program, its emphasis on peace, justice and reconciliation and the Merry Lea Environmental Learning Center, a 1,150-acre nature center owned and operated by the college.
"You have something I think many people would envy," Sarhank said. "What I have seen here is definitely going to make me want to come back again."
Martin, who has formed friendships and business relationships with Sarhank and Schubert, said he arranged Saturday's public forum because he believed the messages delivered would resonate in the community.
"There are more people here who are going to actually take this message and weave it into what they going to do with their life than those who might look at it [just] as an academic exercise." Martin added that the forum was "a way to reinforce the components of Goshen [College], which are the components which I value."
The Center for Business and Entrepreneurial Education, the Yoder Public Affairs Lecture Series and the Peace, Justice & Conflict Studies Department sponsored the forum.
Editors: For more information about this news release or to arrange an interview, contact Richard R. Aguirre, Goshen College director of public relations, at (574) 535-7571 or rraguirre@goshen.edu.
###
Goshen College, established in 1894, is a residential Christian liberal arts college rooted in the Anabaptist-Mennonite tradition. The college's Christ-centered core values – passionate learning, global citizenship, compassionate peacemaking and servant-leadership – prepare students as leaders for the church and world. Recognized for its unique Study-Service Term program, Goshen has earned citations of excellence in Barron's Best Buys in Education, "Colleges of Distinction," "Making a Difference College Guide" and U.S. News & World Report's "America's Best Colleges" edition, which named Goshen a "least debt college." Visit www.goshen.edu.