Winner of 2008 peace speech contest focuses on ending child labor
GOSHEN, Ind. – The community and college convened on Feb. 5 to hear speeches by five Goshen College students on subjects concerning principles of peace in the 2008 C. Henry Smith Peace Oratorical Contest.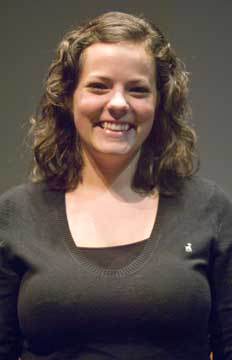 Senior art major Nicole Boyd (Goshen, Ind.) won first place in the contest for her speech, "The loss of a childhood: A call to action on pursuing the end of child labor." In her research, Boyd made links between different industries and their involvement and perpetuation of child labor.
Boyd asked the tough question: How do we actively implement our feelings against child labor as consumers in the United States? "Be an intelligent consumer," said Boyd, as one step to limit child labor.
"Child labor is a topic I have always been upset by," said Boyd. "I thought it might be interesting to explore this further and call on people to be accountable."
This was Boyd's first speech contest. She will move on to submit her speech to the U.S./Canada Mennonite Central Committee-sponsored C. Henry Smith Peace Oratorical Contest.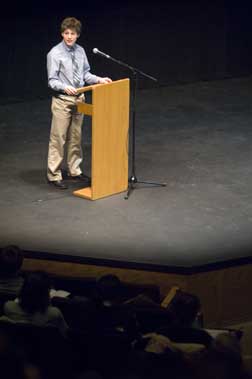 Jacob Kraybill, (Lancaster, Pa.) a first-year communication major, won second place for his speech, "Unpacking the issues: Gay marriage in America." Kraybill gave anecdotes and statistics arguing against the social injustices and human rights violations that surround the issue of the legalization of same sex marriage.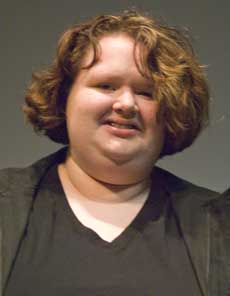 Sophomore communication major Piper Voge (Indianapolis, Ind.) shared an emotional story of her own history as an abused child in her speech, "Scars are not symbols of brokenness but of healing: How one person can change an abused child's life." Voge used her speech as a reflection about how she escaped an abusive household and was consequently changed by a caring adult influence while challenging her listeners to impact the lives of the children around them. "All it takes to change the world is making sure every child is loved," said Voge.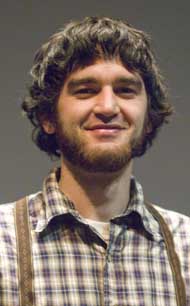 Tim Showalter, a senior Bible and religion major with a women's studies minor (Harrisonburg, Va.), spoke on Christians' tendencies to identify themselves and their lives based on what they are not – on the alternatives – in his speech, "Living in Line with the Grain of the Universe: rejecting a reactionary Christianity."
"This piece," said Showalter, "encourages us all to imagine what it might look like if we began to talk about what we are."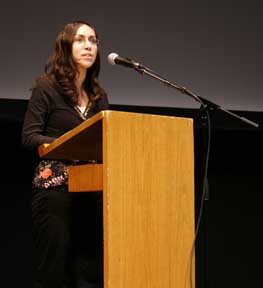 Ciara Reyes (Goshen, Ind.), a first-year biology and English double major, gave a speech, "The American Dream Revisited," which drew on Dr. Martin Luther King Jr.'s famous speech from the March on Washington to illustrate a world where every race could have that dream of freedom, equality and diversity – if it weren't for a problematic immigration system. The solutions she suggested included direct action in the forms of education, empowerment, acknowledgement and compassion. "Let us begin to dream a solution into existence so our dream can evolve into a reality," said Reyes.
Pat McFarlane, associate professor of communication, said, "I was delighted with the variety of peace-related topics and the energy and passion of the student speakers in Tuesday night's contest. I believe the speakers challenged the audience to reflect more deeply on how to relate our desire for peace and justice to real world issues."
The annual C. Henry Smith Peace Oratorical Contest was established in 1974 in honor of Smith and his academic contribution as a Mennonite historian and professor at Goshen College and Bluffton (Ohio) College. Speech contests have been part of Goshen College's history since the early 1900s; the C. Henry Smith contest allows the campus community to hear more about relevant, contemporary issues.
 – By Emily Dougherty
Editors: For more information about this release, to arrange an interview or request a photo, contact Goshen College News Bureau Director Jodi H. Beyeler at (574) 535-7572 or jodihb@goshen.edu.
###
Goshen College, established in 1894, is a residential Christian liberal arts college rooted in the Anabaptist-Mennonite tradition. The college's Christ-centered core values – passionate learning, global citizenship, compassionate peacemaking and servant-leadership – prepare students as leaders for the church and world. Recognized for its unique Study-Service Term program, Goshen has earned citations of excellence in Barron's Best Buys in Education, "Colleges of Distinction," "Making a Difference College Guide" and U.S. News & World Report's "America's Best Colleges" edition, which named Goshen a "least debt college." Visit www.goshen.edu.