Leading experts on the Amish, including Goshen College's Steve Nolt, explain surprising forgiveness of Nickel Mines schoolhouse killer in new book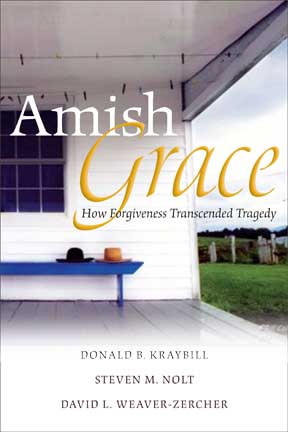 "Amish Grace" included on Publishers Weekly's Best of 2007 list (one of 15 Religion titles).
Related links:
In the media:
Nolt op-ed: The Amish remind us all that forgiveness is possible. South Bend Tribune. Oct. 10, 2007.
'Grace' a popular read. The Truth. Oct. 6, 2007. (free registration required)
On Amish Grace. Bill Moyers Journal. Oct. 5, 2007. (video, transcript, resources)
Nolt op-ed: Amish grieving expresses forgiveness, not anger. Indianapolis Star. Oct. 4, 2007.
The context of forgiveness. Chuck Colson's BreakPoint Commentary. Oct. 3, 2007.
An interview with Nolt: How can the Amish forgive what seems unforgivable? USAToday. Oct. 2, 2007.
Authors describe Amish faith, forgiveness. Goshen News. Oct. 2, 2007.
GC prof tells of Amish will to forgive. The Truth. Oct. 2, 2007. (free registration required)
Among the Amish, a grace that endures. The Philadelphia Inquirer. Oct. 1, 2007.
Nickel Mines legacy: Forgive first. Pittsburgh Post-Gazette. Sept. 30, 2007.
'Amish Grace' writers merged styles, ideas. Lancaster Intelligencer Journal. Sept. 25, 2007.
Book explores Amish ability to forgive. Lancaster Intelligencer Journal. Sept. 24, 2007.
Amish grace. Lancaster Sunday News. Sept. 23, 2007.
Amish School Boys Struggle With Memories. Associated Press. Sept. 22, 2007.
Steve Nolt interview on PBS's Religion & Ethics Newsweekly. Sept. 21, 2007.
Book excerpt on ChristianityToday.com. Sept. 17, 2007.
Goshen College Professor of History Steven M. Nolt, a leading expert on the Amish, is one of the co-authors of the new book "Amish Grace: How Forgiveness Transcended Tragedy" (Jossey-Bass, A Wiley Imprint, Sept. 27, 2007), which explores the history, theology and culture of the Amish, connecting forgiveness to their entire way of life. The book is based on conversations with over two dozen Amish people in the Nickel Mines area, including family members of the murdered children. The three Anabaptist authors – Nolt, Senior Fellow at the Young Center of Elizabethtown College Donald B. Kraybill and Associate Professor of American Religious History at Messiah College David L. Weaver-Zercher – also spoke to relatives of the gunman.
The Amish are a people "uncommonly prepared to respond with graciousness, forbearance, and love," the authors say. Their extension of grace was neither calculated nor random, but emerged from who they were long before the awful day that claimed the lives of five of their children. The Amish stand in a centuries-old tradition that supports the decision to forgive. They believe God expects people to forgive and that their own martyred ancestors modeled forgiveness by not seeking revenge.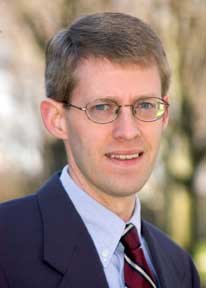 "It's just what we do as nonresistant people. It was spontaneous. It was automatic. It was not a new kind of thing," the Amish told the authors. Every Amish person they spoke with agreed: forgiveness for Roberts and grace for his family were spontaneous expressions of faith, not mandates from the church. It is woven into the fabric of their communal life, spun from faith in God, scriptural mandates and a history of persecution.
The Amish response to the Nickel Mines killings offers new insights into the possibilities and practices of forgiveness, even in the face of tragic and horrific human events. "Perhaps our real human need is to find ways to move beyond tragedy with a sense of healing and hope," the authors write. "What we learn from the Amish, both at Nickel Mines and more generally, is that how we choose to move on from tragic injustice is culturally formed."
"Regardless of the details of the Nickel Mines story one message rings clear: religion was not used to justify rage and revenge but to inspire goodness, forgiveness and grace," the authors conclude. "And that is the big lesson for the rest of us regardless of our faith or nationality."
The story of Amish forgiveness struck a chord around the world, because as Nolt said, "I think in a world where religion – rightly or wrongly – [only] becomes a news story when it is involved in stirring up hate and division, to have a story where religion is encouraging compassion seemed to be a new thing for a lot of people."
Nolt hopes that the book spurs readers to examine their own lives and views on forgiveness. "I hope [readers] take something away from this about forgiveness that they can apply to themselves, and not just think, 'Well, I either have to imitate the Amish, and that's impossible, so I guess there is nothing here for me except to say that these are great people.' That's not what the Amish want. They don't want that kind of praise. And also I don't think that's all that valuable. If anything, that just gets us off the hook from asking questions about ourselves."
Nolt has taught at Goshen College since 1999. He received a doctorate in history from the University of Notre Dame, and a graduate theology degree from Associated Mennonite Biblical Seminary. Nolt has studied Amish history and culture across many settlements. His books on the Amish include "A History of the Amish" (rev. ed., Good Books, 2003); "Amish Enterprise: From Plows to Profits" (2nd ed., with Donald B. Kraybill, Johns Hopkins University Press, 2004); "Plain Diversity: Amish Cultures and Identities" (with Thomas J. Meyers, Johns Hopkins University Press, 2007); and "Mennonites, Amish, and the American Civil War" (with James O. Lehman, Johns Hopkins University Press, 2007).
Following the Oct. 2, 2006, shooting, the three authors explored reports about Amish forgiveness that followed in the wake of the shooting. They conducted many face-to-face interviews with Amish people to probe their beliefs about and their practice of forgiveness. In addition they pursued Amish writings on forgiveness as well as other historical examples in which Amish people expressed forgiveness to those who had wronged them, and reviewed hundreds of media stories and editorials on Amish forgiveness at Nickel Mines. Finally, the authors compared Amish practices of forgiveness with the broader research on forgiveness in American society. The research was conducted from Nov. 1, 2006 through April 1, 2007.
The book is already receiving high acclaim. Publishers Weekly Starred Review said, "This intelligent, compassionate and hopeful book is a welcome addition to the growing literature on forgiveness." And the book's endorsers include Bill Moyers, Jim Wallis, Sister Helen Prejean, Tony Campolo, Philip Yancey and Fred Luskin. For more information, visit www.amishgrace.com.
Because the authors did not want to profit off of this tragedy, all author royalties from "Amish Grace" are being donated to Mennonite Central Committee (MCC) to benefit children suffering because of poverty, war and natural disaster. MCC is a relief, development and peace agency of the North American Mennonite and Brethren in Christ churches.
The Fetzer Institute provided research funds for "Amish Grace" as part of its Campaign for Love & Forgiveness, www.fetzer.org/LoveAndForgive.
CONTACT:
Goshen College Professor of History Steven M. Nolt
Phone: (574) 535-7460
E-mail: stevemn@goshen.edu
BOOK INFORMATION:
"Amish Grace: How Forgiveness Transcended Tragedy"
by Donald B. Kraybill, Steven M. Nolt, David L. Weaver-Zercher
Jossey-Bass, A Wiley Imprint
SBN: 978-0-7879-9761-8
$24.95 cloth
PUB DATE: Sept. 27, 2007
Editors: For more information about this release, to arrange an interview or request a photo, contact Goshen College News Bureau Director Jodi H. Beyeler at (574) 535-7572 or jodihb@goshen.edu.
###
Goshen College, established in 1894, is a residential Christian liberal arts college rooted in the Anabaptist-Mennonite tradition. The college's Christ-centered core values – passionate learning, global citizenship, compassionate peacemaking and servant-leadership – prepare students as leaders for the church and world. Recognized for its unique Study-Service Term program, Goshen has earned citations of excellence in Barron's Best Buys in Education, "Colleges of Distinction," "Making a Difference College Guide" and U.S. News & World Report's "America's Best Colleges" edition, which named Goshen a "least debt college." Visit www.goshen.edu.