Tuesday, October 2, 2007
Amish forgiveness rang around the world, and continues a year later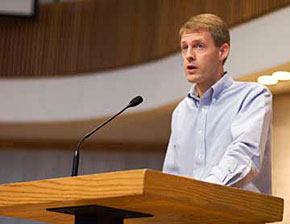 Related links:
In the media:
GOSHEN, Ind. – A year ago, on the first Monday in October 2006, a horrific shooting at an Amish schoolhouse in Nickel Mines, Pa., became news around the world. "Very quickly the media story shifted from one of lost innocence to one of bewilderment and even consternation," said Goshen College Professor of History Steve Nolt, during a campus lecture on Oct. 1. "The victimized Amish community were reacting in very strange ways. … While other neighbors said they hoped [the killer] was enjoying burning in hell, the Amish said they trusted he had met a merciful God."
In the days and weeks that followed, Nolt said, "some people praised Amish forgiveness, and jumped to apply its example to a host of other social and political issues. Others denounced Amish forgiveness, condemning it as too fast, emotionally unhealthy and a denial of innate human need to seek revenge."
Over the past year, Nolt and two fellow Amish experts – Senior Fellow at the Young Center of Elizabethtown College Donald B. Kraybill and Associate Professor of American Religious History at Messiah College David L. Weaver-Zercher – "have been on a quest, both academic and personal, to understand the dynamics of what happened in the wake of the Nickel Mines shooting." The result is a just-released book, "Amish Grace: How Forgiveness Transcended Tragedy" (Jossey-Bass).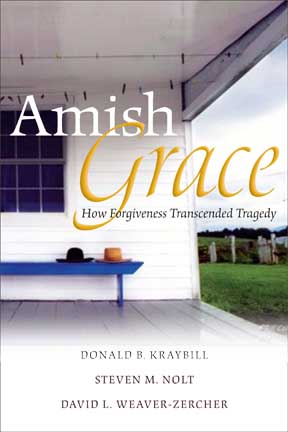 "It turns out that the Amish have a far from simplistic understanding of forgiveness," Nolt said. "The Amish knew they wanted to forgive, knew it so clearly that they could express it immediately and publicly even if and when they didn't feel that way. … At the same time, [they] made clear that forgiving is hard work, emotionally, and that deciding to forgive and expressing that desire with words and actions are only a first step."
Nolt then laid out the distinctions between what Amish forgiveness is and what it is not. "It's not pretending that nothing happened or that the offense wasn't so bad. It's not a pardon or saying that there should be no consequences for actions," he said. "It is about giving up: giving up the right to revenge and giving up feelings of resentment, bitterness and hatred … and treating the offender as a fellow human being."
Underlying the reasons that the Amish could forgive in the way that they did just days after the tragedy is their theology, particularly that "Jesus tells us to forgive and God expects us to forgive," Nolt said. It's not uncommon for the Amish in Lancaster, Pennsylvania, to pray the Lord's Prayer eight times a day, Nolt learned, and 10 times on Sundays. They pay particular attention to the key line: "Forgive us our debts as we forgive our debtors."
As well, forgiveness is supported by hundreds of years of culture and history for the Amish, particularly stories and habits that are told and practiced. As well, "the essence of Amish daily life is 'giving up': giving up self to the group and to God." And, "forgiveness is not an individual matter," but rather a collective act done by the community.
"Although the Amish never anticipated the horror of Nickel Mines, they were prepared to respond long before they needed to," Nolt said.
Saying all of that, Nolt added, "I'm cautious about applying the lessons of Nickel Mines too broadly as a one-size fits all lesson. … Amish forgiveness is not an easily transferable technique because it grows out of a collective life and culture."
But, Nolt concluded, "it is the case that the stories we tell each day, the images we surround ourselves with, the heroes we celebrate and the communities of friendship and worship to which we give ourselves will do a great deal to shape how we forgive, and the kind of world that makes forgiving so necessary. … These are things for which we need discerning communities long before we think we need them."
Editors: For more information about this release, to arrange an interview or request a photo, contact Goshen College News Bureau Director Jodi H. Beyeler at (574) 535-7572 or jodihb@goshen.edu.
###
Goshen College, established in 1894, is a residential Christian liberal arts college rooted in the Anabaptist-Mennonite tradition. The college's Christ-centered core values – passionate learning, global citizenship, compassionate peacemaking and servant-leadership – prepare students as leaders for the church and world. Recognized for its unique Study-Service Term program, Goshen has earned citations of excellence in Barron's Best Buys in Education, "Colleges of Distinction," "Making a Difference College Guide" and U.S.News & World Report's "America's Best Colleges" edition, which named Goshen a "least debt college." Visit www.goshen.edu.