Fast calls for lifting up those with learning disabilities and wins annual speech contest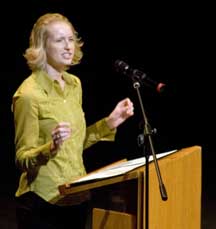 GOSHEN, Ind. – What do Albert Einstein, Thomas Edison, Agatha Christie, Winston Churchill, Alexander Graham Bell, Walt Disney and Pablo Picasso have in common? They were all challenged to overcome learning disabilities – and succeeded.
In front of a crowd that filled Goshen College's Umble Center, junior Rebecca Fast helped her audience connect to the issue of learning disabilities, the effects it has on our society and what is needed for those affected to succeed. And after a 45-minute wait for the judges' verdict, she was named as the first-place winner in the 2006 C. Henry Smith Peace Oratorical Contest for her speech "Misunderstood Minds: Wasted Human Potential."
From Fast's perspective, helping those with learning disabilities meet their potential is a significant peace and justice issue – one of the criteria for the competition – because of the fundamental understanding that all humans are created in the image of God.
Fast, a social work and theater double major from Waterloo, Ontario, said, "Most learning disabilities are not apparent to the outside observers and they cannot be catalogued by race, gender or religion. Students with learning disabilities learn differently from their peers. Although they have average or even above average intelligence, there is a discrepancy between their abilities and their actual achievement. … Sadly, people with learning disabilities that are not acknowledged, accommodated and taught properly simply become invisible and disappear."
Citing nationally cultivated statistics, Fast pointed out the correlation between learning disabilities and depression, anxiety, substance abuse and suicide. The labels which are often placed on those with learning disabilities – stupid, lazy, lacking motivation – are part of the destructive process, Fast said. "They not only devastate their fragile self esteem, but as the statistics have demonstrated, too often become self-fulfilling negative prophecies," she said. "I believe that our society must take responsibility for the failure to properly identify and accommodate people with learning disabilities in our educational system."
Fast concluded by calling on the audience to no longer "waste the human potential" of so many fellow human beings and start to advocate for the understanding of people with learning disabilities. She is the daughter of John and Esther Fast, is a 2003 graduate of Rockway Mennonite Collegiate and attends Erb Street Mennonite Church.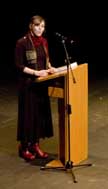 Runner-up Rachel Eisenstat (Waynesburg, Pa.), a senior peace, justice and conflict studies major from Waynesburg, Pa., spoke about the feminine aspects of God in her speech "She has done marvelous things: (Re)opening ourselves to the feminine divine."
By proposing that "there is a relationship between an exclusively male God, patriarchy and violence," Eisenstat made the case for incorporating feminine images of God into worship, prayer and references to God.
Drawing from Old Testament texts as examples, Eisenstat indicated the biblical scholarship pointing to feminine imagery for the Divine as a foundational aspect of Scripture. "The point of the argument to include female images for God in our theology is not that God is female," she said. "Rather humanity has divided characteristics into masculine and feminine, and in patriarchal societies, less worth has been ascribed to those feminine characteristics. Therefore, the feminine characteristics of God have been suppressed, and the image of God has been distorted to support patriarchal structures of male dominance and control."
She concluded, "By opening our minds and spirits to the feminine divine, we allow ourselves to more fully know the God of justice and peace, the God who confronts empire, the God who proclaims that each one of us is made in her image." Eisenstat is the daughter of Mike and Donna Eisenstat, is a 2001 graduate of Waynesburg Central High School and attends Morgantown Church of the Brethren.
The other contestants and their speeches included three first-year students: Analisa Gerig-Sickles (West Branch, Iowa) who spoke on "Cultural Connections," Jameson Lingl (Camarillo, Calif.) who spoke on "The Untold Truths About Cannibis Hemp" and Ian Swartz (Harrisonburg, Va.) who spoke about "Freedom and Justice for All."
The judges for the evening included Neil Amstutz, lead pastor at Waterford Mennonite Church, Nancy Ryan, associate professor of education and communication at Goshen College, and June Alliman Yoder, professor at Associated Mennonite Biblical Seminary. Associate Professor of Communication Pat McFarlane coordinated the competition.
Participants competed for cash prizes and the top winner, Fast, may enter the U.S./Canada Mennonite Central Committee-sponsored C. Henry Smith Peace Oratorical Contest. The trust of C. Henry Smith, a Mennonite historian and professor at Goshen and Bluffton (Ohio) colleges, fund the contest, which gives students an opportunity to become involved with the peace cause while cultivating rhetorical skills. Speech contests have been part of Goshen College's history since the early 1900s; the C. Henry Smith contest allows the campus community to hear more about relevant, contemporary issues.
Editors: For more information about this release, to arrange an interview or request a photo, contact Goshen College News Bureau Director Jodi H. Beyeler at (574) 535-7572 or jodihb@goshen.edu.
###
Goshen College, established in 1894, is a four-year residential Christian liberal arts college rooted in the Anabaptist-Mennonite tradition. The college's Christ-centered core values – passionate learning, global citizenship, compassionate peacemaking and servant-leadership – prepare students as leaders for the church and world. Recognized for its unique Study-Service Term program, Goshen has earned citations of excellence in Barron's Best Buys in Education, "Colleges of Distinction," "Making a Difference College Guide" and U.S.News & World Report's "America's Best Colleges" edition, which named Goshen a "least debt college." Visit www.goshen.edu/.