Groundbreaking launches Merry Lea's "green" collegiate facility; Ceremony for Rieth Village focuses on "ground healing"
GOSHEN, Ind. – As Merry Lea Environmental Learning Center celebrated the launching of phase one of its "green" collegiate facility on May 4, friends, board members, local officials and representatives from Goshen College joined in ceremonies not to break ground, but to better care for it.
Sustainable features of Rieth Village – Phase One
Phase one consists of two cottages, providing housing for up to 32 students, and a third cottage that will serve as the initial classroom and office building. (The goal is to achieve a platinum or high gold rating from the U.S. Green Building Council.)
Site
• Careful excavating practices: limiting soil compaction, limiting site disturbance, recycled concrete used in roadways, best practices in erosion controls
• Landscape design: existing native vegetation protected from construction process, native vegetation used in restorative landscaping
Building Design and Materials
• High efficiency building envelope (one third the energy used compared to other buildings): six-inch walls filled with recycled cellulose fiber; triple-pane, fiberglass framed windows (operable); full-house fans; careful building orientation to the sun; metal roofs to reduce heat load on the building (also long lasting); 75 percent of construction will be diverted from landfills
• Interior finishes: low VOC paints and adhesives, recycled rubber and cork floor tile, recyclable carpet tiles
• Travel distance for materials reduced: locally grown tulip poplar for siding, more than 20 percent of materials from within 500 miles
Water
• Innovative stormwater management system: all the stormwater stays on site to recharge the earth, biotopes and rain gardens
• Sewage treated on site through specially designed wetlands
• Rainwater collected from roofs used to flush toilets: metal roof, downspouts, biotope, cisterns; water use reduced by over 30 percent
Energy and Equipment
• Ground source heat pumps: most energy efficient heating and cooling system available, closed loop system rather than drawing water from the aquifer
• Solar hot water heaters
• 10-kilowatt wind generator
• Lighting: energy efficient light fixtures, no outside light pollution, windows aligned for good day lighting
• Energy efficient appliances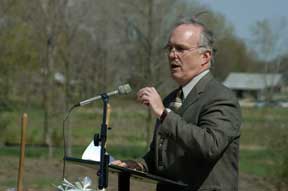 Luke Gascho, Merry Lea's executive director, welcomed the guests and encouraged them to view the beginning of the project not as a groundbreaking, but the beginning of ground healing. "The word "groundbreaking" suggests that human development must break the ground," Gascho said, "but our project is intended to help efforts to heal and renew the earth." He then briefly traced the history of the land at Merry Lea, starting at the time of Native American occupation to European settlement and initiation of agriculture through the present, when the face of the land will change once again as this first phase of the collegiate facility takes shape.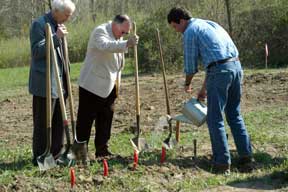 Max Lake, an educator and assistant chair of Merry Lea's board of trustees, reflected on the ways in which the collegiate facility will provide hands-on, experiential education. He noted that the collegiate facility has the potential to enrich the educational resources available not only to residents of northeastern Indiana, but nationally and internationally as well. As an added opportunity, builders and planners will be able to visit the facility to see intentionally environmentally respectful design that is committed to sustainability.
Merry Lea is Goshen College's 1,150-acre environmental education facility. Goshen College Interim President John Yordy expressed gratitude for the generosity and the vision of Lee and Mary Jane Rieth who founded Merry Lea and after whom Rieth Village is named. Likewise, he thanked the many who have since been part of the vision and have supported the project financially.
Yordy cited the unique nature of the project in utilizing the environment as a context for learning. "If we are to live justly and humanely, sustainability and stewardship are critical values that must be part of a Christian liberal arts education in the 21st century," he said.
Rieth Village, the $2-million initial phase of the project, consists of two cottages that will provide housing for up to 32 students, and a third structure that will serve as the initial classroom and office building. The structures will be ready to welcome students in the spring of 2006.
Yordy said the village concept was intentionally adopted in order to integrate academic and social life in an environment that is intellectually and spiritually stimulating for students. Further, he noted that the environmental values that come out of a student"s experience in a village setting at Merry Lea also reflect the values embraced by Goshen College. The expected outcome, Yordy concluded, will be a sustainable, compassionate and prosperous future for both humans and all other parts of creation.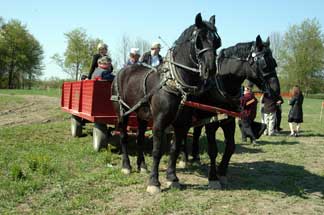 The ceremony focused around elements needed to nurture living things – earth, compost and water – as symbols of the nurturing required to bring a project like Rieth Village to fruition. On a table near the podium were containers of soil collected from the building site and water pumped from the well at the farmstead nearby. Wheelbarrows were filled with sifted compost prepared from the less edible leftovers from Merry Lea's garden.
Gascho talked about the diversity of soil types present at Merry Lea. Though each kind has particular strengths and limitations, the soil is capable of bringing forth growth if properly fertilized and watered. "Just as diverse will be the students and their interests who reside in Rieth Village," he said.
Gascho described the emphasis that facility designers placed on the use of water in Rieth Village. The complex is designed to retain all storm water on site and permit it to soak back into the soil. Wastewater will be treated on site in specially designed wetlands. Rainwater stored in cisterns will be used to flush toilets.
Long-time Merry Lea staff members Kerry Goodrich, Larry Yoder and Bill Minter then transferred the water first to a commemorative bowl to symbolically honor Lee and Mary Jane Rieth as founders and then to a watering can that made it ready for use. Gascho led everyone in a litany that recounted the wealth imparted to soil as death and decay is transformed into life giving compost.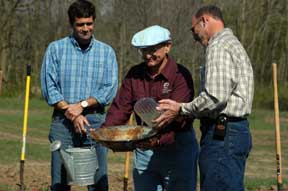 Members of Merry Lea's board of directors, officials from the college, members of the design team, staff members from Merry Lea, students and interns from Merry Lea, and friends and neighbors were invited to come forward and use a shovel or trowel to mix compost with the soil at the site. The freshly turned soil was then watered from the watering can. Merry Lea's environmental educator and volunteer coordinator Lisa Zinn provided musical accompaniment to this part of the ceremony, playing selections on the hammered dulcimer. The ceremony concluded with prayer led by Merry Lea's coordinator of public programs, Jennifer Halteman Schrock. All guests were sent home with a gift of a bag of compost, made at Merry Lea.
Those attending the ceremony rode to and from the site in a wagon pulled by Bill Knott's team of Percheron draft horses. Knott's firm is doing the earthmoving and site preparation. "I really wanted this job," he told Gascho earlier. "It's the kind that makes you think."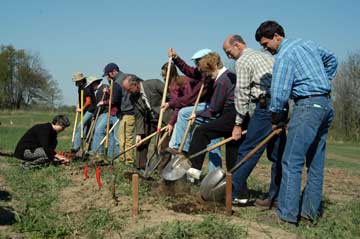 Indeed, contractors will find this project to be different; the design incorporates the U.S. Green Building Council"s Leadership in Energy and Environmental Design (LEED) rating system. LEED provides rigorous guidelines in areas such as energy and atmosphere, water efficiency, use of environmentally friendly materials and indoor air quality. The project is registered at the platinum level – the highest level of any registered project in Indiana.
For example, LEED guidelines specify that when the project"s contractor, Hamilton Hunter Builders of Fort Wayne, begin the construction process, they are limited in the weight of the equipment they can use to avoid compacting the soil. Contractors must also reseed any topsoil left exposed longer than two weeks with a cover crop to prevent erosion.
After the building is constructed, the surrounding site – which had been an eroded farm field overgrown with invasive species such as autumn olive – will be seeded with native plants.
Special features of the infrastructure will include a 10-kilowatt wind generator, a wastewater treatment system, solar water heaters and an integrated system for storm water management. The design team has also developed plans for a second phase that includes a 20,000-square foot academic building and four more cottages. Construction of phase two will begin in three to five years after an additional $6.5 million in capital funds are raised.
Merry Lea is constructing Rieth Village in order to accommodate new undergraduate and graduate-level study and research. Beginning June 2007, Merry Lea will offer 10-week summer tracks of courses in natural history and agroecology. Students from schools other than Goshen College are invited to participate and transfer their credits.
"The diversity of ecosystems we have here at Merry Lea is a treasure that must be shared," says Gascho. "By enabling students to live on site, near the ecosystems they are studying, we will offer a unique immersion not available at most academic institutions." Living in sustainable buildings will be an important part of the experience. Students will monitor their own energy usage, learn how wetland plants purify the water they use and discover the benefits of ground source heat pumps.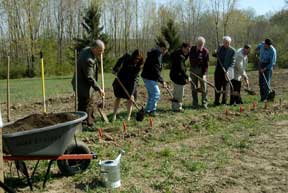 The consortium of architects, engineers and contractors collaborating to build on Merry Lea's facility include Morrison Kattman Menze Inc. and Hamilton Hunter Builders, both of Fort Wayne; Conservation Design Forum of Elmhurst, Ill.; Eta Engineers of Champaign, Ill.; and Natural Systems Inc., Santa Fe, N.M.
Merry Lea, located in Noble County south of Wolf Lake, is a 1,150-acre natural sanctuary for northern Indiana's plants and animals. Its diverse landscape includes wetlands, prairies, meadows, upland and lowland forests, bogs and lake shores. Merry Lea also provides environmental education for people of all ages and a setting for re-creating opportunities that benefit the human body and spirit without exploiting the land. This nature preserve hosts over 7,000 children and hundreds of college students each year. Merry Lea, created with the assistance of the Nature Conservancy and the generosity of Lee A. and Mary Jane Rieth, is owned and operated by Goshen College. For more information, go to www.goshen.edu/merrylea or call (260) 799-5869.
Goshen College, established in 1894, is a four-year residential Christian liberal arts college rooted in the Anabaptist-Mennonite tradition. The college"s Christ-centered core values – passionate learning, global citizenship, compassionate peacemaking and servant-leadership – prepare students as leaders for the church and world. Recognized for its unique Study-Service Term program, Goshen has earned citations of excellence in Barron"s Best Buys in Education, "Colleges of Distinction," "Making a Difference College Guide" and U.S.News & World Report"s "America's Best Colleges" edition, which named Goshen a "least debt college." Visit www.goshen.edu.
– Larry Yoder
Editors: For more information, contact News Bureau Director Jodi H. Beyeler at (574) 535-7572 or jodihb@goshen.edu.