New college coffee bar to have students at heart as business managers and customers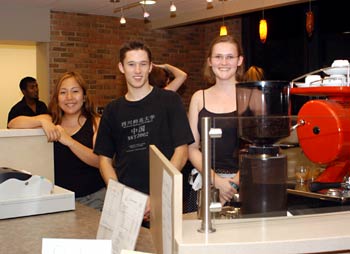 GOSHEN, Ind. – By next fall, the beginnings of a campus entrepreneurial venture will be fully brewing. In a unique partnership, Goshen College Student Life and Business departments are offering students the opportunity to manage a new coffee bar – the "central focus of the connector" between Yoder, Kratz and Miller residence halls which is currently under construction, according to Bill Born, vice president for student life.
So far, a start-up team of students, juniors Jessica Berkey (LaGrange, Ind.), Tom Stahly (Goshen) and Thushan Hemachandra (Sri Lanka), has been selected to make the initial decisions with Associate Professor of Accounting and faculty supervisor Michelle Horning, about how the coffee bar will operate – from what kind of coffee to serve to what hours it will be open, or how much they will charge for a cup of joe.
The start-up team's plan is to be up and running by the first day of classes in August 2004, but the coffee bar will evolve based on their experiences and the feedback they receive from customers – like all new businesses. "This is a chance to put into practice what they have learned in classes," Horning said.
Horning wants students to have the opportunity to experience the realities of entrepreneurship and decision-making in a supportive environment. The coffee shop will have a board of directors so that the students have an entity to which they are responsible and will help shape the direction. Though the coffee bar will technically be part of Goshen College, it is being set up to be as independent as possible "to enhance the educational experience of the students" as they get a taste of "the realities of a small business."
Unlike more typical entrepreneurial efforts though, the coffee bar will experience leadership turnover as students are selected for the management team for a semester or two at a time. And students will receive academic credit for their labors.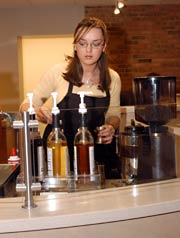 Espresso machines, grinders, display cases and other equipment have already been purchased for the coffee bar, which will be located a few steps down from the enclosed walkway between Kratz and Miller Halls, and connected to a two-story student lounge.
The new space will create "a late-night option for students with a variety of menu options," Born said, as well as the possibility for a performance area. The new connector structure will also encompass floor lounges, study rooms, a laundry room, kitchens and a game area.
Born said the coffee bar will be a convenient and fun gathering space for students and will help "create a space to enhance community life" that is easily accessible to the students living on campus, particularly in the three largest GC residence halls.
Now coffee, and entrepreneurial learning, will be flowing right outside their doors.
Goshen College, established in 1894, is a four-year residential Christian liberal arts college rooted in the Anabaptist-Mennonite tradition. The college's Christ-centered core values – passionate learning, global citizenship, compassionate peacemaking and servant-leadership – prepare students as leaders for the church and world. Recognized for its unique Study-Service Term program, Goshen has earned citations of excellence in Barron's Best Buys in Education, "Colleges of Distinction," Kaplan's "Most Interesting Colleges" guide and U.S.News & World Report's "America's Best Colleges" edition, which named Goshen a "least debt college." Visit https://www.goshen.edu/.
Editors: For more information, contact News Bureau Director Jodi H. Beyeler at (574) 535-7572 or jodihb@goshen.edu.