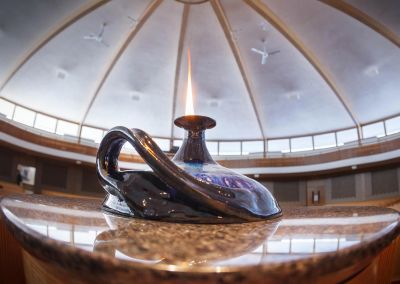 Each year, Goshen College celebrates special seasons of the church calendar, particularly Advent and Lent, with online devotions written by our students, faculty and staff. Sign up to receive daily devotions emails.
Theme Devotions 2015-16
This year's prayer booklet contains a dozen student-written devotions on the 2015-16 Campus Ministries theme, "Centered in Christ." For many Christians this theme may seem like an obvious aspect of our faith journey. We are to do what Jesus did, treat people like he did, and usher in God's reign on earth like he did. Simple to understand. However, do we truly center ourselves in Christ, or are we too busy going about doing our good "Jesus-y deeds"? Are we so sure of ourselves of what Jesus would do that we no longer seek God's counsel?
Download the GC Prayer Booklet for the 2015-16 school year.
Devotion Book
The Campus Ministries Devotions Book includes devotions from 2007-2016 based on the annual Campus Ministries themes connected to the college's five core values.