Parables Worship Ensemble 2020-2021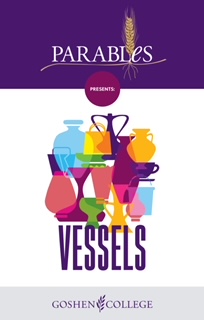 Parables, a worship ensemble from Goshen College, combines music, original drama, and stories to create an engaging worship experience designed to inspire, comfort, and challenge.
Virtual worship experience: "Vessels"
Due to COVID, the Parables and the GC Ministries Team worked together to create a virtual worship experience recorded in Sauder Concert Hall in the Goshen College Music Center.
"Vessels" is approximately 45 minutes in length and can be an excellent way to give your worship leadership and production team a bit of a break in these COVID worship times. There is no cost to your church or organization for the use of our service. We will work with you to create a format that will work in your worship.
The program for 2020-21 was developed by the student members, with direction and leadership from Marcia Yost and Joanne Gallardo.  The administrative support and scheduling of the group's virtual service "Vessels" is handled by Marcia Yost.
2020-21 Theme:
The theme for the 2020-2021 season is framed by the concept that we are all vessels of different shapes, sizes, colors, and uses.  How we choose to fill and use the vessel we are for God is an active choice.  When our vessel overflows – which it does and will in these times,  what will flow out? The videotaped worship service of music, drama, scripture, and readings will take you through our experience called "Vessels".  
How to access the virtual worship experience
>> For additional information about this worship experience, view the "Vessels" worship bulletin.
>> If you are interested in using this videotaped service as a virtual worship service or a virtual fellowship event please contact Marcia Yost:
2020-21 Parables and Ministries Team Members
Willa Beidler – Biochemistry Major from Lancaster, PA
Abigail Greaser – Music and Theater Major from Goshen, IN
Cadence Lee – Music and Secondary Education Major from Elkhart, IN
Kristen Oliver – Biology Major from Sharon, WI
Elizabeth Reimer – Bible & Religion and Peace, Justice and Conflict Studies Major from Naperville, IL
Lisa Rosado Rivera – Music Major from San Juan, PR
Angie Ticen – Music Education Major from Chalmers, IN
Grace Van Note – Public relations Major from Chicago, IL
Cara Wilson – Film Production and Theater Major from Indianapolis, IN
Ainslee Zou – Music and Biochemistry Major from Bristol, IN