Parables Worship Ensemble 2023-2024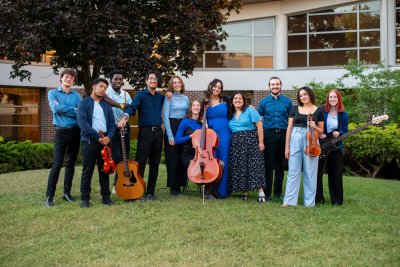 Parables, a worship ensemble from Goshen College, combines music, original drama, and stories to create an engaging worship experience designed to inspire, comfort, and challenge.
The theme for this year's Parables presentation is "Walk in the Light".  Through music, scripture, and parables the theme of looking for the light and being the light of the world are explored.  
Click on the worship bulletin below for more information.
The Parables are now available to join you at your church to share their worship experience!
To invite the Parables to present at your church, contact Marcia Yost.
Aysia Adkins: Music major from Goshen, IN
Dontaye Albert:  Theater major, Music minor from Orlando, FL
Jocsan Barahona Rosales:  Music and Theater major from Goshen, IN
Leif Billings: Music major from Indianapolis, IN
Meredith Blossom:  English and Theater major from Wellman, IA
Irish Cortez: Theater major from Goshen, IN
Luisa Dutchersmith: Elementary Education (TESOL) from Goshen, IN
Maggie Lapp:  Social Work major and Music minor from Philadelphia, PA
Victor Vegas:  Music major, Musical Theater minor from Ciudad Ojeda, Zulia, Venezuela
Phillip Witmer-Rich:  Music and English major from Chagrin Falls, OH
Fatima Rhana:  Theater, Music major, Peace and Justice minor from Orlando, FL
Parables Fall Tour 2023
All are welcome to join us!
SUNDAY, OCTOBER 15, 2023:
Jersey Shore Presbyterian Church – 235 S Main St, Jersey Shore, PA 17740
            10:30 AM – Worship service
West Philadelphia Mennonite Fellowship – 4740 Baltimore Ave, Philadelphia, PA 1914
            8:00 PM – Worship Service
MONDAY, OCTOBER 16, 2023:
Dock Mennonite Academy 9-12 Campus – 1000 Forty Foot Rd, Lansdale, PA 19446
           9:24-10:03 AM – Dock Chapel 
Lancaster Mennonite School – 2176 Lincoln Hwy E, Lancaster, PA 17602
           2:22 – 2:57 PM – Chapel at LMS
Landis Homes – 1001 E Oregon Rd, Lititz, PA 1754
           7:00 PM – Presentation – Lodging with hosts from Akron Mennonite Church
TUESDAY, OCTOBER 17, 2023:
Pettisville Jr. Sr. High School  – 232 Summit St, Pettisville, OH 43553
            2:25 PM – Convo presentation (35-minute presentation)