Parables Worship Ensemble 2021-22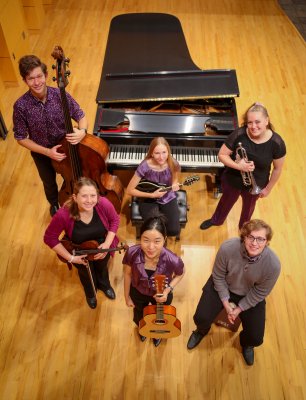 Parables, a worship ensemble from Goshen College, combines music, original drama, and stories to create an engaging worship experience designed to inspire, comfort, and challenge.
The theme for this year's Parables is "Shalom".  Through music, scripture, and parables the concept of shalom individually and in community will be explored.
Available to join you in your church to share a worship experience beginning January 2022!
To invite the Parables to present their worship experience at your church, contact Marcia Yost.
Ana Neufeld Weaver – Music Education Major and Spanish Minor from Bluffton, OH
Cadence Lee – Music Education Major from Elkhart, IN
Conrad Liechty – Sustainability Major and Music Minor from Goshen, IN
Hannah Lehman – Music Education Major from Huntington, IN
Julia Jun – Music Education Major, Malaysia, South Korea
Sam Scheele – Music Major, History Minor from Fort Wayne, IN