Parables Worship Ensemble 2022-2023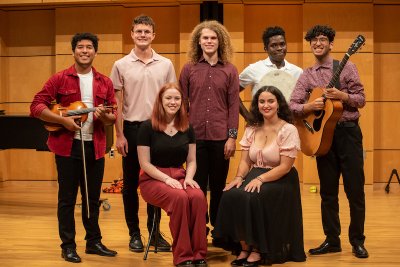 Parables, a worship ensemble from Goshen College, combines music, original drama, and stories to create an engaging worship experience designed to inspire, comfort, and challenge.
The theme for this year's Parables presentation is "Spread Love".  Through music, scripture, and parables the foundational principle of loving God, others, and ourselves is shared.
The Parables are now available to join you at your church to share their worship experience!
To invite the Parables to present at your church, contact Marcia Yost.
Dontaye Albert:  Theater major, Music minor from Orlando, FL
Jocsan Barahona Rosales:  Music and Theater major from Goshen, IN
Meredith Blossom:  English and Theater major, Deaf Studies minor from Wellman, IA
Jonah King:  Biochemistry major, Chemistry and Psychology minor from Normal, IL
Victor Vegas:  Music major, Musical Theater minor from Ciudad Ojeda, Zulia, Venezuela
Phillip Witmer-Rich:  Music and English major from Chagrin Falls, OH
Fatima Rhana:  Theater, Music major, Peace and Justice minor from Orlando, FL