The Sherer International Violin & Piano Competition
Sept. 17-18, 2022
Goshen College Music Center
Solomia Soroka, artistic director
Marcia Yost, executive director
The Sherer International Competition is an annual violin and piano competition named in honor of the late Lon and Kathryn Sherer, Goshen College Professors Emeritus of Music. For 40 years, Lon (violin) and Kathryn (piano) created, nurtured and developed instrumental music at Goshen College, bringing the program to unprecedented heights through their talent, hard work, and pedagogy.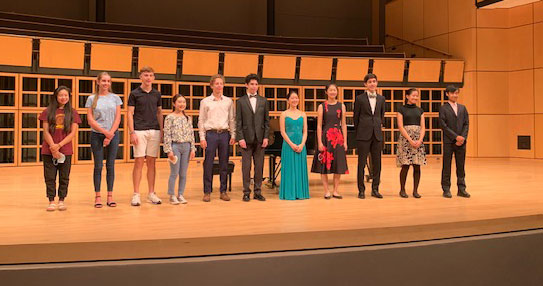 Prizes
Judges' decisions on all prizes are final.
Eligibility
The competition is open to classically-trained violinists and pianists in grades 8-12 (ages between 13-18 as of May 15, 2022). Competition applicants must not be enrolled in a degree program at a college or university.
Application
Applications are now being accepted. A completed application form, payment of non-refundable $100 application fee, and uploaded video recording file must be submitted by the registration deadline (Monday, August 8, 2022).
Screening Recording
All entrants must submit an unedited video recording of one piece from their competition repertoire on or before the registration deadline (Monday, August 8, 2022). Recordings should be uploaded to YouTube, or shared from Google Drive, Dropbox, or similar file-sharing service.  Selected applicants will be notified by email by August 26, 2022. 
Repertoire
Violin
Repertoire should include selections from at least two of the following style periods: Baroque, Classical, Romantic, Contemporary. Standard violin concerto movements are permitted. All works must be memorized with the exception of sonata movements, and works written after 1945. Students should aim for a program no longer than 30 minutes in length. Competitors exceeding the 30 minute limit will be stopped.
Piano
Repertoire should include selections for solo piano from at least two of the following style periods: Baroque, Classical, Romantic, Contemporary. Concerto performances are NOT permitted for piano. Extended techniques such as introducing foreign objects into the workings of the piano, strumming or plucking of strings, etc. are also not permitted. All pieces must be memorized. Students should aim for a program no longer than 30 minutes in length. Competitors exceeding the 30 minute limit will be stopped.
Notification
All entrants will be notified of acceptance via email by August 26, 2022.
Competition Schedule
Schedule is subject to change
Sample Saturday schedule
10 a.m. – 2:00 p.m.  – Student arrival, registration, rehearsal, and practice time
6:30 p.m. – Drawing for performance order, and reception for contestants
7:30 p.m. – Concert, Sherer Piano Trio & Guest Artists, Sauder Concert Hall
Sample Sunday schedule
Morning – Warm-ups for violinists with accompanists, and pianists
10:00 a.m. – Piano Adjudication, Sauder Concert Hall
10:00 a.m. – Violin Adjudication, Rieth Recital Hall
6:00 p.m. – Award Ceremony and Competition Winners Concert, Sauder Concert Hall
---
Judges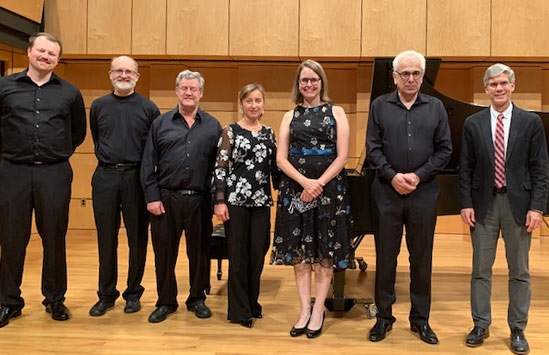 Piano and violin judges will be announced at a later date.
Dr. Matthew Hill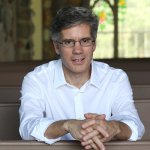 Matthew Hill, DMA, pianist and Goshen College professor of music, is chair of the music department and teaches piano, chamber music, music history, and as a result of the strong influence from his wife and daughter, also teaches a general education course in Opera and Musical Theatre. He has studied with such renowned musicians as Howard Karp and Claude Frank, whose respective pedagogical genealogies include Rosina Lhévinne and Arthur Schnabel. He has had a variety of teaching and performing experiences both nationally and internationally. Dr. Hill participated at the Schlern International Music Festival held in the Dolomites of northern Italy through invitation as a teacher, performer, and master class clinician. In China, he taught a series of master classes at the Sichuan Conservatory of Music, and presented a solo recital. Matthew received his doctorate in piano performance at University of Wisconsin-Madison. His students have gone on to further graduate study at many different graduate schools, including Kansas City Conservatory of Music, Cleveland Institute of Music, University of Wisconsin-Madison, University of Nebraska-Lincoln, University of Oklahoma, Westminster Choir College, and the University of South Florida.
Collaborative Pianist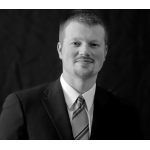 A native of Minnesota, pianist Luke Norell has concertized internationally as soloist and chamber musician. Recent engagements have included performing at the University of Indianapolis, Ohio University, the Music Archive of Sarasota, Florida, and the Ruthmere Fall Concert Series. He has appeared as soloist with the Maple City Chamber Orchestra and the Southwest Minnesota Orchestra and also performed at Edvard Grieg's historic home at Troldhaugen. As vice president and founding board member of the newly formed Edvard Grieg Society of the Great Lakes, Luke took part in hosting its inaugural "SalzBergen" conference at Goshen College, giving performances with bass-baritone Njål Sparbo, and his wife Mary Rose as the Norell Piano Duo. Dr. Norell serves as the Piano Program Director for the Goshen College Community School of the Arts and as collaborative pianist for the Goshen College music department. He studied with André Watts at Indiana University, completing his D.M. and M.M. degrees, and received his B.M. degree from the University of Northwestern (St. Paul).
Sherer Competition Artistic Director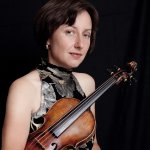 Solomia Soroka, DMA, is professor of music at Goshen College, where she teaches violin, chamber music, and music theory courses. Born in Lviv, Ukraine, she earned her master's degree and completed her postgraduate studies in the Kiev (Kyiv) Conservatory, and later served on its staff in the department of chamber music. She also has a DMA degree from Eastman School of Music. She studied with Hersh Heifetz, Bohodar Kotorovych, Lyudmyla Zvirko and Charles Castleman. Solomia Soroka made her solo debut at ten, playing the Mendelssohn Violin Concerto with the Lviv Philharmonic Orchestra. She has appeared at concerts and festivals in Australia, Canada, China, France, Germany, Italy, New Zealand, Taiwan and Ukraine. Since her American debut in 1997, she has performed throughout the United States as well.
Solomia Soroka has toured and recorded extensively with her husband, the pianist Arthur Greene. Their Naxos recording of Four Violin Sonatas by William Bolcom was selected as Recording of the Month with the highest ranking for both artistry and sound quality by Classics Today, and received reviews in various distinguished journals
In the past eight years Soroka has been recording for Toccata Records, based in London, where she made six premier recordings, of music by American composer Arthur Hartmann, Ukrainian Myroslav Skoryk, Mykola Lysenko, and Yevhen Stankovych, and Holocaust composers Leone Sinigaglia and Bernhard Sekles.
During the summer Solomia Soroka is on the faculty of Music Fest in Perugia, Italy. She also  has taught at the Castleman Quartet Program, Pilsen Summer Academy, and Schlern Music Festival. Ms. Soroka is active giving masterclasses in her native Ukraine, USA, China, South Korea, Taiwan, Israel, Czech Republic, and Italy.
Contact
For general questions regarding the competition, or for questions regarding the program, audition screening recording, accompanying needs, etc. please contact:
For questions regarding travel, accommodations, meals, or the Goshen area, please contact: