The Sherer International Violin & Piano Competition
October 21-22, 2023
Goshen College Music Center
Prizes | Eligibility & Application | Judges | Video Clips | Contact
Solomia Soroka, artistic director
Marcia Yost, executive director
The Sherer International Competition is an annual violin and piano competition named in honor of the late Lon and Kathryn Sherer, Goshen College Professors Emeritus of Music. For 40 years, Lon (violin) and Kathryn (piano) created, nurtured and developed instrumental music at Goshen College, bringing the program to unprecedented heights through their talent, hard work, and pedagogy.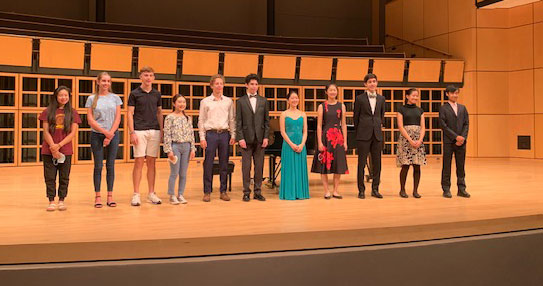 Prizes
Judges' decisions on all prizes are final.
Additionally, all participating finalists will be offered a $10,000/year music scholarship to attend Goshen College.
Eligibility
The competition is open to classically-trained violinists and pianists in grades 8-12 (ages between 13-18 as of October 21, 2023). Competition applicants must not be enrolled in a degree program at a college or university.
Application
Applications will be accepted beginning May 1, 2023. A completed application form, payment of non-refundable $100 application fee, and uploaded video recording file must be submitted by the registration deadline (extended to October 9, 2023). Violinists may bring their own accompanist, or the competition will provide one for an additional $120 fee, payable at time of registration.
Screening Recording
All entrants must submit an unedited video recording of one piece from their competition repertoire on or before the registration deadline (extended to October 9, 2023). Recordings should be uploaded to YouTube, or shared from Google Drive, Dropbox, or similar file-sharing service.  Selected applicants will be notified by email no later than October 11, 2023. 
Repertoire
Violin
Repertoire should include selections from at least two of the following style periods: Baroque, Classical, Romantic, Contemporary. Standard violin concerto movements are permitted. All works must be memorized with the exception of sonata movements, and works written after 1945. Students should aim for a program no longer than 30 minutes in length. Competitors exceeding the 30 minute limit will be stopped.
Piano
Repertoire should include selections for solo piano from at least two of the following style periods: Baroque, Classical, Romantic, Contemporary. Concerto performances are NOT permitted for piano. Extended techniques such as introducing foreign objects into the workings of the piano, strumming or plucking of strings, etc. are also not permitted. All pieces must be memorized. Students should aim for a program no longer than 30 minutes in length. Competitors exceeding the 30 minute limit will be stopped.
Notification
All entrants will be notified of acceptance via email no later than October 11, 2023.
---
Competition Schedule
Schedule is subject to change
Sample Saturday schedule
10 a.m. – 2:00 p.m.  – Student arrival, registration, rehearsal, and practice time
6:30 p.m. – Drawing for performance order, and reception for contestants
7:00 p.m. – Concert, Sherer Piano Trio & Guest Artists, Sauder Concert Hall
Sample Sunday schedule
Morning – Warm-ups for violinists with accompanists, and pianists
10:00 a.m. – Piano Adjudication, Sauder Concert Hall
10:00 a.m. – Violin Adjudication, Rieth Recital Hall
4:00 p.m. – Award Ceremony and Competition Winners Concert, Sauder Concert Hall
---
Past Competition Winners
August Baik, piano
2022 Competition, First Place Winner, Piano Division
Frederic Chopin, Etude in B minor, Op. 25 No. 10
John Lee, violin
2022 Competition, First Place Winner, Violin Division
Eugene Ysaye, Sonata No. 3 – Ballade
Roger Wang, piano
2021 Competition, First Place Winner, Piano Division
Ludwig van Beethoven, Sonata No. 23 in F minor, Op. 57 "Appassionata", mvt. 1
Abigail Ko, violin
2021 Competition, First Place Winner, Violin Division
Piotr I. Tchiakovsky, Violin Concerto in D Major, Op. 35, mvt. 1
---
Judges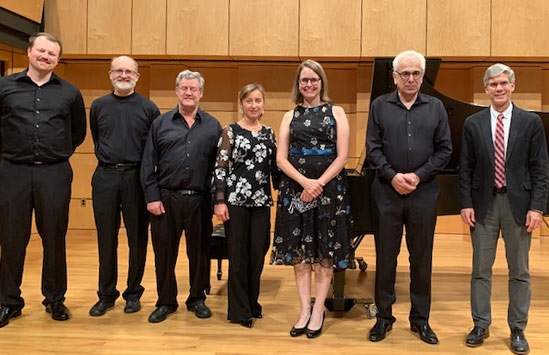 Dr. Matthew Hill, piano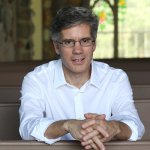 Matthew Hill, DMA, pianist and Goshen College professor of music, is chair of the music department and teaches piano, chamber music, music history, and as a result of the strong influence from his wife and daughter, also teaches a general education course in Opera and Musical Theatre. He has studied with such renowned musicians as Howard Karp and Claude Frank, whose respective pedagogical genealogies include Rosina Lhévinne and Arthur Schnabel. He has had a variety of teaching and performing experiences both nationally and internationally. Dr. Hill participated at the Schlern International Music Festival held in the Dolomites of northern Italy through invitation as a teacher, performer, and master class clinician. In China, he taught a series of master classes at the Sichuan Conservatory of Music, and presented a solo recital. Matthew received his doctorate in piano performance at University of Wisconsin-Madison. His students have gone on to further graduate study at many different graduate schools, including Kansas City Conservatory of Music, Cleveland Institute of Music, University of Wisconsin-Madison, University of Nebraska-Lincoln, University of Oklahoma, Westminster Choir College, and the University of South Florida.
Clare Longendyke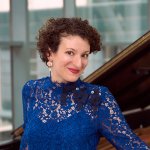 Clare Longendyke's artistry is defined by her relentless pursuit of the quintessential sound and character for every piece, combined with an honest and sincere interpretation of the composer's intentions from her individual perspective.
Clare radiates a contagious commitment to the music of our time, and her programming celebrates works by favorite composers of the past — Robert and Clara Schumann, Beethoven, and Ravel, to name a few—while creating space for those that are paving the way towards classical music's more inclusive future. One of the highlights of her career has been to work with living composers to commission solo piano pieces, and she relishes the opportunity to put her stamp on new works that will go on to be staples in the pianist's repertoire for centuries.
A lust for exploring the unfamiliar is just one of the reasons that Clare is so in love with her work as a concert pianist. A world traveler, she has lived and studied on both American coasts and abroad, earning degrees at Boston University's College of Fine Arts, Paris's École Normale de Musique, and the Indiana University Jacobs School of Music, where she earned her Master's and Doctor of Music degrees. An ardent Francophile and fluent French speaker, she received the Fulbright-Harriet Hale Woolley Award in the Arts to study music in Paris in 2009.
Clare sees performance as an extension of her role as an ambassador for classical music in today's cultural world. The connections she makes in classrooms, on concert stages, and everywhere in between help to foster a greater sense of community for the classical music field that she cares about so deeply.
Miroslav Hristov, violin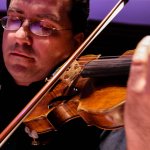 With over twenty years of teaching experience, violinist Dr. Miroslav Hristov has gained recognition as one of the leading violin pedagogues in the country. In the last several years, students from Dr. Hristov's studio have earned top prizes at national and international competitions, including the American Protégé International Concerto Competition, The ENKOR International Solo Violin Competition, the Music Teachers National Association (National Finalist), the Cleveland Orchestra of Tennessee Aria and Concerto Competition, among many others. Recent teaching awards include the Tennessee Music Teachers Association Teacher of the Year, the Tennessee Governor's School for the Arts Outstanding Teacher Award, the University of Tennessee Chancellor's Excellence in Teaching Award, and the University of Tennessee School of Music's Faculty Distinguished Teaching Award, an award nominated by and voted on by the UT School of Music Student Advisory Board. Recent graduates from the Dr. Hristov's studio have received full scholarships and assistantships to attend prestigious graduate programs around the country, including Indiana University, Boston Conservatory, University of Houston, Arizona State University, the University of Nevada Las Vegas, Appalachian State University, and Columbus State University. Others have secured competitive jobs, including appointments to the violin faculty of the Universidad Pontifica Católica de Puerto Rico, Crown College, as well as performing arts organizations, such as the National Symphony of Ukraine, the Lexington Philharmonic, Albany Symphony, among others. Many of his students participate in prestigious festivals, such as the Aspen Music Festival, Meadowmount Music Festival, Roundtop, and Yo-Yo Ma's Winter Music Festival in China.
Miroslav Hristov is Professor of Violin and String Area Coordinator at the University of Tennessee. He is also Founder and Director of the University of Tennessee's Ready for the World Music Series, which brings renowned artists to perform and talk about musical styles and literature from diverse regions around the world, emphasizing each region's contribution to western art/classical music.
Caroline Chin, violin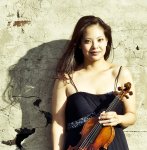 Described by Time Out New York as "Incisive, industrious, and creatively restless…" Caroline Eva Chin gave her solo debut at age 12 and has concertized throughout the United States, Europe, and Asia where her performances have taken her to Amsterdam's Concertgebouw, the Kennedy Center, and the White House. An avid chamber musician, Chin has performed at numerous music festivals including the Scotia Music Festival in Canada, 2 Rivers Festival in the UK, Consonances Festival in France, and the Schiermonnikoog Chamber Music Festival in Holland where she has collaborated with Charles Neidich, Gary Hoffman, Nobuko Imai, and Colin Carr. An advocate of new music, she has performed works of composers Jennifer Higdon, Samuel Adler, Aaron Jay Kernis, Mikel Kuehns, David T. Little, and Paul Moravec. Recordings include the world premiere of Elliott Carter's Tre Duetti for Violin and Cello on Centaur Records as well as recordings on Avie Records, Somm Records, and New World Records. She has given performances and master classes at universities and colleges throughout the U.S. including Oberlin Conservatory, University of North Texas, University of Colorado Boulder, Michigan State University, and Florida State University. Ms. Chin is Associate Professor of Violin at Bowling Green State University's College of Musical Arts and on the faculty of the Brevard Music Center Festival. She received her degrees from The Juilliard School and Indiana University's School of Music as a student of Robert Mann and Miriam Fried.
Collaborative Pianist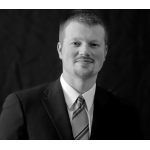 A native of Minnesota, pianist Luke Norell has concertized internationally as soloist and chamber musician. Recent engagements have included performing at the University of Indianapolis, Ohio University, the Music Archive of Sarasota, Florida, and the Ruthmere Fall Concert Series. He has appeared as soloist with the Maple City Chamber Orchestra and the Southwest Minnesota Orchestra and also performed at Edvard Grieg's historic home at Troldhaugen. As vice president and founding board member of the newly formed Edvard Grieg Society of the Great Lakes, Luke took part in hosting its inaugural "SalzBergen" conference at Goshen College, giving performances with bass-baritone Njål Sparbo, and his wife Mary Rose as the Norell Piano Duo. Dr. Norell serves as the Piano Program Director for the Goshen College Community School of the Arts and as collaborative pianist for the Goshen College music department. He studied with André Watts at Indiana University, completing his D.M. and M.M. degrees, and received his B.M. degree from the University of Northwestern (St. Paul).
Sherer Competition Artistic Director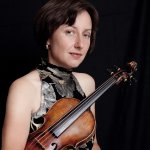 Solomia Soroka, DMA, is professor of music at Goshen College, where she teaches violin, chamber music, and music theory courses. Born in Lviv, Ukraine, she earned her master's degree and completed her postgraduate studies in the Kiev (Kyiv) Conservatory, and later served on its staff in the department of chamber music. She also has a DMA degree from Eastman School of Music. She studied with Hersh Heifetz, Bohodar Kotorovych, Lyudmyla Zvirko and Charles Castleman. Solomia Soroka made her solo debut at ten, playing the Mendelssohn Violin Concerto with the Lviv Philharmonic Orchestra. She has appeared at concerts and festivals in Australia, Canada, China, France, Germany, Italy, New Zealand, Taiwan and Ukraine. Since her American debut in 1997, she has performed throughout the United States as well.
Solomia Soroka has toured and recorded extensively with her husband, the pianist Arthur Greene. Their Naxos recording of Four Violin Sonatas by William Bolcom was selected as Recording of the Month with the highest ranking for both artistry and sound quality by Classics Today, and received reviews in various distinguished journals
In the past eight years Soroka has been recording for Toccata Records, based in London, where she made six premier recordings, of music by American composer Arthur Hartmann, Ukrainian Myroslav Skoryk, Mykola Lysenko, and Yevhen Stankovych, and Holocaust composers Leone Sinigaglia and Bernhard Sekles.
During the summer Solomia Soroka is on the faculty of Music Fest in Perugia, Italy. She also  has taught at the Castleman Quartet Program, Pilsen Summer Academy, and Schlern Music Festival. Ms. Soroka is active giving masterclasses in her native Ukraine, USA, China, South Korea, Taiwan, Israel, Czech Republic, and Italy.
---
Contact
For general questions regarding the competition, or for questions regarding the program, audition screening recording, accompanying needs, etc. please contact:
For questions regarding travel, accommodations, meals, or the Goshen area, please contact: