Marlin Jeschke, professor emeritus of philosophy and religion, dies at 94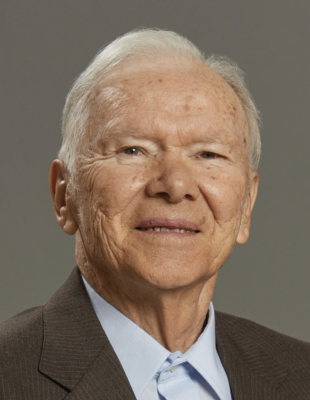 Marlin L. Jeschke, professor emeritus of philosophy and religion, died Saturday, September 16, 2023. He was 94 years old and lived in Goshen.
A lifelong student and teacher, Jeschke taught courses on Christian faith, religion in America and Asian religions at Goshen College from 1961 to 1994. He also served as president of the Mennonite Historical Society and book review editor of the Mennonite Quarterly Review, as well as writing nearly 100 book reviews and publishing three books on baptism, church discipline and the Holy Land. Jeschke saw theology, and his work within it, to be "faith seeking understanding."
During his 33 years of service, Jeschke introduced multiple courses to GC, including the long-running course Religion and Science, in which he sought to understand the conflicts between Christianity and Western science and show that they could go hand-in-hand. He also began a course in Asian religions to highlight the relationship between Christianity and other faiths.
Jo-Ann Brant, professor emerita of Bible and religion who worked with Jeschke, described him as someone who "respected both reason — in the form of philosophy and science — and faith, including not just the Christian faith to which he was devoted, but also the faith of other traditions, particularly Islam. His capacity to comprehend the demands of both faith and reason made him an important mentor to many students who grappled with how to balance both with integrity."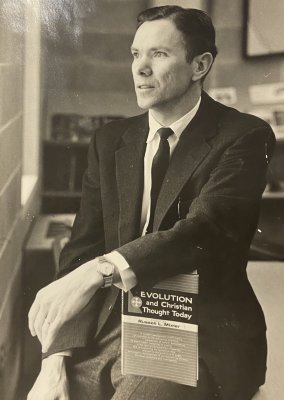 In 1968, Jeschke carried out his postdoctoral fellowship by studying Buddhism and Islam. Jeschke first studied at the Center for the Study of World Religions at Harvard University, and then spent five months learning by traveling throughout a variety of Buddhist and Muslim countries. A few years later, in 1974, he would travel to Geneva, Switzerland, for a conference on reconciling Marxism and Christianity — a topic he would later teach a new class on.
Jeschke was born May 18, 1929, near Laird, Saskatchewan, to Ernest and Eva (nee Schmidt) Jeschke. He earned a bachelor's degree at Tabor College in 1954, a Master of Divinity degree at Garrett Theological Seminary in 1958 and a Doctor of Theology degree in 1959 at Northwestern University.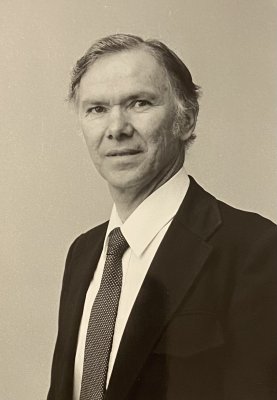 In 1955, he married Charmaine Louise Shidler. Together, they had three children: twins Margaret (Bart Miller) of Oak Park, Illinois and David (Kimberly Rush) of Seattle, Washington, and Eric (Amy Baum) of Hilo, Hawaii.
After 36 years married, Charmaine died on September 15, 1991. Jeschke remarried Elizabeth "Betty" Bixel Miller, herself a widow, on August 27, 1994. Together, they were active in church affairs and life at College Mennonite Church. Elizabeth died on June 27, 2018, after 24 years together.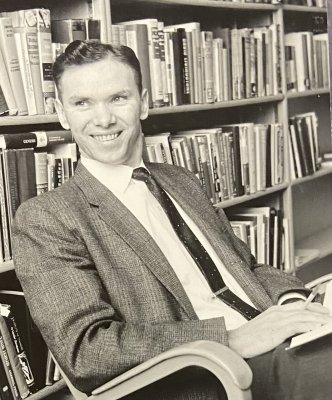 In retirement, Jeschke began a weekly talk on the college's radio station WGCS 91.1 The Globe entitled The American Religious Landscape. For over 12 years, he would discuss a broad range of topics relating to American religion for six minutes every week. Later, in 2013, he started writing a weekly column for the Saturday religion page of the Goshen News titled "Global Faiths."
In addition to his spouses, Jeschke was preceded in death by sisters Anna, Edna and Helen, brothers Alfred, Roland, and Donald, stepsons Jim and Tom Miller, and daughter-in-law Kimberly Rush. He is survived by his three children, six grandchildren, stepdaughter Kathy Fenton-Miller, stepdaughters-in-law Linda and Crystal Miller, seven step grandchildren, two step great-grandchildren, and sister-in-law Rosalee Jeschke.
Jeschke was a devoted member of College Mennonite Church, where a memorial service will be held on Saturday, November 18 at 11 a.m. 
Memorial contributions may be made to either the GC scholarship fund in his and Elizabeth's name, the Marlin and Elizabeth Jeschke Scholarship for Religious Studies at Goshen College, or the Friends of the Pumpkinvine Nature Trail.