New history book tells the story of Goshen College's journey around identity and inclusion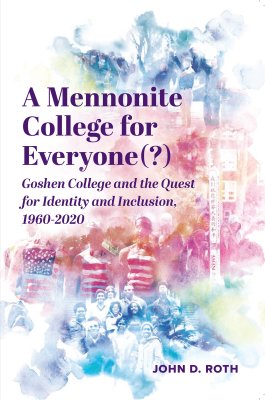 'A Mennonite College for Everyone(?),' by John D. Roth, now available for purchase
A new Goshen College history, "A Mennonite College for Everyone(?): Goshen College and the Quest for Identity and Inclusion, 1960-2020," vividly describes the transformation of a faith-based, liberal arts college as it has wrestled with questions of identity and inclusion in a context of rapid social and culture change.
Author John D. Roth, a noted Anabaptist-Mennonite scholar and professor emeritus of history at Goshen College, researched and gathered information for the book from the college's extensive archives. He brings the dynamic and often challenging story to life in chapters about the denominational relationships, international engagement, racial inclusion, gender and culture wars, LGBTQ+ inclusion, athletics, Latinx/Hispanic enrollment, and Anabaptist stances toward patriotism and nationalism.
Goshen College President Rebecca Stoltzfus wrote in the book's foreword, "The stories in this book are very human — in turns dismaying and hopeful, but always soul-stirring. … Roth has provided a rigorous and humane account of a Mennonite college that has been and continues to be transformed — rooted in a particular heritage and theology and continually subverted by its very motto and mission. And I hope that we learn from these stories as Goshen College strives toward our present vision: 'Rooted in the way of Jesus, we seek inclusive community and transformative justice in all that we do.'"
Although the story he tells is focused on Goshen College — a Midwestern school shaped by Anabaptist-Mennonite tradition — the narrative illuminates the experience of many other mission-driven colleges and universities who are undergoing similar changes. It asks the question: Can a progressive vision be integrated with deep conservative impulses that shape denominational and political realities? "A Mennonite College for Everyone(?)" shows a way forward: Tell the story honestly and well, and begin the careful, courageous weighing of lessons learned.
Where to purchase
"A Mennonite College for Everyone(?)" may be purchased for $19.99 in paperback at:
All proceeds from the sale of this book will go to support diversity, equity and inclusion initiatives for students on campus.
Upcoming book release events:
The author will be available to meet and sign books on Friday, October 6 at Fables Books in downtown Goshen from 6-8 p.m.
During Homecoming Weekend on Saturday, October 7 from 1-2 p.m. in Newcomer Center Room 19, a book release and conversation with the author event will be taking place on campus, and the public is invited. The event will include a talk by the author, as well as a Q&A and a book signing.
The college's demographic change
During the past 20 years, Goshen College has undergone a profound demographic, religious and cultural transformation. Between 2000 and 2023 the number of students identifying as other than white U.S. Americans grew from 16 percent to 55 percent, with the largest growth coming from Latinx/Hispanic students, who currently make up 30 percent of the student body. In 2023, the college was designated a Hispanic-Serving Institution. Fewer students today live on campus than 20 years ago; the percentage of first-generation students has significantly increased; one-third of students are involved in athletics; and a greater percentage qualify for grants from the federal government for families with the largest financial need.
During the same period of time, the religious profile of the campus changed significantly, with a decline in the percentage of students and teaching faculty who identify as Mennonite, the religious denomination with which the college is affiliated. The number of Mennonites and Mennonite youth declined similarly and concurrently. In 2002, the college adopted a set of five core values that express its Christian theological and educational values in non-denominational language.
Also in terms of religious identity, in 2015 Goshen College (along with two sister Mennonite colleges) voluntarily withdrew from the Council of Christian Colleges and Universities when the college announced a new hiring policy not acceptable to the council. Goshen College no longer discriminates on the basis of sexual orientation or gender identity, and in fact openly welcomes and celebrates LGBTQ+ employees, students and alumni.
"These changes offer opportunities for revitalization of our campus culture as well as our commitments to social justice and cross-cultural engagement. It is essential to reflect honestly on our own history and to integrate these changes into our institutional story and identity," said President Stoltzfus. "I am very grateful that Professor Roth took on this important writing project as a final gift to the college as he was retiring."
In 2021, Goshen College received a NetVUE "Reframing the Institutional Saga" grant to examine and frame the college's history, identity and heritage in light of the present context of the GC's mission and vision. The college was among a select group of NetVUE members chosen to receive one of these awards, which were made possible through financial support to the Council of Independent Colleges by Lilly Endowment Inc. The grant supported the writing of this new history.
About the author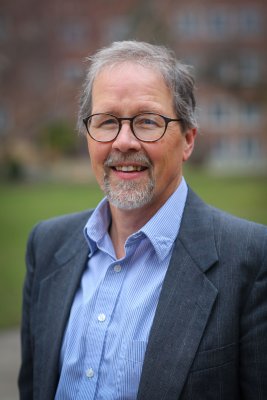 Professor Emeritus of History John D. Roth graduated from Goshen College in 1981 with a degree in history. He earned a master's degree in 1983 and a doctoral degree in 1989 in history from the University of Chicago.
He began teaching history at Goshen College in 1985, where he also served as director of the Mennonite Historical Library and editor of The Mennonite Quarterly Review. He was the founding director of the Institute for the Study of Global Anabaptism at Goshen College and secretary of the Mennonite World Conference Faith and Life Commission.
Roth has published widely on topics related to Anabaptist-Mennonite history and church life. He is the author or co-author of nearly a dozen books, including "Choosing Against War: A Christian View" (Good Books, 2002); "Beliefs: Mennonite Faith and Practice" (Herald Press, 2005); "Stories: How Mennonites Came to Be" (Herald Press, 2006); "Practices: Mennonite Worship and Witness" (Herald Press, 2008); "Teaching That Transforms: Why Anabaptist-Mennonite Education Matters" (Herald Press, 2011); "Where the People Go: Community, Generosity, and the Story of Everence" (Herald Press, 2020); and "A Cloud of Witnesses: Celebrating Indonesian Mennonites" (Herald Press, 2021). He has edited and translated numerous other books, and his writing has been regularly featured in Anabaptist World (formerly The Mennonite and Mennonite World Review), Mennonite Quarterly Review and Plough Quarterly.
A highly sought-after speaker on Anabaptist topics, Roth has spoken across North America, Latin America, Africa, Europe and Asia. He has taught May term classes in Paraguay and in Europe, and led three Study-Service Term units in Costa Rica in 1995-96.
After retiring from Goshen College in 2023, Roth now directs  MennoMedia's  "Anabaptism at 500" initiative.