Goshen College designated a Hispanic-Serving Institution by U.S. Department of Education
The college celebrated this landmark designation with a special convocation on January 25, 2023, followed by a festive reception. Attendees had the opportunity to hear more about the college's journey and what this designation means for this community through the voices of students and employees.
---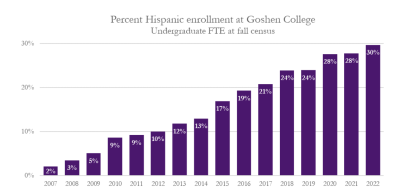 The U.S. Department of Education formally designated Goshen College as a Hispanic-Serving Institution (HSI) last week. This means that for consecutive years the college has met the criteria of at least 25 percent of its full-time undergraduate students identifying as Hispanic/Latinx, and that it enrolls a high number of students who demonstrate financial need.
"We receive this designation with joy, excitement and humility as the journey continues," said President Rebecca Stoltzfus (Read the president's whole speech from the Jan. 25 celebration convocation here.). "We are committed to deepening our relationships with Hispanic/Latinx students and their families, as we work toward more fully realizing equity and inclusion for students of all backgrounds and identities. As we have stated in our vision: "Rooted in the way of Jesus, we seek inclusive community and transformative justice in all that we do.'"
Goshen College is the fourth higher education institution in Indiana to receive this designation, alongside Calumet College of St. Joseph, Indiana University Northwest and Purdue University Northwest.
The journey
Goshen College has been on an intentional journey toward this designation for almost 20 years with many people contributing towards this goal. It is a meaningful marker of progress in diversity and equity that we celebrate. Fifteen years ago, only two percent of the college's undergraduate students identified as Hispanic/Latinx, compared to 30 percent this semester. Today overall, 55 percent of GC students identify as students of color, Hispanic, indigenous or from other nations.
Stoltzfus said, "While I have the distinct pleasure of leading Goshen College as we cross this important threshold, I want to particularly thank my presidential predecessors, Shirley Showalter and James Brenneman, and their leadership teams, for having the vision to begin to pursue this goal. Indeed, many visionary leaders at GC contributed to the transformed campus we now enjoy and celebrate. They recognized an important need with a growing Hispanic/Latinx demographic change in the broader region, and built on our commitments to social justice and value of global citizenship, as well as our history of being a place that serves first-generation students and opens the door to higher education."
In the fall of 2006, the college received a $12.5 million grant approved and funded by Lilly Endowment, Inc., for what was first known as the Center for Intercultural Teaching and Learning (CITL) and later as the Center for Intercultural and International Education (CIIE). The grant established this new center with three main goals of making college education more accessible to Hispanic/Latinx students, creating an intercultural learning community with curricular changes and researching the changing ethnic composition of the community. Over time, the key functions of those centers were integrated into the college's structures of academics, student life, enrollment and, most recently, the Center for Community Engagement.
With this generous grant support, Goshen College ramped up recruitment and retention efforts for all students of color — with a particular focus on Hispanic/Latinx students — enhanced by research. The college began to hire more Spanish-speaking faculty and staff, and held Spanish-language workshops for Hispanic/Latinx families at local high schools, answering questions for first-generation students and families who were considering college. And the college set about finding ways to not only reach more Hispanic/Latinx students, but to support them in new ways as they completed their degrees. For example, the college's English as a New Language program offered in Goshen and Elkhart enrolls 200 adult learners, and the recently-added Spanish language classes enroll 50-plus native English speakers.
"Hispanic/Latinx students experience success at Goshen College," said Stoltzfus. Hispanic/Latinx student most recent retention and 4-year graduation rates equal or exceed those of the college's undergraduate student population as a whole.
What does this mean
Practically, this federal recognition will help the college continue to attract and support Hispanic/Latinx students, as well as make improvements that benefit the entire campus. As a federally designated minority-serving institution, the college will be eligible to apply for additional grants, receive priority points in grant scoring and be considered a preferred partner for other institutions. Such resources will help to serve all students better.