Westlawn Hall renovations: Growing nursing and public health in state-of-the-art learning spaces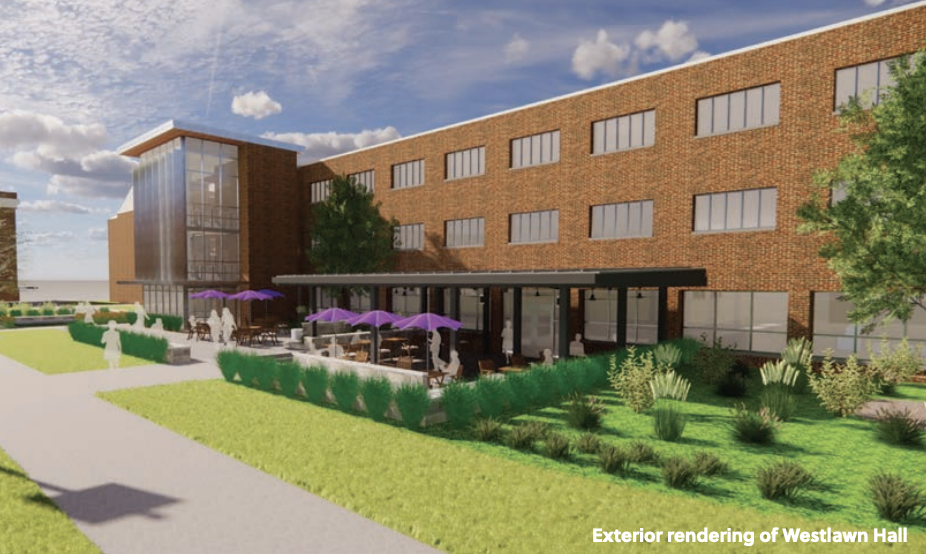 This article originally appeared in the Fall/Winter 2022 issue of The Bulletin.
Creating healthy communities is at the center of the college's mission, on and off campus. Every community in the region, state and nation is projecting an increased need for nurses. There is a critical shortage of healthcare professionals in the region that preceded and was exacerbated by the health crisis of COVID-19. The critical workforce shortage threatens the health and economy of the region.
The college's talented faculty lead a world-class program, but are presently in crowded spaces that limit the growth of these outstanding and high-demand programs. New facilities in Westlawn will provide space for an expanding portfolio of nursing and public health programming to meet the growing needs of healthcare.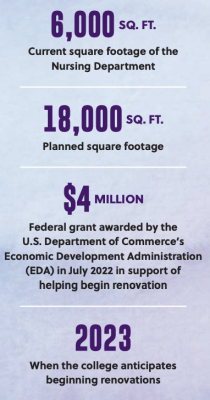 Goshen's acclaimed nursing program, which offered the first Bachelor of Science in Nursing degree in Indiana in 1950, now offers master's and doctoral programs as well. "Goshen College has an excellent reputation for producing top-notch registered nurses that reflects the growing Latino population in our region. We've been teaching nursing majors long enough to know that healthcare is more than memorizing anatomy — it's about caring for the whole individual," said Jewel Yoder '99, '20 (DNP), chair of the college's nursing department. "We are ranked among Indiana's best nursing programs and known for our educational excellence and focus on cultural diversity. Employers say they prefer Goshen College nursing graduates because they provide compassionate, culturally sensitive and high-quality care for patients."
The historic Westlawn Hall will see a complete renovation, creating a new home for the Nursing Department and public health program, and enhanced dining facilities and gathering spaces to serve the entire campus. The new space will accommodate collaborative educational partnerships, offering a complete portfolio of nursing careers — from nurse assistants to nurse practitioners — that will have a longterm impact on quality healthcare in the region. With this significant enhancement of space and facilities for nursing programs, Goshen College will have the opportunity to double the number of nursing graduates, while also supporting a growing public health major.
Renovation will create a state-of-the-art nursing and public health education center with:
three inpatient simulation rooms
six exam rooms for use in high-fidelity simulation training
a large 10-bed skills lab
flexible classrooms
student lounges
study areas
office spaces
---
Thank you, Mennonite Disaster Service!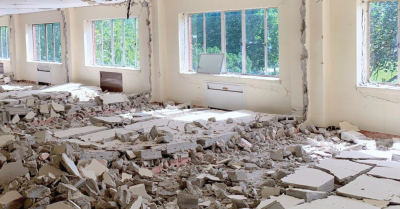 During this past summer with sledgehammers, wheelbarrows and scoop shovels in tow, Mennonite Disaster Service (MDS) volunteers demolished the existing interior of Westlawn's second and third floors, including removing the ceilings and knocking down cinder block walls (pictured at right). The college anticipates beginning renovations in 2023, and this assistance was a significant aid in getting there and helping dollars go further and faster on this important project to help meet the growing demand for healthcare workers. Thank you MDS and your incredible volunteers!