This article originally appeared in the Fall/Winter 2022 issue of The Bulletin.
By Justin DeWeese, assistant athletic director of communications and operations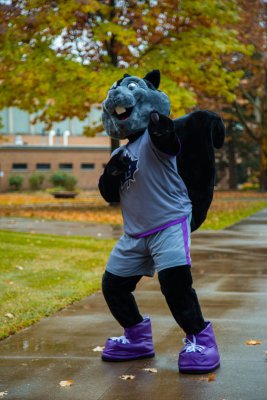 As a Goshen native with family roots that run deep in "The Maple City," Dash had always heard about the Maple Leafs and their athletic teams. Ever since the 1950s, their family had been avid supporters of the Leafs, but only from afar. The family would always scamper around the campus, enjoying the smiling faces of students and the changing colors of autumn. But with squirrels not being allowed in the Roman Gingerich Recreation-Fitness Center and Dash's parents not letting them venture alone to the outdoor athletic fields, the energetic squirrel could only listen to passing conversations to get a glimpse of the Maple Leafs results.
Dash grew up always wanting to attend Goshen events. The clever and quick student-athletes had always enthralled them. Although at a small school, the Leafs were mighty on the court and in the classroom and community. Dash's inquisitive cousins (the black squirrels of the family) were always trying to get them to defy orders and start going to Maple Leafs athletic events. Dash's confident nature and enthusiasm for GC won out in the end, and they made their debut during the 2022 Homecoming Weekend's alumni award convocation.
Dash strives to create community, cultivate joy and purpose, and build pride in being a part of GC. If you see them around, give Dash a high five and snap a picture with them!
---
Fun facts about Dash
Age: Debuted on October 7, 2022
Birthplace: Goshen, Indiana
Personality: energetic, friendly, enthusiastic, clever, quick and small but mighty
Habitat: Roman Gingerich Recreation-Fitness Center
Species: Sciurus carolinensis
Friends: The animals at Merry Lea Environmental Learning Center and Captain Maple Leaf
Favorite foods: Nuts, and cookies from the dining hall
---
The legend of Captain Maple Leaf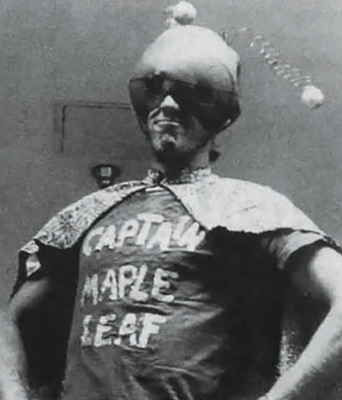 Before there was Dash and Dan the Squirrel Man (which began and ended in 2022), there was a short-lived unofficial Goshen College mascot that left a lasting impression despite a short tenure.
During the 1982-83 men's basketball season, the Maple Leafs were struggling. With the losses, there was a limited number of fans at games, and a couple of players wanted to do something about it. Pat Vendrely '85 and Kevin "Scoop" Miller '84 decided to create Captain Maple Leaf (at left) — an unofficial mascot that would provide the boost that fans and players both needed.
With Dave Conrad '86 inside, the costume featured a cut-up basketball used as the head, spirals from a notebook as the antenna and ping pong balls to go on top of them.
The crew only intended Captain Maple Leaf to be a one-game stunt, however he came back for a couple more basketball games. He also made additional appearances at a talent show and the traditional dunking into the Schrock Plaza fountain of new college president Vic Stoltzfus '56. Captain Maple Leaf's costume currently resides in the Mennonite Historical Library artifact collection.