Goshen College awards three students new Global Citizenship Award
Goshen College President Rebecca Stoltzfus announced the first recipients of the college's inaugural Global Citizenship Award on Aug. 31 during the opening convocation on campus. The Global Citizenship Awards will be given annually to three Goshen College students who best represent the college's five core values: Christ-centeredness, passionate learning, servant leadership, compassionate peacemaking and global citizenship.
Suzanna Yoder, a social work major from Wellman, Iowa, received the first place award of a $10,000 scholarship. Giovana Gaona, a public health major from Elkhart, Indiana, and Cadence Lee, a music and education double major from Elkhart, Indiana, were the two runner-ups and received $5,000 scholarships.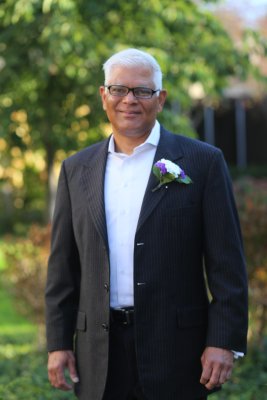 Shashi Buluswar, a 1990 Goshen College graduate who was an international student from India, provided funding and worked with the college to create the scholarship program. Buluswar is currently on the faculty at UC Berkeley, and the CEO of Global Health Labs, an organization created in 2020 by Bill Gates and the Gates Foundation to develop scientific and technological innovations for global health. Buluswar has consulted with international NGOs, foundations, governments, social entrepreneurs and the United Nations, and pioneered the Institute for Transformative Technologies, bringing to life breakthrough technological solutions for combating global poverty. He was one of the 2020 Goshen College Culture for Service Alumni Award recipients.
"Goshen College is one of the very few academic institutions anywhere in the world to place such an extraordinary emphasis on service towards universal rights, equity and justice," said Buluswar. "That, combined with the generous scholarship GC provided me, laid the foundation for what has been a truly rewarding career. Indeed, it is what set me on the path to try and become a true global citizen. I'm hoping this award will help other GC students embark on a similar path."
---
Awardee: Suzanna Yoder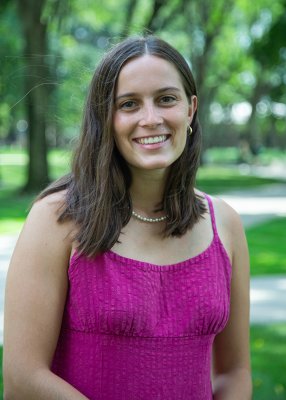 Yoder,  a social work major and a member of the women's basketball team, is devoted to building bridges between people whether that's on the court, in the classroom or more recently during her semester abroad in Senegal.
"Suzanna is drawn academically to the intersecting realms of social work and public health because of her attraction to systems thinking and her desire to improve outcomes, social justice and quality of life of all kinds by working with systems and at a systems level of change," said Jeanne Leichty, the professor who nominated her.
"Through my time at Goshen, I am constantly wondering 'what would peace look like in this situation?' And 'how can we make peace active?'" wrote Yoder in her essay. "It is one thing to sit in a classroom or through a church service and talk about peace, it is another to talk about what that looks like in action. I think social work has offered me a vision of peace that is more concrete. I can create peace in a community by finding what it is that people need."
---
Runner-up: Giovana Gaona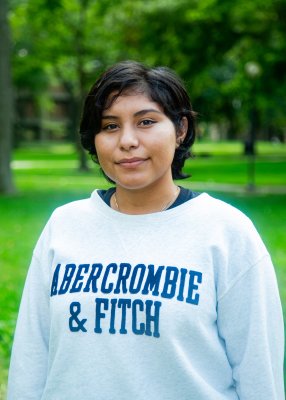 Gaona is genuinely interested in always learning, whether that be about a certain topic or about the beliefs, values and perspectives of her classmates. Gaona traveled this summer to the Texas border in a global education course on refugees and immigration.
"Giovana embodies the essence of a global citizen: empathetic, curious and community-oriented," said Brianne Brenneman, the professor who nominated her. "She asks questions, connects content with her own culture and identity, and works well with other students of various cultures, personalities and skill levels."
"I grasp the idea that I am capable of working on myself when I see that I am struggling with something yet others are not able to, and it makes me recognize that the world is just not only the one that surrounds me but other places too," wrote Gaona in her essay. "This helps me embrace why it is necessary to have diversity among people because it flourishes the relations and the reflections of one's own ideas and beliefs that were either taught internally or by others."
---
Runner-up: Cadence Lee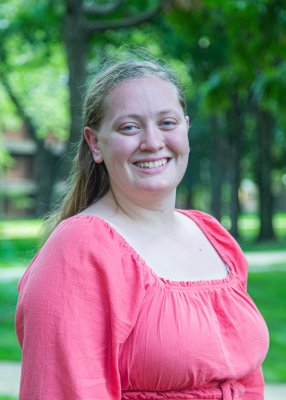 Lee is an active member of the campus community, having participated in Parables worship ensemble, Voices of the Earth Choir and theater productions. Lee spent the previous spring semester studying in Ecuador.
"She generously helps others in her class and in the community," said Kathy Meyer Reimer. "She notices the needs of others and is willing to help weaker students in class."
"I have discovered a new passion for compassionate peacemaking," wrote Lee in her essay. "Through my courses at GC, I have found myself drawn to curriculum and modifications that accommodate and consider the background of all students. My passion for allowing students of all cultures and backgrounds to not only participate in music but to make personal growth a priority and see value in their education has guided my path toward my life-long learning. By listening to stories and using them to tailor my perceptions of the world, I can better understand and accommodate students, as well as discover my own identity that is fostered by the many people I encounter."
---
About the award
The Global Citizenship Awards are open to undergraduate students in their third year of study. Eligible students are nominated by professors. Nominated students write an essay describing how they have experienced or embodied the core values of the college during their time as students. Essays are then reviewed by a faculty committee who then select the top three candidates for the award.