John D. Roth, historian and professor, to speak at 124th commencement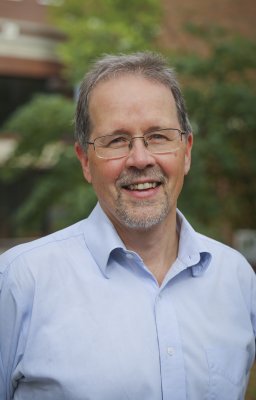 John D. Roth, a 1981 GC alumnus, professor and historian, will be the keynote speaker at Goshen College's 124th commencement ceremony on Sunday, May 1, 2022 at 3 p.m. in the Roman Gingerich Recreation-Fitness Center.
Tickets are required for this year's commencement ceremony, and will be provided to graduates to distribute, though all other events during the weekend are open to the public. Masks are optional for all event attendees. The event will be streamed live at goshen.edu/livestream.
---
See the graduation webpage for a full schedule of events and other helpful information about Commencement Weekend.
---
Since 1985, John D. Roth has been a professor of history at Goshen College, where he also served as director of the Mennonite Historical Library and editor of The Mennonite Quarterly Review. He is also the founding director of the Institute for the Study of Global Anabaptism at Goshen College and secretary of the Mennonite World Conference Faith and Life Commission.
Roth graduated from Goshen College in 1981 with a degree in history. He earned a master's degree in 1983 and a doctoral degree in 1989 in history from the University of Chicago.
Roth has published widely on topics related to Anabaptist-Mennonite history and church life. He is the author or co-author of nearly a dozen books, including "Choosing Against War: A Christian View" (Good Books, 2002); "Beliefs: Mennonite Faith and Practice" (Herald Press, 2005); "Stories: How Mennonites Came to Be" (Herald Press, 2006); "Practices: Mennonite Worship and Witness" (Herald Press, 2008); "Teaching That Transforms: Why Anabaptist-Mennonite Education Matters" (Herald Press, 2011); "Where the People Go: Community, Generosity, and the Story of Everence" (Herald Press, 2020); and "A Cloud of Witnesses: Celebrating Indonesian Mennonites" (Herald Press, 2021). He is currently working on a book that examines and frames Goshen College's history, identity and heritage in light of the present context of diversity and inclusion.
He has edited and translated numerous other books, and his writing has been regularly featured in Anabaptist World (formerly The Mennonite and Mennonite World Review), Mennonite Quarterly Review and Plough Quarterly.
A highly sought-after speaker on Anabaptist topics, Roth has spoken across North America, Latin America, Africa, Europe and Asia. He has taught May term classes in Paraguay and in Europe, and led three Study-Service Term units in Costa Rica in 1995-96.
Most recently, Roth accepted a position with MennoMedia as project director of their "Anabaptism at 500" initiative. Roth and his wife, Ruth, are the parents of four adult children and four grandchildren and are active members of Berkey Avenue Mennonite Fellowship in Goshen.
---
Weekend Activities Schedule:
Note: Masks are optional at all events
Saturday, April 30
1:30-5 p.m. – Department receptions
2 p.m. – Nurses' Pinning Ceremony, Church-Chapel
7:30 p.m. – Baccalaureate Celebration & Reception, Music Center's Sauder Concert Hall

Sunday, May 1
3 p.m. – 124th Annual Commencement Ceremony, with address by John D. Roth, Roman Gingerich Recreation-Fitness Center. Admission tickets are required.
Spanish translation headsets and assisted listening devices are available for all who need them. ASL translation is also offered and the space is wheelchair accessible. (For those unable to attend, watch the live-streaming of the ceremony.)