Goshen College junior Greta Lapp Klassen wins 2022 peace oratorical contest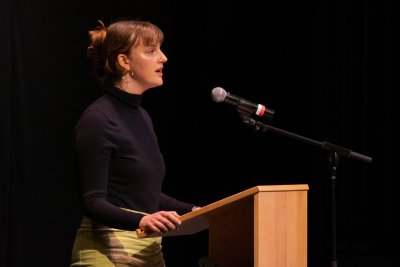 Goshen College junior Greta Lapp Klassen, an English major from Goshen, won the 2022 C. Henry Smith Peace Oratorical Contest and $300 in prize money on Feb. 22 with her speech titled "Humanizing Our World, One Walkway at a Time."
Lapp Klassen spoke about the ways U.S. society prioritizes automobiles over people, touching on her experience navigating a city on foot while waiting for her car to be fixed, and of her experiences last summer on a cross-country cycling trip with the Center for Sustainable Climate Solutions. "If you aren't driving a car in 2022, you are not a fully participatory member of our capitalist economy," she said.
Lapp Klassen referenced the overwhelming size of parking lots, lack of public transportation, narrow sidewalks and pedestrian deaths, often disproportionately affecting communities of color, as symptoms of our societal addiction to driving.
"Making sure that the places we live are built for human beings is an issue of respect, of giving our fellow people dignity and allowing them to take up space. It is an issue of peace and justice," she said.
With this win, Lapp Klassen will be entered into the binational intercollegiate Mennonite Central Committee C. Henry Smith Peace Oratorical Contest.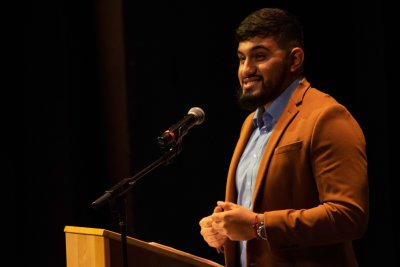 Taking second place was Bryan Hernandez Rodriguez, a junior computer science and sustainability studies major from Goshen, with his speech titled "La Jaula de Oro (The Golden Cage): The Tale of the Young Migrant Factory Worker."
Hernandez Rodriguez began his speech by describing his experience working in a local factory at the age of 17.
"I stand on this stage as a byproduct of this type of factory work and of those who worked in it before me," Hernandez Rodriguez said.
He described his conversations with his parents and the "selfless human beings hard at work trying to provide for those they loved back at home." Through his experience, he came to more fully realize the true sacrifices and selflessness, and ultimately the humanity, of those people working in the area's factories.
"This is the reality for immigrants, part of the 546,000 people in the manufacturing industry in Indiana as of 2021," he said. "But believe it or not, there is beauty amidst the long hours and early wake up call… Even though my parents did this labor, I had to do it myself if I was going to begin to comprehend the sacrifice."
Other speakers included Ebtihal Abdelaziz, a senior mathematics and physics major from Cairo, Egypt, and Caleb Gingerich, a junior history and writing major from Kalona, Iowa,
Abdelaziz spoke on "Alone in Space, Connected by Science," explaining the importance of collaboration in science and her experiences working with FERMILAB.
"We're always going to have questions that are not answered, we're always going to have challenges and problems that we will need people to help us solve," she said. "So In the spirit of curiosity and since we don't know what we don't know, let's face the complexity and uncertainty of our world by connecting to each other and collaborating."
Gingerich spoke on "Rejecting Whitewashed History: A Call For Reparations," noting harmful actions toward indigenous groups, including by white Mennonite groups who settled in North America.
"We must embrace the reality of our problematic and violent history and allow it to haunt us," he said. "We cannot even begin to be authentic in our proclaimed solidarity with oppressed groups if we do not first acknowledge our participation in their oppression. We must also be active in the pursuit of justice. Indigenous peoples of these continents are still resisting settler violence, whether it be land treaty infringements, insufficient food supply, or the human-rights crisis of missing and murdered Indigenous women. We must fight against the effects of settler colonialism, and that begins with honestly retelling our collective history."
The judges who made up the panel were Robert Brenneman, Goshen College professor of criminal justice and sociology; Janna Hunter-Bowman, assistant professor of peace studies and christian social ethics at AMBS; and Julia Gingrich, pastor at Eighth Street Mennonite Church, Goshen.
Anna Groff, assistant professor of communication, directed the event.