Conference on Religion and Science to explore trauma and the environment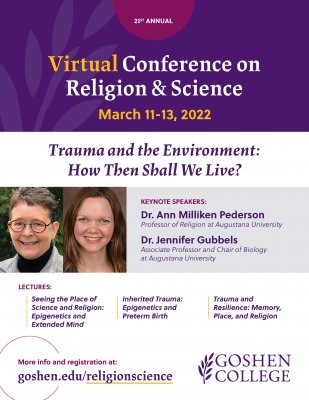 Conference: Annual Goshen College Conference on Religion and Science, with speakers Dr. Ann Pederson & Dr. Jennifer Gubbels, "Trauma and the Environment: How Then Shall We Live?"
Public lectures:
• Friday, March 11, 7:30 p.m., "Seeing the Place of Science and Religion: Epigenetics and Extended Mind"
• Saturday, March 12, 10:30 a.m., "Inherited Trauma: Epigenetics and Preterm Birth"
Location: Online at goshen.edu/livestream
Website: goshen.edu/religionscience/
---
Registration is open for the annual Goshen College Conference on Religion and Science, March 11-13, 2022, featuring Dr. Ann Pederson, professor of religion at Augustana University, and  Dr. Jennifer Gubbels, associate professor and chair of biology at Augustana University, exploring the topic "Trauma and the Environment: How Then Shall We Live?"
Registration is available at goshen.edu/religionscience.
Dr. Pederson and Dr. Gubbels will offer two free public lectures on Friday, March 11, 7:30 p.m., "Seeing the Place of Science and Religion: Epigenetics and Extended Mind" and Saturday, March 12, 10:30 a.m., "Inherited Trauma: Epigenetics and Preterm Birth." These lectures will take place online at goshen.edu/livestream. 
Registration for the virtual conference is $40 for regular registrants and $10 for students. Registering allows guests to take part in all conference activities, including a third lecture and discussions with this year's speakers.
Dr. Ann Milliken Pederson, professor of religion at Augustana University, teaches Christian theology, with particular emphases in religion and medical sciences, feminist theologies, theology and the arts, and Lutheran constructive theology. She is also an adjunct professor in the section for ethics and humanities at the Sanford School of Medicine of the University of South Dakota.
Pederson has written five books: "Where in the World is God? Variations on a Theme" (Chalice Press, 1998), "God, Creation, and All That Jazz" (Chalice Press, 2001), "The Music of Creation," co-authored with the Rev. Dr. Canon Arthur Peacocke, (Fortress Press, 2006), "The Geography of God's Incarnation: Landscapes and Narratives of Faith" (Wipf and Stock, 2013), and "Our Bodies Are Selves," co-authored with Philip Hefner and Susan Barreto (Wipf and Stock, 2015). She has authored entries in the Oxford Handbook of Religion and Science, and numerous articles in Zygon, and Word and World, among other periodicals.
She received her doctorate in theology from the Lutheran School of Theology at Chicago. Dr. Pederson was awarded Our Savior's Lutheran Church Chair in Religion in 2012-2014. She was one of two recipients of the Carole Bland Cultivating Faculty Excellence Endowment in 2010-2011.She is a Fellow in the International Society for Science and Religion.
Dr. Jennifer A. A. Gubbels, associate professor and chair of biology at Augustana University, teaches introductory biology, physiology, immunology, and has team-taught courses on medical ethics alongside history and religion professors.
Her research is in reproductive physiology. She has published on ovarian cancer, and has recently begun studies to determine the molecular causes for preterm birth. She led a research project to determine the stressors experienced by American Indian pregnant women on reservations in South Dakota.
Gubbels has also published in the Journal for Microbiology and Biology Education and Zygon (with Dr. Ann Pederson). She has been invited to lecture under the auspices of the AAAS "Science for Seminaries" grant. Gubbels is a member of the Society for Reproductive Investigation.
The annual Goshen College Conference on Religion and Science is designed to provide discussion prompted by a leading thinker in the dialogue between religion and science. A single invited speaker presents three lectures, two of which are open to the public. Small, moderated discussion sessions provide conference participants an opportunity to address topics from the lectures in conversation with the speaker.
Conference participants include pastors and laypersons, academic scientists, mathematicians, theologians and students.
For more information about the conference or to register, visit www.goshen.edu/religionscience.