Dianna Campos' ('21) DreamWorks internship blends her love for art and storytelling
Dianna Campos, a 2021 graduate with degrees in art and communication, is putting her education and experience to good use at DreamWorks as a TV Animation Production Intern on an upcoming show. We asked her some questions about this opportunity to work at one of the most renowned animation studios in the world.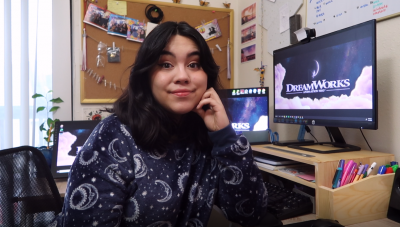 What are you doing in this internship?
I am super excited to gain insight into the production responsibilities, workflows and creative processes. Some of my responsibilities will include handling various office activities under the direction of my production team, while also having the opportunity to join them during meetings. I am so grateful to be able to work alongside studio leaders and to participate in artistic and networking events.
Why did you apply, and what was the process like? 
I've always kept an eye out for internship opportunities offered at major studios. The DreamWorks Early Career program was one of the first that caught my eye. In addition to DreamWorks being a prominent studio in the animation industry, and obviously being a fan of their films and shows, I heard many great things about their program as well.
With every rejection that I've received, about three or four times now, I continued to polish my resume and cover letter. Finally, I received an unexpected call from a recruiter to schedule an interview.
To my surprise, two of my applications from different departments (production and training) wanted to interview me. I had the option to be interviewed for one or two production teams, and of course, I chose both! So in total, I had three interviews lined up in the same week. I was definitely anxious! I wanted to give it my all, so I immediately began prepping for my interviews.
With every interview, I reflected on my answers and learned from them. Overall I think they all went pretty well. I began feeling optimistic when they eventually asked me for my references. The next thing I knew, I got a call with an offer to be a production intern on one of their shows!
How will your education and experience as a GC student be helpful in this internship?
What I am most fond of about GC is the value of education through experience! I enrolled as a double major in art and communication, and the importance of my field is the sharing of ideas and collaboration. I found many opportunities that have helped me to come out of my own shell.
I've had my artwork displayed in galleries while speaking to large audiences about my work, I traveled across the country during my Study-Service Term and bonded with my group and host families, and collaborated closely throughout the years with passionate colleagues and professors! My role at DreamWorks will require me to take initiative and to make myself known. It can be a little intimidating to be the first to do so, but I had enough practice during my time as a student that I am eager enough to start reaching out to industry professionals and learn directly from them!
I also reignited my love for animation when I began to take film courses my junior year. Animation draws in both my love for art and storytelling perfectly. While I wish I had taken more film courses before I graduated, the few that I have taken were enough for me to have a general understanding to get me started! In just a short time, I was immediately immersed in different phases of film production. From script writing, producing, directing, cinematography, even to editing, I already had projects ready to show in my portfolio.
At Goshen College, I found both professional and personal growth that prepared me for not just my internship but for whatever and wherever my career will take me.
What are you hoping to do after this internship? 
I hope I end my internship feeling as prepared as ever for what lies ahead! While employment is not guaranteed, many interns from this program have successfully transitioned to full-time roles at the studio – I wouldn't mind being one of those interns!
Regardless of what happens after, I will be looking into entry-level positions in production while I develop my storyboard portfolio. I am interested in eventually becoming a story artis. My dream is to contribute in the process of creating diverse and authentic stories that will inspire and connect with others!