Willard Martin, former dean and professor of German, dies at 87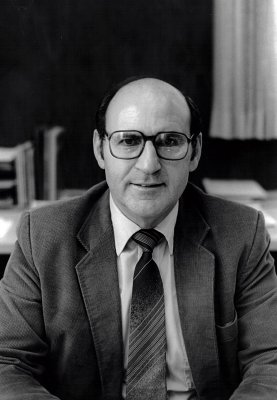 Willard Martin, former academic dean and professor of German from 1984-1995, died May 28, 2021 at Landis Homes Retirement Community in Lititz, Pennsylvania. He was 87 years old.
Martin was born on January 13, 1934 in Hawkesville, Ontario, to David and Adina Martin in the Old Order Mennonite Church. Martin left school at 14 to work on the family farm, and in his early 20's he drove semi trucks.
In 1957 Martin attended Goshen College and earned a degree in history. He met Mary Ellen Kauffman of Lancaster, Pennsylvania, in a German class while at Goshen College. They were married for 57 years.
Martin taught in a junior high school in Elkhart, Indiana, for three years before going to graduate school at Pennsylvania State University.  After earning a master's degree in German at Penn State he took a teaching position in the German Department at Shippensburg University for a year before returning to Penn State to work on a Ph.D., which he finished while working full- time in an administrative position and doing some teaching. During his 14 years at Penn State, he developed a course in Pennsylvania German language and culture and was active in the Pennsylvania German Society. Martin served as the director of academic affairs at the branch campus in McKeesport for five more years.
Martin returned to Goshen as academic dean in July 1984 through July 1988, then from August 1988 through June 1995 he continued as professor of German. Martin led several Study-Service Term units to East Germany, including in 1989, four months before the fall of the Berlin Wall. He lived in Germany from 1989 to 1993 and directed the Brethren Colleges Abroad program in Marburg.
Martin left GC to return to Germany to teach at the then new Schwäbisch Gmünd campus, founded in 1992 and run by the University of Maryland. He began his position July 1st, 1995.
Martin retired in 2000, and he relocated to State College. He taught an additional 14 years at Penn State College.
Survivors are his wife; two sons, Stefan (Heidi) of Milwaukee and Derek (Henry Lucero) of Los Angeles; two sisters, Gladys Diefenbacher (Edward) and Marlene Kwandt (Peter), and brother-in-law Lorne Metzger in Ontario; brother-inlaw Richard Kauffman (Suzanne) in Goshen; three grandchildren, Lily, Garrett, and Kyle, in Milwaukee.
Martin was preceded in death by three brothers; Clarence, Cleon and Lloyd; two sisters, Vera Brubacher and Florence Metzger; and a stillborn grandson, Owen.
A memorial service will be held on August 28, 2021. Details will be announced later.