Theron Schlabach, professor emeritus of history, dies at 87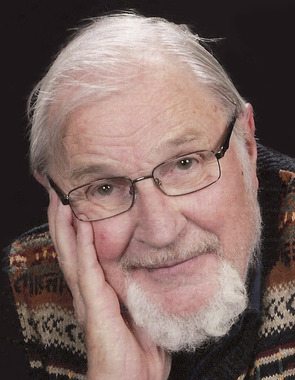 Theron F. Schlabach, professor emeritus of history, died May 13, 2021, at Greencroft Health Care in Goshen. He was 87 years old and taught at GC from 1965 to 1998.
Schlabach was born on Dec. 6, 1933, in Goshen, to Ezra and Vivian Schlabach. After attending Elkhart County public schools through 11th grade, Schlabach spent his final year of high school at Eastern Mennonite High School in Harrisonburg, Virginia in 1951. He married Sara Ann Kauffman on January 8, 1955, and began supporting his family as a big-rig trucker before attending Goshen College, where he studied history, graduating in 1960. He continued on to the University of Wisconsin, where he attended as a Danforth Fellow, receiving his master's degree in history in 1961 and doctoral degree in U.S. social history in 1966.
Schlabach taught history at Goshen College from 1965 to 1998. Though he officially retired from teaching full-time from the college in 1995, he continued to teach part time into the early 2000s and to pursue his scholarly research and writing much longer. Known among colleagues and students as a craftsman of clear and accessible prose, he is the author of five books and editor of more, including an acclaimed four-volume history of Mennonites in America.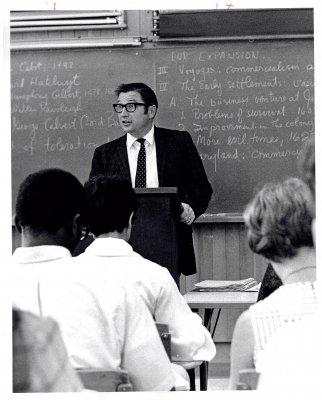 He was editor of the Studies in Anabaptist and Mennonite History Series and The Mennonite Experience in America Series, and he served as interim editor of The Mennonite Quarterly Review. From 1995 to 1997, he was senior fellow of the Young Center for the Study of Anabaptist and Pietist Groups, at Elizabethtown (Pennsylvania) College. His previous books include: "Gospel Versus Gospel: Mission and the Mennonite Church, 1863-1944" and "Peace, Faith, Nation: Mennonites and Amish in Nineteenth-Century America."
"Theron was a gifted scholar of American Mennonite history, a defender of clear academic writing, and a deeply committed teacher who understood his vocation at Goshen College as 'scholarship for the church.'" said John Roth, professor of history. "His leadership role in the four-volume 'Mennonite Experience in America' series and his magisterial biography of Guy F. Hershberger are enduring legacies. Theron was also a friend and mentor who will be deeply missed."
He and Sara twice led GC's international studies program in Costa Rica. He also led classes in Europe and traveled to China.
Schlabach loved to remind people that he was both a professor and a trucker. Soon after returning to GC in 1965 to teach, he resumed trucking as a hobby for a few weeks each summer. Traveling the continent was a way to maintain his working-class roots while visiting historical sites.
He is survived by a daughter, Kristina Johnson, Goshen; three sons, Gerald (Joetta) Schlabach, Michigan, J. Carlyle (Julie Birky) Schlabach, Arizona, Roderic (Mary Beth) Schlabach, Goshen; seven grandchildren; four great-grandchildren; two sisters, Ruth Shaum, Goshen, Arleta (Phil) Kilmer, New Paris; a brother, Dorvin (Ruth) Schlabach, Goshen; a brother-in-law, Emil Broni; and a sister-in-law, Viv Schlabach. Along with his parents, he was preceded in death by his wife Sara, two brothers, Dale and J. Richard Schlabach, a sister, Eudean Broni, a brother-in-law, Paul Shaum, and a grandson, Brock Birky.
A funeral service will be held at Goshen College Mennonite Church at 11 a.m. EDT on Wednesday, May 19. An opportunity to visit with family will begin at 10 a.m. A private family burial will follow the funeral at the Clinton Union Cemetery in Goshen. All in attendance are expected to wear masks for inside events and take other precautions throughout. A livestream of the funeral will be available at collegemennonite.org.
Memorial donations may be given to the Mennonite Historical Library Endowment at Goshen College or the Jubilee Fund at College Mennonite Church. Online condolences may be shared at www.yoderculpfuneralhome.com.