Student-produced documentary premieres about Goshen Jewish family who saved lives during Holocaust
A feature-length documentary titled "Vital Passage," filmed and edited by Goshen College students and faculty, premiered on April 9, 2021 at the Goshen Theater to a select audience due to COVID-19 restrictions. The film chronicles the amazing story of David Plaut and his son, Sidney, Jewish merchants in Goshen, who risked their business and livelihood to provide a passage for Jews escaping the Holocaust.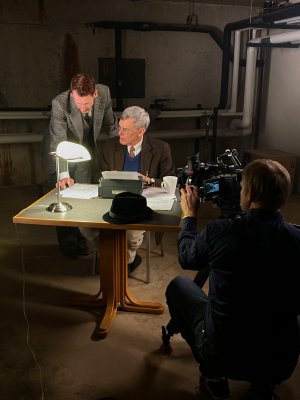 For the past four years, a team of faculty and students from FiveCore Media, the Goshen College Communication Department's video production company, has been developing this extraordinary story that, up until now, was not public. In partnership with Sidney Plaut's grandson, Steve Gruber, FiveCore Media has produced a compelling feature length documentary that explores a vein of Goshen history unknown to most locals.
"We are extremely excited for the opportunity to finally tell this story to not only our local Goshen community, but also the world," said Goshen College Associate Professor of Communication and FiveCore Media's Executive Director Kyle Hufford. "This documentary started out as a 10-15 minute short film done over one summer. But as we peeled back the layers of the onion we realized this story deserved more attention, research and time on our part to do it justice. I am humbled that we were trusted with this story by the descendants of the Plaut family, and I am proud of the work our students did to pull this story together."
Starting in 2017, it took 20 Goshen College students working more than 1,000 hours to outline, research and produce this hour-long film, under the direction of Hufford. This is Hufford's fourth full-length documentary project with the department in the last eight years.
The film includes interviews with family, friends and historians, including Steve Gruber, Gay Lehman, Patrick J. Furlong, Mike Hochstetler, Maggie Goldberg and James V. Matousek. FiveCore Media also recreated scenes using actors who portrayed the Plaut family members.
Providing passage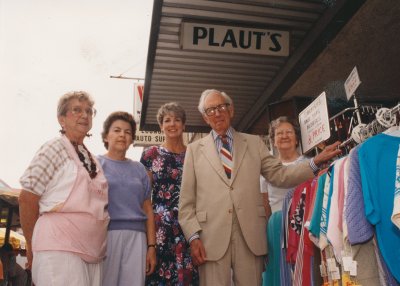 David Plaut and his son Sidney owned Plaut's Dry Goods Store in Goshen, Indiana, which operated for 85 years, from 1906 through 1991. The recent discovery of a lockbox hidden in the basement of the former Plaut's Dry Goods Store would unlock their seventy year old secret. The official documents found inside revealed the scope of the Plaut's story of rescue, sacrifice and courage.
After witnessing first-hand the mounting persecution of the Jews in Germany, the Plauts decided to take action by sponsoring and aiding 28 Jewish refugees to relocate to the United States. This nine-year quest was a guarded secret that was rarely ever shared.
"Vital Passage" is not only a story of Holocaust rescue, but reconciles America's widespread anti-semitism and immigration policies in the years leading up to the United States' entry into World War II. The documentary also presents a vivid portrayal of German Jewish immigrants' lives prior to World War II.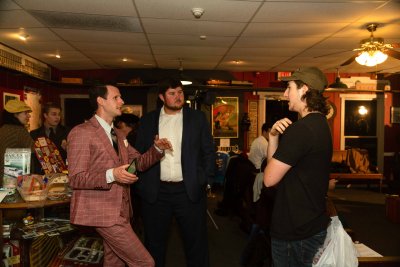 The documentary was produced by Steve Gruber and Kyle Hufford, and edited by Eric Miller, Ben Hathaway and Ben Meyer Reimer, a 2019 graduate. Hathaway and Meyer Reimer, along with Takoda Friesen, a 2018 film production graduate, were assistant producers. Pat Lehman, professor of communication, narrated the documentary, and Jeremiah Sherrill, a junior film production major from Goshen, served as music supervisor.
This was the first film premiere in the Goshen Theater since its 2020 renovations.
To learn more, visit fivecoremedia.com/vitalpassage.
---
*Note: This film is not yet publicly available online, but stay tuned for upcoming screenings regionally and virtually.
---
About the Goshen College Communication Department: The Goshen College Communication Department has been recognized in the state and nation for its excellence in broadcasting, journalism, speech, film production and writing. The department has been named Indiana TV and Radio school of the year multiple times, Best College Radio station in the nation twice, Indiana Broadcasters Association Best Radio Station, Best College Newspaper in the state and many more. Students from Goshen College's Communication Program get hands-on learning opportunities with the department's co-curriculars like, The Record, PRSSA, WGCS 91.1 The Globe, FiveCore Media. To learn more visit www.goshen.edu/communication