Russel Liechty, 90, professor and dean emeritus, passes away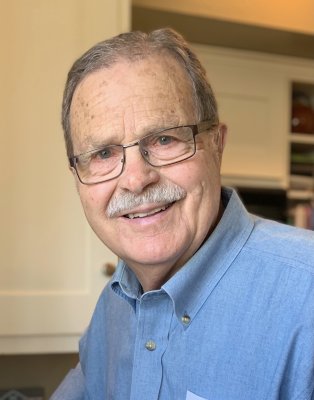 Russel (Russ) A. Liechty, dean of students emeritus and professor emeritus of education, who worked and taught at Goshen College for 38 years, died in Goshen on January 13 at the age 90.
Liechty was born on a farm near Pettisville, Ohio, on Dec. 15, 1930, the last of nine children of Joseph and Emma (Frey) Liechty. After graduating from Pettisville High School in 1948, he attended Goshen College where he studied sociology and met his future wife, Marjorie Schertz. Russ and Marge were married in 1953 and Liechty accepted an invitation to serve as assistant dean of men at Goshen College. In 1957 they moved to Columbus, Ohio, where Liechty earned a master's degree in counseling from The Ohio State University in 1959. After a short return to Goshen, the Liechtys moved again, this time to Madison, Wisconsin, where Russ earned a Ph.D. in counseling and behavioral studies from the University of Wisconsin.
Returning to Goshen College in 1964, Liechty served as dean of students until 1978, when he became director of counseling, a role that allowed him to fully engage his training, skills and personal commitment to serving students. Hundreds of Goshen College graduates remember him as a trusted listener and advisor.
"Russ had a quiet grace and a sincere personal interest in students," said Vic Stoltzfus, former Goshen College president. "In retirement, he, with his wife Marge, were pioneer founders of the International Student Ministry Group. He and Marge supported international students through social times, meals and even responded to medical needs. He was a beloved servant leader."
During their Goshen College years, the Liechtys undertook numerous international assignments. In what became a defining family experience, the Liechtys spent a sabbatical year in 1969-70 at Woodstock School in Mussoorie, India, where Russ served as counselor and the entire family established strong ties to South Asia that have persisted across generations. Russ and Marge led two Study-Service Term units for Goshen College: in Belize in summer 1974 and China in the fall of 1983. In 1977-78, and again in 1985-86, Russ and Marge returned to South Asia where they served with the United Mission to Nepal. Working as a team, they walked hundreds of miles of mountain trails to provide counseling services to Mission workers in far-flung locations, establishing close friendships with Nepalis and people from around the world.
After Liechty's retirement in 1993, the couple took up what they sometimes described as their most challenging and rewarding assignment, at the Chicago Mennonite Learning Center where Liechty volunteered as principal from 1993-96. Returning to a new, smaller home in Goshen, Russ and Marge continued to relate to GC students, resuming their engagement with the college-age Sunday School class at College Mennonite Church, and helping to promote and coordinate scholarship funding for international students.
The Liechtys extended hospitality to college students throughout their lives, hosting third-culture Goshen College students and international students in their home, providing a home for students attending Bethany Christian Schools and coordinating the Friendship Family Program for the college's international students.
An early influence in Liechty's life was helping out in his father's auto and farm equipment business in Archbold, where he acquired skills as a mechanic and a passion for vehicles which he pursued as a hobby, restoring numerous cars, trucks and tractors through his lifetime. In 1953 – his first year on the GC faculty – he purchased a 1919 Dodge Brothers Touring car and spent the next five decades restoring it. His antique car collection grew over the years and included a 1949 Chrysler sedan, 1962 Chrysler and a 1936 Dodge pickup truck, and a lovingly restored 1947 Dodge semi truck tractor, like one he had driven as a boy in Ohio, which Liechty loved to drive in Goshen parades.
The Liechtys also enjoyed travel, often combining trips to historic locations with visits to their children and grandchildren as well as their many nieces, nephews, cousins and old friends spread around the country and the world.
Russ Liechty is survived by his wife Marjorie; four children and their spouses: Joseph '78 and Linda '77 of Goshen, Indiana, Jane '80 and Wayne Fisher of Minneapolis, Minnesota, Mark '82 and Laura (Hostetler) '83 of Oak Park, Illinois, and Daniel '88 and Jill Koop Liechty '90 of Goshen, Indiana; eight grandchildren: Anna Sawatsky '01 (Joe), Aaron Liechty '03 (Kelli Kol), Jacob Curtis '02 (Michelle), Matthew Fisher (Sinett Sun), Naomi Liechty, and Emma '18, Elsie '21, and Cormac Koop Liechty; six great grandchildren: Isaac, Moses, Levi, and Jesse Sawatsky, and Fionn and Aislinn Liechty; and two sisters-in-law: Loveda Liechty and Treva Liechty.
In lieu of flowers, memorials may be directed to the International Student Ministry Group at College Mennonite Church. Checks made payable to CMC can be sent to College Mennonite Church, 1900 S Main Street, Goshen, IN. 46526. Please note "Russ Liechty Memorial" on your check. Online gifts can be made at collegemennonite.org/give (choose Special Funds and International Student Aid, "memorial" on memo line).
Due to public health concerns, a closed service will be held for the immediate family. An open memorial service will be planned for a later date, when family and friends can safely gather.