R.I.P. High Park, 1955-2020
BY JOE SPRINGER '80, curator, Mennonite Historical Library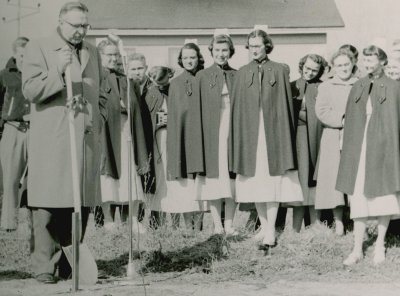 ON MARCH 31, 1955, a small crowd of people from across Elkhart County gathered in a Goshen College parking lot to break ground for High Park dormitory. Goshen's mayor, officials from the college and Elkhart General Hospital, local business people — with prominent last names like Ziesel, Abshire, Beardsley, Coppes, Mutchler, Varns — rallied to mark and support this enhancement of medical training and services.
Architect Orus Eash had designed sister facilities — Wyse Hall and High Park. Wyse Hall was for nursing education and other departments, and High Park was meant to house student nurses and other females. The new Goshen Hospital across the street was itself within weeks of completion. The proximity of training and practice benefited both institutions over the years. A decade later, Goshen Hospital faced what was perhaps its greatest challenge — caring for victims of the 1965 Palm Sunday tornado. With most student residents gone for spring break, High Park provided beds for nearly a third of the initial patient count.
In 1982, High Park housed its last college students (by then male). A year later, it became home to the college's computer center, bookstore, and social work, sociology and anthropology departments. In 1996, the college sold the building to Goshen Hospital — breaking about even on the cost of relocating the High Park-lodged GC services to spaces east of Main Street. This fall, after serving the hospital in various capacities, Goshen Hospital razed the structure as part of a larger development project.