J.R. Burkholder, professor emeritus of religion, dies at 91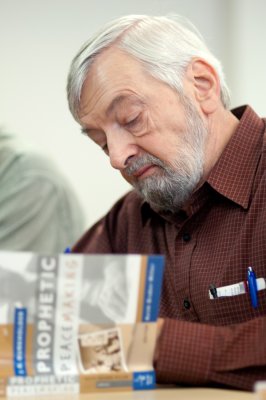 John Richard (J.R.) Burkholder, Goshen College Professor Emeritus of Religion, died in the early morning of Dec. 20, 2019, one day after his 91st birthday.
An ethicist, church leader and social change agent, Burkholder's work spanned and influenced dramatic changes in 20th-century Mennonite peace theology and ecumenical engagements.
"In his modeling and teaching, J.R. inspired scores of students and colleagues toward peacemaking vocations, and I believe his voice still resonates for 21st-century Jesus-inspired makers of peace," said Keith Graber Miller, professor of Bible, religion and philosophy at Goshen College. He was also the editor of Prophetic Peacemaking: Selected Writings of J.R. Burkholder (Herald Press, 2010), a collection of essays on pacifism, patriotism, public witness, Mennonite ethics, health care, stewardship, vocation, service and other issues of discipleship.
Burkholder was born Dec. 19, 1928, in Lancaster, Pennsylvania, to Clarence and Blanch Burkholder. In 1952 he married Susan Elizabeth Herr, who survives him.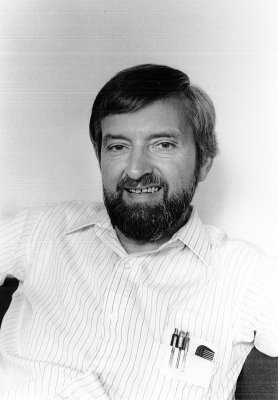 He attended Eastern Mennonite College (now University) in Virginia, and graduated from Goshen College with a degree in English in 1952, earned a Bachelor of Divinity degree from Goshen Biblical Seminary (now Anabaptist Mennonite Biblical Seminary) in 1955, and a Ph.D. from Harvard University in 1969.
After brief terms of mission work in Brazil and pastoral ministry in Pennsylvania, Burkholder taught for 22 years at Goshen College, from 1963 to 1985, and another 12 years at Associated Mennonite Biblical Seminary (AMBS) in Elkhart, Indiana.
He was co-founder of what is now the Goshen College Peace, Justice and Conflict Studies Department; founding director of the Dallas Peace Center; program administrator for Mennonite Central Committee and Fellowship of Reconciliation; coordinator of peace and social concerns for Mennonite Board of Congregational Ministries; and a visiting professor at a Costa Rican seminary and a South African university.
Burkholder's interest in aviation and early ambitions to become a pilot spurred him to take flying lessons and culminated in his own solo flight. But running became his passion during the 70s and 80s, and he enjoyed running with his Goshen community friends. In recent years he picked up his teenage love of science fiction and mystery novels, and he continued to be a faithful fan of the Goshen College basketball team (just as his father was) into his 90s.
He is survived by five children: Kelli (John) King, Lissa (Alex Baró), Samuel (Christine Wirkkala), Rebecca (Blaine Derstine), and Peter (Shannen Hill); eight grandchildren: Jacob and Suzanne King, Elizabeth Miller-Derstine and Caleb Derstine, Lucas and Hans Wirkkala Burkholder, and Jonah and Linus Burkholder; and two great-grandchildren: Rivers and Sage King. J.R. was the eldest brother to Harold, who died in 2009, and Charles, surviving.
Visitation will take place at Assembly Mennonite Church, 727 New York St., Goshen, on Friday, Jan. 24 from 4-7 p.m. A memorial service is planned for Saturday, Jan. 25 at 11 a.m.  His body was donated to the Indiana University Medical School. Burial will be at a later date at Violett Cemetery.
Memorial contributions may be made to the Clarence and Blanche Burkholder Scholarship Fund at Goshen College or to Mennonite Central Committee. Yoder-Culp Funeral Home is assisting with the arrangements. Online condolences may be shared at www.yoderculpfuneralhome.com.