Sophomore Joel Lara honored with Realizing the Dream Award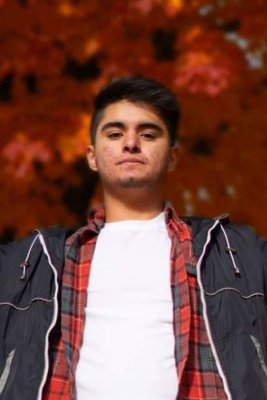 Joel Lara, a sophomore art major from Goshen, was among a group of first-generation students from Indiana's independent colleges and universities honored with the 30th annual "Realizing the Dream" award.
Made possible by a grant from Lilly Endowment Inc. to the Independent Colleges of Indiana (ICI), students from ICI campuses who are the first in their families to attend college, along with their inspirational teachers and families, were recognized at a banquet on Saturday, Nov. 2 in Indianapolis.
"As the first one in my family to go to college, I feel proud of myself and all that I have accomplished," Lara said. "I taught myself a lot of things along the way, but I was able to learn from others as well. With that being said, I am very thankful for all those who helped me achieve this award and the many to come."
Lara hopes to use his degree to become an architect or architectural engineer.
"My area of interest right now is landscape architecture or sustainable architecture," Lara said. "My mind is not yet set, but I know that art has been a passion of mine and I want to have a job in which I can express my creativity and talents."
Lara and his fellow awardees each received a $3,000 scholarship, and each student's chosen "most influential" teacher or mentor received a $1,000 professional development grant. Lara invited Cynthia Cooper, the recently-retired art teacher at GHS, as his inspirational teacher.
"I chose Cynthia Cooper as my influential teacher because she taught me to think outside the box and make the most out of the mistakes that occur in life," Lara said. "From her, I learned many things, but what I loved most was the way she gave her students the freedom to play around with the clay and have fun with it."
Lara went on to receive several awards, including a Fine Arts Merit Scholarship Award, for the work he made in Cooper's class.
Goshen College faculty nominated Lara for his outstanding academic and extracurricular achievement in his first year at college.
"Joel has really worked hard to get to where he is today," said Rocio Diaz, director of community engagement and adult outreach at Goshen College. "He has a good GPA and is very involved on campus, even though it can sometimes be difficult. He really deserves to receive this award."