This story originally appeared in the Fall/Winter 2019 issue of The Bulletin
By Brian Yoder Schlabach '07
---
When Goshen College Director Emeritus of International Education Arlin and Naomi
Hunsberger '55 arrived in Haiti in 1962 to serve in a rural hospital with Mennonite Central Committee (MCC), they didn't intend to become collectors of local art.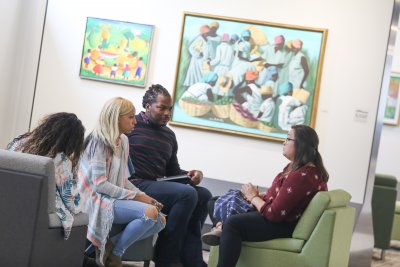 But early in their Haitian experience, the young couple was tasked to purchase a gift for a departing volunteer, and found themselves in the busy Iron Market in downtown Port-au-Prince buying a painting.
To someone new to Haiti, the Iron Market was an overwhelming experience; hot and noisy, with vendors surrounding them the moment they stepped into the building.
"People asked us what we were interested in buying," Naomi recalled. "We told them we wanted a painting, and immediately many, many paintings appeared in many, many hands… I suppose you could say that was our first foray into buying Haitian art."
The longer they lived in Haiti, the more they found themselves spending their free time visiting the local art galleries, becoming familiar with local artists.
After befriending a Port-au-Prince gallery owner named Issa al Saieh, their interest
blossomed into a passion, feeding a desire to learn more about the rich visual tapestry offered by this country that they had come to love. The whole Hunsberger family would spend pleasant afternoons at the gallery as a form of entertainment before the evening curfew, listening to stories and watching artists at work.
Under Issa's guidance, their understanding and appreciation for Haiti's diverse artistic styles grew, along with their collection. Over the course of 18 years in Haiti, including multiple MCC assignments and five stints as Study-Service Term (SST) leaders, they amassed a collection with more than 90 pieces of art, thought to be one of the largest in the country.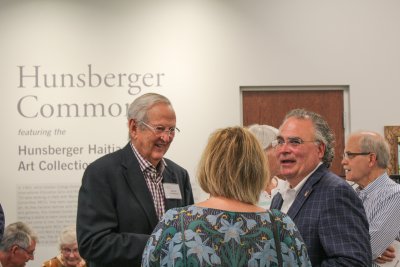 In 2014, the Hunsbergers pledged to donate their entire collection to Goshen College. In 2018, members of the Hunsberger family gave a generous lead gift to renovate the historic Union Building including a new commons space, serving as a catalyst to create a permanent and public home for their Haitian art collection and coinciding with the 50th anniversary of the SST
program.
"We are honored to pass along this collection of art for future generations of students, faculty and visitors, that it might inspire an understanding of Haitian culture and the fascinating world
of Haitian Art," the Hunsbergers wrote after deciding to gift the collection.
"Most of all we hope that it brings pleasure and enjoyment, as it was a joy for us to collect."