Music students perform at prestigious Italian international music festival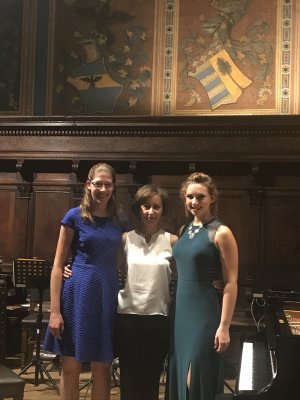 This August, two Goshen College music majors were invited to perform at MusicFest Perugia in Perugia, Italy, a prestigious international music festival, along with Goshen College Professor of Music Solomia Soroka.
Soroka, who is a member of the faculty at the festival, invited Janell Preheim, a sophomore music major from Lancaster, Pennsylvania, and Abigail Greaser, a junior music and theater double major from Goshen, to the music festival held in the mountains north of Rome.
To be able to attend the festival, Greaser postponed her plans to travel to Senegal for Study-Service Term (SST) this summer, and instead spent the summer practicing and preparing for the festival.
"It seemed like too incredible of an opportunity to pass up," she said.
Preheim and Greaser met up in Rome, and spent the next week travelling to Venice, Verona, Florence, Rome and Vatican City, exploring cathedrals, basilicas and castles. A highlight was seeing "Carmen" at the Verona Arena, built in 30 AD.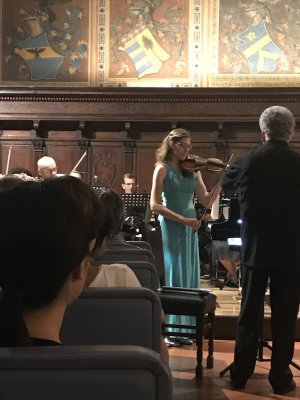 Both students then travelled to Perugia for the two-week festival. There, they passed a competitive screening and were selected to perform as soloists with the symphony orchestra under the baton of Uri Segal, a well-known Israeli conductor and former assistant to Leonard Bernstein.
"I was very nervous to rehearse and then perform with the orchestra," Preheim said. "Playing with an orchestra is a lot different than with piano because there are so many more things going on and it is a lot louder, but it is also very exciting."
"This was definitely the pinnacle of the festival for me and a very unique opportunity not offered in most festivals," Greaser said. "I'd never performed a concerto with an orchestra, much less a Virtuosi Brunenses Orchestra from the Czech Republic in Italy. There is something so special about being in a place with so much history, and the fact that I had the opportunity to make music in a beautiful building that has held music for hundreds of years was very powerful and humbling."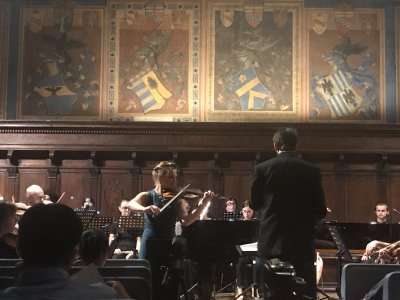 Preheim and Greaser also took masterclasses from European and American professors and attended concerts.
"It was very intense and was a really good way to experience what a life in this field really would be like," Greaser said. "It was pretty incredible, honestly. We were surrounded by incredible young musicians from all over the world and older legends and music was everywhere."
A typical day at the music festival included a short warm up and a lesson in the morning, practicing in the afternoon with some time to explore or relax. They attended a recital by a professor every evening, followed by a concerto concert where students performed a concerto with the orchestra.
"I loved the intensity of being immersed in music and attending so many live concerts," Preheim said. "The competitive but friendly atmosphere of being surrounded by other musicians pushed me to work hard and strive for my best."