Communication Department's FiveCore Media wins four national Telly Awards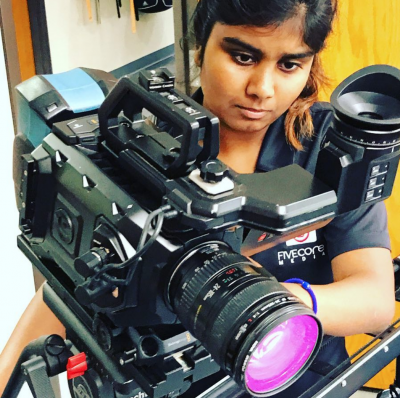 The Goshen College Communication Department's video production company, FiveCore Media, won four national Telly awards this year for their students' and faculty's work on various client projects.
The Telly Awards are a professional competition for media outlets, marketing agencies, production companies and television networks, and receives over 12,000 entries from all 50 states and 5 continents.
"Being recognized among professionals in the industry is an honor not many students receive," said Kyle Hufford, FiveCore Media general manager and assistant professor of communication. "We have been fortunate to be honored with state and national student awards in the past ten years, however, this competition is different. This is not a student competition where our students are competing against other college students. Our students can now put on their resumes that they are Telly winners, which is widely recognized in the industry as a high honor. These awards speak to the quality of our students and are a result of our emphasis on hands-on learning with co-curriculars like FiveCore Media."
Goshen College received two silver Telly awards and two bronze Telly awards. The silver Telly is their highest honor, and this is FiveCore Media's second and third such honor in the last five years.
A silver Telly was awarded for FiveCore's work on a promotional video for South Bend-based Covilla Inc., who provides a variety of services for people with intellectual and physical disabilities.
The new Goshen College marine biology program's promotional commercial also received a silver Telly in the Schools/Colleges/Universities marketing category.
Two bronze Tellys were awarded for FiveCore Media's work on Three Groups One Story, an hour-long documentary that tells the story of three Anabaptist groups who settled together in Freeman, South Dakota.
Awards Breakdown:
Silver Telly Awards
Corvilla: The House with a Heart, Professional Services category

Riley Mills, a senior communication major from Milltown, Indiana
Tabitha Immanuel, a senior film production major from New Delhi, India

Goshen College Marine Biology Promo, Schools/Colleges/Universities category

Riley Mills
Tim Litwiller, a senior film production major from Phoenix, Arizona
Bronze Telly Awards:
Three Groups One Story, History Program category

Riley Mills
Tabitha Immanuel
Greta Neufeld, a sophomore communication major from Lancaster, Pennsylvania
Tim Litwiller

Three Groups One Story, Title Design category

Kyle Hufford, assistant professor of communication
About the Telly Awards:
The Telly Awards is the premier award honoring video and television across all screens. Established in 1979, The Telly Awards receives over 12,000 entries from all 50 states and 5 continents. Entrants are judged by The Telly Awards Judging Council—an industry body of over 200 leading experts including advertising agencies, production companies, and major television networks, reflective of the multiscreen industry The Telly Awards celebrates. Partners of The Telly Awards include NAB, StudioDaily, Stash Magazine, and Digiday.