Lon Sherer, Goshen College music professor and violinist, dies at 85
By Duane Stoltzfus, professor of communication
Lon H. Sherer, a violinist, conductor and professor emeritus of music at Goshen College whose unexpected loss of hearing in one ear led to a deeper understanding of teaching and learning, and to a widely read book about that professional journey, died at his home in Goshen on Saturday, June 9. He was 85 years old.
Sherer joined the Goshen College Music Department as a professor and violin teacher in 1959. After nearly 20 years of teaching, conducting and performing as a violinist, often with his wife, Kathryn, a pianist and colleague at Goshen College, he underwent surgery to remove an acoustic tumor in 1975.
The surgery saved his life but left him without hearing in the right ear and with a partial loss of muscle and nerve control on the right side. He returned home to Goshen, a violinist who could no longer play the violin.
It took Sherer nearly five years to recover his bow technique, including months of study in Japan with the violin pedagogue Shin'ichi Suzuki, famed for his ability to teach young children to play at prodigious levels.
"After my surgery, my most challenging tasks involved re-learning both basic and advanced bowing techniques that I was no longer able to do because of paralysis on my right side," Sherer recounted in his book, "Practicing: A Liturgy of Self-Learning." "I needed to master these techniques, one at a time - using different sets of muscles and nerves that still worked."
"In the process I began to realize that confronting my actual learning the second time around was a rare gift that illuminated areas of learning in countless and often vivid ways," he said. "The re-learning changed my approach to the instrument and changed my teaching, and I decided to share some of the experience in a talk I gave to the Georgia chapter of the Music Teachers National Association."
He expanded the talk into a magazine article published first by the American Music Teacher, and soon after by the Emerson Flute Journal. He expanded the article into "Practicing," which was published by the college's imprint, Pinchpenny Press.
The 35-page book, which urges music students to become "better 'practicers' and learners" and to regard such time as a vital personal liturgy, continues to be the top-selling Pinchpenny Press book, with more than 2,000 copies having been sold.
The book circulated among leading musicians. Peter Norris, the headmaster of the Menuhin School in Stoke d'Abernon, south of London, shared a copy. The great violinist himself, Yehudi Menuhin, wrote to Sherer: "Mr. Peter Morris gave me your excellent booklet on practicing with its kind inscription. There are many points of particular interest that are enlightening."
Győrgy Sebők, a pianist and professor of music at the Indiana University School of Music, read the article on which the book was based: "I have seldom read a text as illuminating and meaningful as your article."
Sherer credited Kenneth Warren & Son, violin dealers in Chicago whose reputation placed them in rarified company, and Shar Products, a world leader in mail-order music materials, for having driven sales.
Sherer had a decades-long special relationship with Kenneth Warren & Son. He would often travel to Chicago with intermediate and advanced students and their families to pick out the best instruments and bows they could afford.
Sherer was born in Detroit in 1932, to Clarence and Phyllis Sherer. Early on, he showed an affinity for music, though his choice of instrument owed something to chance. After hearing a guitar player perform at school, he told his parents, misremembering the instrument, that he wanted a "violin" for Christmas. He received the gift that he asked for - and never looked back.
He went on to study at Michigan State University with Dr. Romeo Tata, earning a bachelor's degree in music. He later earned a doctorate in music at the University of Michigan.
The musical collaboration of Lon Sherer and Kathryn Summers began in a theory class at Michigan State, where they met. The relationship blossomed when he needed an accompanist for the Mendelssohn violin concerto.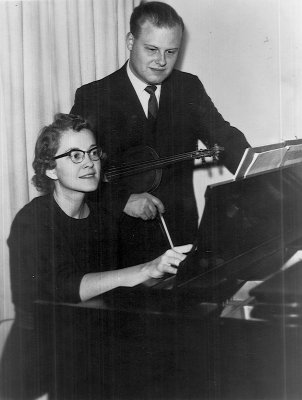 Their romance had more than the usual degree of chance. Kathryn had transferred from Goshen College to Michigan State as a junior for what she knew would be only one year of piano study. She had pledged to begin and end her college studies at Goshen, where her mother had graduated in 1928. Kathryn graduated from Goshen College in 1954.
Soon after their marriage, in 1954, the Sherers left for their first shared assignment, at Woodstock School in Mussoorie, India. Lon became a pacifist after meeting Kathryn and went to Woodstock as an alternative to military service. From 1956 to 1959 they taught at Woodstock and performed across India; later, they would offer concerts across the United States, in Central and South America, and in Japan.
They returned to the United States in 1959, joining the faculty at Goshen College. They timed their arrival with an emerging openness in the Mennonite Church to instrumental music.
Sherer directed the college's orchestra, founded in the 1950's, throughout his 39 years at the college. He played a role in the establishment or advancement of many durable traditions at the college and community, including the Lecture-Music Series (which later became the Performing Arts Series), the biannual opera production and the Concerto-Aria Competition and Concert (now in its 58th year).
He led an "Early Music" revival in the 1960s that introduced a generation of students to baroque, renaissance and medieval music, dependent on recorders, shawms, sackbuts, lutes and the harpsichord. (At one point he had a recorder distributorship with Dolmetsch recorders in England that became so successful that he felt as though he had to choose between recorder sales and teaching, at which point he shut down the business).
Sherer served on the editorial board of the American Music Teacher and was the Indiana Music Teachers Association Teacher of the Year in 1989. He retired from Goshen College in 1998 after 39 years in the music department.
Sherer was preceded in death by his wife, Kathryn, in 2012. He is survived by his three children, Mark (Rhonda) Sherer, Brownsburg, Indiana; Karen (Duane) Stoltzfus, Goshen; and Michael (Patsy) Sherer, Goshen; and by four grandchildren, Monica Sherer, Los Angeles; Kate Stoltzfus, Washington, D.C.; Melinda Sherer, Goshen; and Emily Stoltzfus, Goshen.
Lon was a member of College Mennonite Church in Goshen. Visitation is scheduled for June 17 from 2-5 p.m. at the church, where a memorial service will take place June 18 from 11 a.m. to 12 p.m., with a luncheon following.
The family suggest that memorial contributions be made to the Lon and Kathryn Sherer Preparatory Music Endowment Fund at Goshen College or to Mennonite Central Committee (a relief, service and peace agency).
Along with performing together, Lon and Kathryn Sherer spent many hours riding a GreenSpeed recumbent tandem, which they bought while vacationing in Australia. After Kathryn's death, Lon switched to a Catrike single recumbent, which he rode 3.38 miles on the day he died, perhaps a sign, since he usually logged 10.
He died in his easy chair, still wearing his biking gloves and shoes. Near the chair was his violin and a music stand, opened to Paganini Sonata No. 12.