Senior Achieng Agutu wins annual peace oratorical contest
By Megan Bower '20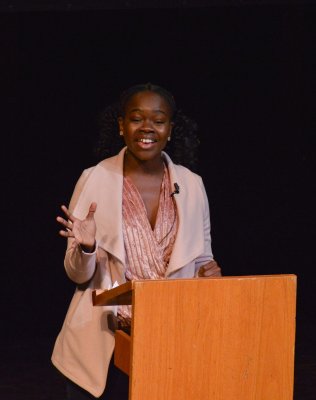 Goshen College student Achieng Agutu, a senior public relations major and spanish minor from Kisumu, Kenya, won the 2018 C. Henry Smith Peace Oratorical Contest and $500 in prize money on Feb. 13 with her speech "The Introduction: A Story of Inner Peace."
Agutu's speech focused on stereotypes and she shared a childhood story to explain how her father educated her about the stereotypes that she would face from the world. It will be entered in Mennonite Central Committee's bi-national intercollegiate oratorical contest.
"On that day, my father introduced me to things that I need to know about myself," she said. "My name and my black body and things that I should expect to happen to me. He told me that the world is not made for girls with chocolate skin and cotton hair. He told me that one day I may not get the job I want because of the way I look, the tribe I come from and because of the way my name tumbles out of mouths. That one day I may be in handcuffs just like any other black brother and any black sister. That one day I may be killed just like my people."
Regardless of this, Agutu explained how her father told her that she needed "to fall in love with this name, this skin, the gap between my teeth, my thick hair. This body."
Agutu quoted successful Nigerian writer Chimamanda Ngozi Adichie, saying "the problem with stereotypes is not that they are untrue, but that they are incomplete."
She encouraged the audience to follow in her father's advice and "see the story from the inside of the body."
She ended by stating "Hi, my name is Annie Achieng Agutu, I go by Achieng Agutu. Yes, I am a stereotype and so are you. But I am so much more – and so are you."
Taking second place was Mandira Panta, a junior sustainability studies major from Bhaktapur, Nepal. She used elements of humor in her speech titled, "Shades of Injustice."
Panta's speech focused on colorism and how every country in the world is obsessed with having fair skin.
She stated that color, in this context, is skin pigmentation and 'ism' is a system. "Colourism is not equal to racism," she said
She ended by stating that "it's okay to look like the soil that nurtures the plants. That it's okay to love your chocolate skin the same way you love chocolate. It's more than okay! It's glorious! It's magnificent! It's phenomenal! It's breathtaking! B stands for beauty and B is beautiful!"
The three other contestants included Katie Yoder, a junior history major from Stryker, Ohio, whose speech was titled, "Loving Your Redneck Neighbor."
She was followed by Sara Azzuni, a junior nursing major, who presented "Mother, What Was War?"
And finally, Deeksha Pagar, a senior physics and chemistry major from Maharashtra, India, presented her speech "The Peace Within Us."
The three judges who made up the panel were Regina Shands Stoltzfus, an assistant professor of peace, justice and conflict studies at Goshen College who had previously served as a judge for the contest; Allan Rudy-Froese, an associate professor of Christian proclamation at Anabaptist Mennonite Biblical Seminary; and Adrienne Nesbitt, a 2008 graduate of GC and event coordinator for Eyedart Creative Studio.
Abby Deaton Shelter, a 2015 graduate who won the bi-national contest in 2014, served as a coach for the finalists, meeting at least twice with each student.
Senior public relations majors Sandra Camarillo and Lana Smucker directed the event, along with Duane Stoltzfus, professor of communication.
This was the first time that the event was live-streamed, which gave all of the contestants' families the opportunity to watch. Agutu confirmed that her parents had been watching the livestream from Kenya at 2 a.m.
As for the $500 Agutu will receive as prize money, she intends to save it and use it to spoil her parents when they visit Goshen for her graduation in April
"It'll be their first time here," she said with a grin.