GC senior wins bi-national oratorical contest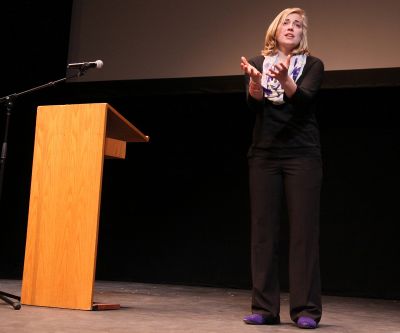 For the second time in three years, a Goshen College student took first place in the bi-national intercollegiate C. Henry Smith Oratorical Contest sponsored by Mennonite Central Committee (MCC) U.S. Abby Deaton, a senior communication major from Indianapolis, won with her speech, "The Welcome Table: Discussing Goshen College's Hiring Policy."
The C. Henry Smith Oratorical Contest is a speech competition that gives students from Mennonite colleges and universities in the U.S. and Canada an opportunity to explore contemporary peace issues and to develop rhetorical skills.
"After the initial shock of finding out I won, I was excited," said Deaton. "I'm very passionate about equality for the LGTBQ community and winning, for me, felt like the church was affirming the need to talk about this topic."
In her speech, Deaton called for more dialogue on GC's hiring practices, specifically in regards to openly LGBTQ individuals in covenanted relationship.
As a leader of GC Open Letter—a group of GC students, alumni and employees who are working to prompt change in the current hiring practices—Deaton called for change.
"I ask for the courage for us to open the doors to discussion, to hear both sides," Deaton said. "I ask for the courage to no longer see sides. I ask for the courage for us to speak honestly, to listen earnestly and to love wholeheartedly. I ask for the courage to be compassionate peacemakers. Most of all, I ask for the courage to invite everyone to the welcome table."
On Feb.18, 2014, six months before she was awarded first prize in the bi-national competition, Deaton delivered the award-winning speech in Goshen College's Umble Center. She and five other GC students offered speeches on subjects close to their hearts.
As the first-place winner at the GC competition, Deaton submitted a video and manuscript of the speech to a panel of judges who evaluated speeches from five participating colleges. The judges for this year's competition were Sue Eagle, co-coordinator of indigenous work for MCC Canada; Lorraine Stutzman Amstutz, restorative justice coordinator for MCC U.S.; and Ewuare Osayande, anti-oppression coordinator for MCC U.S.
Second place in the bi-national, intercollegiate competition was awarded to Seth Stauffer, from Eastern Mennonite University, for his speech, "The Danger of MCC's Own Single Story," and third place went to Mary Schrag, from Bluffton University, for her speech, "Shooting Chivalry." Both students will receive a cash prize and a scholarship to attend a peace conference of their choice. Deaton will be awarded $300 cash and a $500 scholarship.
The awards are intended to deepen the students' understanding of a peace issue and encourage their passions.
– By Liz Core '14
---
Read the full text of Deaton's speech "The Welcome Table: Discussing Goshen College's Hiring Policy."
---