First Study-Service Theology Term participants reflect on future of church in Guatemala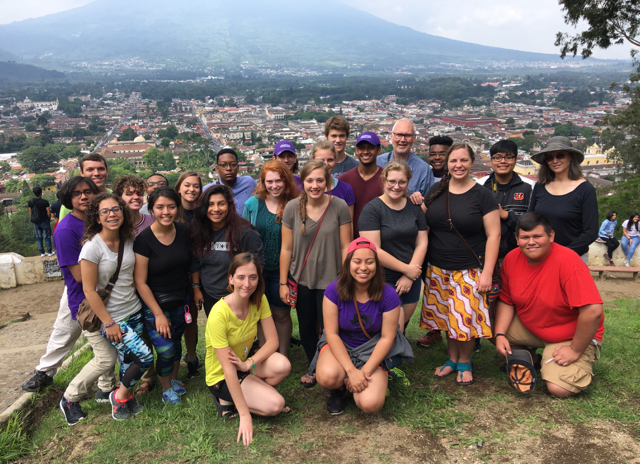 For two weeks in June, a group of 20 high school students from Mennonite, Catholic, Baptist and nondenominational backgrounds and from across the country traveled to Guatemala for Goshen College's first Study-Service Theology Term (SSTT) and reflected on what their future in the church might look like, while studying Jesus' life and vocation.
"I think this trip definitely sparked a few things," said Mary Schmauss, a senior from Albuquerque, New Mexico. "It made me realize that church isn't just going to church, reading the Bible and following what the Bible says. We would have morning worship, and we would just sing in a circle. That's where I felt God the most."
Led by Keith Graber Miller, professor of Bible, religion and philosophy, Ann Graber Miller, a 1981 graduate, Peter Paetkau, a 2017 graduate, and Gloria Showalter, a 2015 graduate, the students travelled to Guatemala with the goal of giving high school students interested in theology and ministry the opportunity to explore their future in the church. The program was made possible through a grant from the Lilly Endowment Foundation.
---
---
Before traveling to Guatemala, the students arrived on the Goshen College campus for a few days of orientation and getting acquainted with one another.
"One of the things that we had told the students from the beginning was that this is not a missions or service trip," Graber Miller said. "This was about them learning in a cross-cultural context."
While in Guatemala, students stayed at Seminario Anabautista Latinoamericano (SEMILLA) and spent their mornings in "Jesus and Vocation in the Contemporary Context," which was a class taught by Gilberto Flores Campos, a pastor and professor at SEMILLA.
"He was very insistent with the students from the beginning that the church is not supposed to be out of the world or separated from the world," Graber Miller said. "The church is engaged and immersed in the world all the time because that's where God is at work, so why should the church be anywhere else."
The afternoons were filled with field trips to places like Lago Atitlan, a school for children and adults with down syndromes and a children's hospital, which was a highlight for many of the students.
"It just brought me so much joy just to see those kids play when I made them little paper airplanes," said Nate Zepeda, a junior from Indiana. "They didn't have any care in the world, even though they had something to worry about."
Diana Baena, a recent high school graduate from Elkhart, also enjoyed her time at the children's hospital. There, she met a little girl who was blind.
"I was helping her color," Baena said, "and she was just giving me all this love. It was really heartbreaking to see all of them down and depressed, but when they saw us, they were all very happy."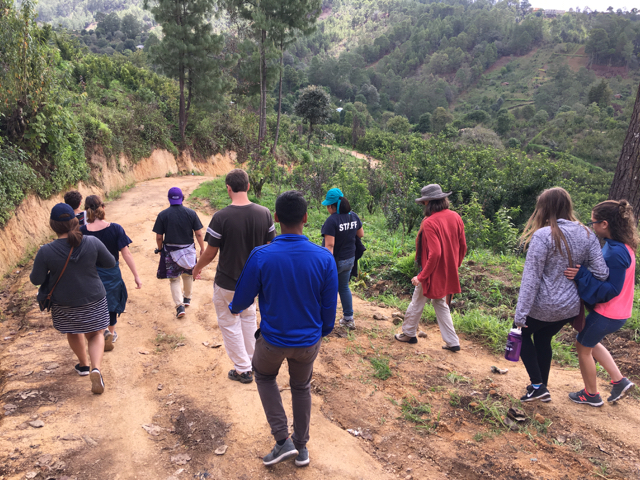 After studying, journaling and learning in Guatemala, the students have now returned home where they will complete 40-hour internships in their home congregations or a religiously-based organization in their communities to receive college credit.
But they will take what they learned and experienced in Guatemala with them.
Jahari Fraser, a senior from Atlanta, Georgia, purchased a cross bracelet in Guatemala to remind him of Philippians 4:13.
"I noticed a lot of people in Guatemala go through a lot of hardship," Fraser said, "but I know that they have God with them. They depend on God to get them through what they need to, so this bracelet is kind of a reminder that I can do all things through Christ who strengthens me, and they can as well."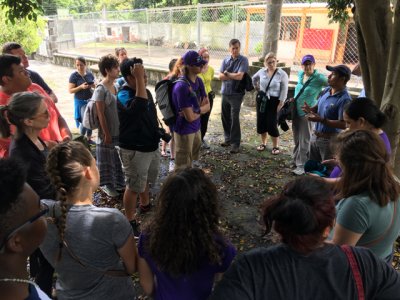 For Zepeda, knowing that Guatemala was able to come back after a 36-year civil war gave him "faith and hope in humanity.
"They're still not perfect," he said, "but they're making progress, and it just brought a tremendous amount of faith in me."
The next SSTT is set for the summer of 2018, with applications being accepted until Oct. 31, 2017, and many of this year's students would recommend it.
"This was such an amazing experience," Baena said. "I wish people would know more about it and go for it."
Zepeda agreed.
"I hope that other people, if they see this and they're interested, do it," he said, "because it's really life changing."
While this trip was influential for the students, it also gave the leaders hope for the future.
"It has given me increased hope in the positive relevance of the church in the world," Graber Miller said, "and it has given me increased hope in young people of faith who can engage so deeply, so passionately and so graciously in an entirely new context."
For Showalter, the world can be a discouraging place, but this trip was a bright spot.
"I'm still not the most hopeful person in the world," she said, "but I think that I have more hope for the church and the world generally. I definitely saw divine action in the relationships that people built with each other, in the interactions we had in our group and with engaging a new culture. I would say that has given me a little 'umph' recently in my spiritual walk."
– By Jordan Waidelich