Goshen College and Eastern Mennonite University partner to offer online Doctor of Nursing Practice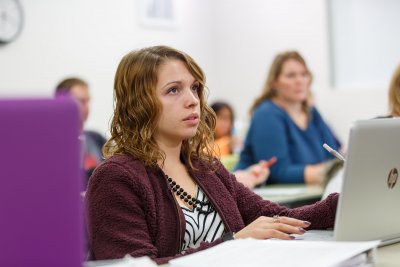 Goshen College and Eastern Mennonite University (Harrisonburg, Virginia) have partnered to offer the first doctoral degree program among the five Mennonite Church USA colleges and universities.
With classes beginning in January 2018, the online Doctor of Nursing Practice (DNP) program will educate nurse leaders in both clinical and systems roles.
"This program prepares professionals to be a good steward of healthcare resources and lead within a dynamic healthcare system," said Dr. Ruth Stoltzfus, director of the graduate nursing program at Goshen College and co-director of the partnership. "The DNP provides an opportunity for a terminal nursing practice degree that emphasizes intercultural competency, servant leadership and innovative problem-solving. The curriculum provides tools for evidence-based practice and improvement in patient outcomes. The graduate will be well positioned to be on the cutting edge of healthcare delivery."
The schools will begin seeking applications immediately. Students will complete 10 online courses and at least one residency during the 22-month program, and will earn their degree from either institution that they choose. Eligible applicants must hold a Master of Science in Nursing degree from a CCNE- or NLNAC-accredited school with a cumulative GPA of 3.3 or higher.
"The launch of our first doctoral program is a significant historical development for both EMU and Goshen College," EMU Provost Fred Kniss said. "The new program aligns closely with each of our institutional missions and grows out of our special curricular strengths. It is one more sign of the academic quality and value of Mennonite higher education."
This joint DNP will use a model similar to The Collaborative Master's in Business Administration (MBA) between Bluffton University, Canadian Mennonite University, Eastern Mennonite University and Goshen College. Faculty from both schools will teach the courses and students will choose which college or university they want to confer their degree.
"The Doctor of Nursing Practice builds on our outstanding nursing programs at the undergraduate and graduate levels and offers new opportunities for our faculty and students," said Goshen College Interim President Ken Newbold. "Graduates of this program will be uniquely prepared to serve in a growing market and be leaders in the field."
To help meet the nation's demand for nurses with advanced degrees, the American Association of Colleges of Nursing (AACN) recommends that the DNP become the terminal degree for nurse practitioners, and the Institute of Medicine recommends doubling the number of doctoral-prepared nurses by 2020.
"The high academic standards of both nursing programs provided a strong foundation on which to construct the DNP," said Melody Cash, EMU Nursing Department Chair and co-director of the DNP. "We look forward to preparing the next generation of nurse leaders to serve and lead at the highest level of nursing practice."
"There is already a model of success in both Goshen's and EMU's nursing graduate programs," Stoltzfus said. "Both have strong reputations in our communities; students already know that the education they receive is exceptional, rooted in the Anabaptist-Mennonite tradition of service, peacemaking and community. One of the distinctives is that we care about the individual students; they're not seen as a number or a dollar sign. We intentionally keep the cohorts small because we want this to be the best educational experience we can possibly give."
The nursing programs at both EMU and Goshen College are accredited through the Commission on Collegiate Nursing Education (CCNE).